Community spread does not seem to have begun: NIID
By Kumudini Hettiarachchi, Ruqyyaha Deane & Meleeza Rathnayake
View(s):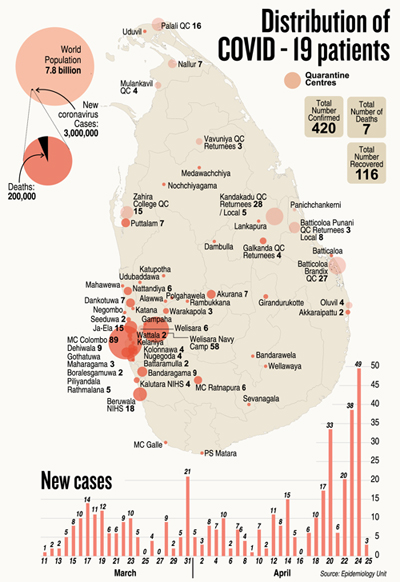 Anugget of good news spreading relief among the beleaguered people of Sri Lanka particularly in the high-risk areas, came from the National Institute of Infectious Diseases (NIID), Angoda.
The wholesale fish vendor from Piliyandala who was suspected of having COVID-19 was negative for the new coronavirus and discharged from the NIID on Friday, for home isolation for two more weeks.
Assuring that community spread does not seem to have begun in the high-risk areas and those who are detected with COVID-19 are from 'clusters', NIID's Consultant Physician Dr. Eranga Narangoda told the Sunday Times that the fish wholesaler being negative for COVID-19 is a relief.
"It was worrying when he was suspected to have got COVID-19 because we didn't know from where he had got the exposure to the virus. There was no contact history. His family was screened and found to be disease-free. He himself had come into contact with many others and there were fears that he may have infected them as well. Even though his symptoms were not compatible with COVID-19, we kept him in isolation but now he has gone home," said Dr. Narangoda, pointing out that this particular case had also raised concerns of the start of a community-spread. Now those concerns have been allayed.
His assurances brought relief, as social media messages went around like wildfire that Colombo is on the brink of the social transmission stage and there is a need to exercise caution with any outside contact especially from deliveries, take-outs, supplies etc.
When asked for his views on easing the lockdown, Dr. Narangoda said that it should be done step-wise, starting with areas where there are no COVID-19 infections after strong evaluations, screening of people and active surveillance.
"We should not be in a hurry to ease all restrictions in the red-flagged high-risk districts," he cautioned. This was because while there was testing of those suspected of having contact with those who have got infected so far, there could be asymptomatic (without symptoms) people in the community.
Asymptomatic people have a viral-load less than those who are symptomatic. Those who are symptomatic are in hospital under treatment but asymptomatic people are in the community and could infect others, as no one knows they are carriers, he said.
Commending Sri Lanka for conducting surveillance to catch asymptomatic people, he said that this did not happen even in some developed countries and led to an exponential rise in affected numbers in those countries.
When asked whether patients he and his team have treated have had blood-clotting which has been reported in other countries as causing serious complications, Dr. Narangoda said that in the few critically-ill patients who needed ICU care, they did not witness these complications. Currently they have nearly 100 under their care, with no patient needing ICU management.
"Blood-clotting could result in major cardiac (heart) and lung complications but we didn't encounter such patients or even those going into multi-organ failure. We had a few cases of respiratory failure and septicaemia (bacteria getting into the blood and causing blood poisoning)," he said.
The NIID team has also not seen frostbite-like skin lesions in their patients as reported in some countries.
Study on hydroxychloroquine to be launched at NIID
An important clinical trial (CT) is to be launched among patients with the new coronavirus at the NIID, with regard to the efficacy of hydroxychloroquine, the anti-malarial medication, in the treatment of COVID-19, Dr. Eranga Narangoda said.
Initially, they are hoping to conduct this study among 50 patients.
Timeline: The clusters erupt

 First 100 COVID-19 positive cases including the Chinese tourist – detected in 58 days from January 27-March 24.
 Second 100 positive cases – detected in 18 days from March 25-April 12.
 Third 100 positive cases – detected in 7 days from April 13-20.
 April 16 – Bandaranayake Mawatha, Keselwatte, placed under lockdown after detection of a COVID-19 patient who had returned from India.
 April 17 – 6 cases reported.
 April 18 – 10 cases reported. Government announces curfew relaxation from 5 a.m. to 8 p.m. in high-risk districts on April 22, with police curfews in specific areas.
 April 19 – 17 cases reported, 15 from Keselwatte and the other 2 from Colombo 12 and Grandpass.
 April 20 – 33 cases reported from Keselwatte. Decision to lift curfew in high-risk areas revised.
 April 21 – 6 positive cases reported, 5 from Keselwatte and the other from Warakapola.
 April 22 – 22 cases reported, 11 from the Beruwala who were in the Punanai quarantine centre; 1 who was diagnosed at the Polonnaruwa Hospital; 1 from Suduwella, Ja-ela, who was being quarantined at the Oluvil centre; and 7 found through random RT-PCR tests on people in the Colombo municipal area. The patient at the Polonnaruwa Hospital was attached to the Welisara navy camp and had returned home to Polonnaruwa on April 18. Twelve villages in the Lankapura division in Polonnaruwa declared as isolated areas.
 April 23 – 38 cases reported of which 4 were from Keselwatte and 30 navy personnel from the Welisara camp. The infection origin of the other 4 was not given by the health authorities.
 April 24 – 49 cases reported, 30 of them navy personnel from the Welisara camp; 5 other navy personnel from Kurunegala (2), Ratnapura, Kandy and Badulla; 11 people from Keselwatte, an expectant mother from Maradana; and 2 about whom no details were given.

The Kattankudy Base Hospital declared a treatment facility for COVID-19, with 44 patients being treated there.
Sri Lanka's RT-PCR testing capacity
Test, test and test.
This is being heavily advocated as a way to muzzle the tiny virus that causes COVID-19.
Where does Sri Lanka stand amidst loud calls for an increase in the testing, in which the RT-PCR (Reverse Transcription Polymerase Chain Reaction) test is the gold standard.
The Sunday Times found that 876 tests had been done on Friday (April 24) and 1,141 tests on Thursday (April 23) at the 13 centres spread across the country.
The breakdown of Friday's tests: Sri Jayewardenepura Faculty of Medical Sciences – 231; Karapitiya Teaching Hospital – 143; Medical Research Institute – 130; Anuradhapura Teaching Hospital – 120; Kandy National Hospital – 75; Colombo North (Ragama) Teaching Hospital – 49; Jaffna Medical Faculty – 29; National Institute of Infectious Diseases (NIID) – 26; Colombo Medical Faculty- 24; Ratnapura Hospital – 19; Kotelawala Defence University Teaching Hospital -17; National Cancer Institute, Maharagama – 8; and Lanka Hospitals – 5.
On Thursday: MRI – 344; Sri Jayewardenepura Faculty of Medical Sciences – 314; Karapitiya Teaching Hospital – 166; Colombo Medical Faculty – 82; Kotelawala Defence University Teaching Hospital – 61; Anuradhapura Teaching Hospital – 54; Colombo North Ragama Teaching Hospital – 46; Kandy National Hospital – 28; Jaffna Medical Faculty – 28; National Institute of Infectious Diseases (NIID) – 14; National Cancer Institute Maharagama – 2; Lanka Hospitals – 2; and Ratnapura Hospital – 0.
The samples sent for testing included those from patients in hospitals, in the quarantine centres and in the community.
The Sunday Times understands that the Batticaloa Hospital would this weekend start the RT-PCR tests, while the Director-General of Health Services, Dr. Anil Jasinghe, announced that a laboratory which can conduct 1,000 tests per day is being established at Mulleriyawa.    Initially, there were very few tests performed, with the average number of tests per day increasing to 531 by the end of last week.
Meanwhile, the Health Ministry also held discussions with private hospitals on Thursday to get their support to expand testing services. Those who attended the meeting including representatives from Asiri, Nawaloka, Durdans and Lanka Hospitals had said that each of their hospitals could conduct tests on 100 samples per day.
Many pointed out that with Sri Lankans having to live with the new coronavirus, processes should be in place not only to do more testing but also to ensure that all items needed such as swabs, viral transport media (VTM), enzymes and reagents are supplied without a disruption.   Another need is the training of staff in getting the sample right as it requires skill and expertise, it is learnt.
How the test is performed
Healthcare workers wearing personal protective equipment (PPE) extract nasopharyngeal samples with swabs from a patient and despatches it in VTM, named and labelled, to a laboratory where the testing is carried out. These potentially-infectious samples are transported in a triple package, in keeping with national and international regulations.
In the laboratory, the sample is treated with several chemical solutions to remove substances such as proteins and fats and in the case of the new coronavirus, the RNA (ribonucleic acid) is extracted. This RNA is a mix of a person's own genetic material and, if present, those of the virus.
Thereafter, the RNA is reverse transcribed using a specific enzyme and placed in the RT-PCR machine, with a mixture of viral-specific primers. The machine cycles through temperatures that heat and cool the mixture, to trigger specific chemical reactions that create new, identical copies of the target sequence of the virus. Marker labels get attached to the newly-synthesised viral nucleic acid and release a fluorescent dye, which is measured by the machine's computer and presented in real time on the screen.
It is when the measurement goes over a certain level of fluorescence, through the cycle-process that there is confirmation of the presence of the virus. How many cycles it takes to reach this level is also an indicator of the degree of the viral copy numbers present.
Highly sensitive and specific, the RT-PCR can deliver a reliable diagnosis as fast as three hours, though usually laboratories take about 6 to 8 hours.
28% patient load from Colombo
Twenty-eight percent of the entire patient load in the whole country is from Colombo.

"As of Friday evening, we have 107 cases from Colombo. Until the 20th case, we had smooth going and then all of a sudden this 21st case emerged from Bandaranayake Mawatha in Keselwatte," the Chief Medical Officer of Health, Colombo Municipal Council, Dr. Ruwan Wijayamuni told the Sunday Times.

The call that came on April 15 indicated that a woman was complaining of chest pain and immediately Dr. Wijayamuni sent the Medical Officer of Health (MOH) to Keselwatte. She had abdominal pain and slight chest pain and attributed it to a meal she had taken the previous day. She was also a returnee from a pilgrimage to India and had been in a quarantine centre for 14 days, till March 27.

Immediately Dr. Wijayamuni and his team called the Suwa Seriya ambulance service and transferred her to hospital.

This was the infection which launched a cluster in Keselwatte.

Meanwhile, the Welisara navy camp has been isolated after another cluster of COVID-19 patients surfaced from there.

Many of the personnel who have tested positive were involved in quarantining the group of positive cases from Suduwella, navy spokesperson Lt. Commander Isuru Suriyabandara said.

As of April 24, there were 60 personnel confirmed as having COVID-19.

This was while Army Commander Shavendra Silva in March confirmed that a soldier who was involved in managing returnees at the Bandaranaike International Airport, Katunayake, and sending them to quarantine centres tested positive for the disease.
Quick but honest review a necessity before lockdown is eased
An immediate review of the ground situation is a must before the lockdown is eased in stages and the trust of the people won to ensure that they will be supportive of measures to keep the new coronavirus down in this 'new normal' situation.
This is the urgent call from many experts, with a former Chief Epidemiologist, Dr. Nihal Abeysinghe, going into minute detail as to what should be done to prevent a second wave of COVID-19 infections and safeguard the health of all Sri Lankans.
Questioning whether meticulous plans have been drawn up while the country, especially the hotspots, were in lockdown from March 20 to April 25, he says that this would have been the time to thrash out the details with all stakeholders putting their heads together.
"What we need now is an independent group whom the government can trust to give an honest and frank review of what the situation is, what has worked and what has failed," says Dr. Abeysinghe.
The former Chief Epidemiologist's
exit strategy is:
 Evaluate the current situation at a lower administrative level such as an assistant divisional level to find out quickly how Sri Lanka has fared in the past 4-6 weeks. What measures have been successful or failed? Is there any risk of COVID-19 raising its head in such an area and in the whole of Sri Lanka?
 Initiate firm plans to maintain the current status in Sri Lanka – that is the clustering stage. Make sure there is no escalation. Ensure that certain clusters don't get out of control (like a tank filling over), around them or within them. For this we need to scrupulously detect, isolate, test, give care, identify the contacts of positive cases and quarantine them.
 Strengthen the health facilities – this should include stringent plans as to which hospitals COVID-19 patients would be sent to and which hospitals patients with other illnesses would be directed to. Each hospital should have protocols, formulated by an efficient team to manage its system and take decisions when an emergency arises. This should be a collective view.
For the high-risk hotspots –
 How will places such as markets, bus-stands and railway stations where large numbers gather be managed. There is also a need to look at homes where disabled and old people live in limited confines. How will the health and security forces cover these hotspots?
 Do the schools have plans? No class should have 40 children. So should the schools work in sessions to accommodate smaller groups? Initially, should only children who are sitting for examinations be brought in to schools, while online teaching platforms are launched for other children using the tabs that have been distributed to schools?
 Minimise the risk of importing the virus again with people returning in their numbers to Sri Lanka. The airports and ports would have to be very vigilant. Screening and quarantining need to be followed with adequate spaces in quarantine centres to enforce the social distancing measure. Do we have adequate quarantining facilities? Otherwise, the country will see a fresh round of infections.
 When there is a lockdown, what we do is keep the virus suppressed and the spread controlled. To stop a rapid spread on easing the lockdown, the government needs to get people on board as its partners. The authorities need to educate, engage and empower the people to support all actions taken with regard to the virus. The most important weapon is the trust of the people, making them have faith in the government's measures.
Analysing the lockdown, Dr. Abeysinghe says that its purpose was to minimise the movement of people, but regrettably some people did move about and spread the disease. Some of the health and security forces personnel who went to investigate these persons got infected. There is a need to check out how they got infected and where the gap was.
The navy personnel getting infected needs immediate epidemiological investigation – how did this number get the infection? Was it through a few who got exposed or have many got exposed and how? These are the questions that beg answers, he adds.