The perilous state of the Sri Lankan economy
View(s):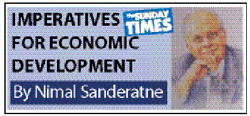 The Sri Lankan economy is in a perilous state. Most economic activities have ground to a halt in the last month and their reactivation is uncertain. The country's external finances are in a critical condition and require immediate international assistance.
Collapse
Nearly all economic activities, with the exception of agriculture, have been adversely affected. Manufacturing has had a severe setback owing to the inability to produce as well as export. Services have plummeted owing to the economic shutdown, the curfew, the drying up of tourism, slowdown in internal and external trade, much diminished transportation and limited financial services.
The resuscitation of the country's highly trade dependent economy is difficult in the current global economic downturn. The recovery of international trade and revival of international supply chains are crucial for the country's exports to recover. The gradual global economic recovery is vital to resuscitate the highly trade dependent Sri Lankan economy.
Pre-corona economy
It is not that a healthy robust economy has been battered by the COVID-19 pandemic and global recession. In fact, the Sri Lankan economy was in dire straits before COVID-19 hit us this year. The weak and vulnerable Sri Lankan economy had been severely weakened, especially its external finances.
The country's economic predicament when the COVID-19 pandemic struck, is aptly captured by the popular Sinhala saying, "it is like a bull attacking a man who had fallen from a coconut tree."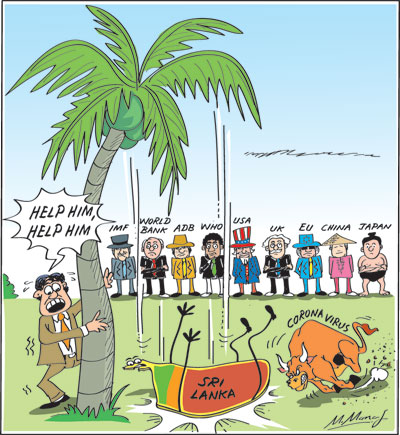 Growth
Economic growth is expected to have dipped to below 3 percent in 2019. It was only 2.6 percent in the first half of 2019. All three sectors – agriculture, industry and services- were not performing well when COVID-19 struck. The economy was already weak.
Manufacturing
Industry and services have been severely affected by the shutdown and global economic conditions. Export manufacturing has come to a virtual standstill owing to the curfew and global trading conditions.
It has to contend with a double blow. The demand for most of the country's manufactured exports are from the US, UK and EU and these are commodities which are not essential. Until there is a significant economic upturn in these countries, there will be hardly any export demand.
On the other hand, the supply of raw materials for manufactures has also been disrupted. Many of the country's industries face difficulties in obtaining needed raw materials owing to the disruption of international supply chains.
Rubber manufactures
The prospects for Sri Lanka's exports of heavy duty tyres have diminished owing to limited air and heavy truck transport around the world. This is a serious setback to one of the notable successes in the country's export manufacturing.
In contrast, there is a potential to increase exports of surgical, medical and protective gloves. The country may be able to earn as much as US$ 700 to 800 million owing to the huge demand for such rubber products. There should be adequate production of natural rubber and availability of other raw materials to ensure an increase in these rubber products for export.
Redeployment
The readjustment of manufactures in response to international demand and supply conditions is essential to avert a crash in manufacturing. This applies to the garments industry that is adversely affected by reduced demand from Western countries. Garment manufacturers, the country's main industrial exporter, would have to explore manufacturing new products to cope with the global recession until normalcy in trade returns.
Tourism
The worst affected economic enterprise is tourism that contributes about 10 percent to GDP and on which the Sri Lankan economy is highly dependent, directly and through its backward linkages to transportation, food, crafts and gem and jewellery trade.
Earnings from tourism fell from around US$ 4 billion in 2018 to about US$ 1.5 billion in 2019 after the 2019 Easter Sunday bombings. The COVID-19 pandemic is a far greater blow to tourism as the prospect of revival of international travel and tourism is remote this year. This year's earnings from tourism are likely to be less than US$ 1 billion. This would adversely impact the country's balance of payments and reduce the income of a significant proportion of the population.
Agriculture
Although there have been disruptions in agricultural production, harvesting, transport and marketing, agriculture has been the least affected sector of the economy. Both tree crops and food crops have had lesser setbacks. Agriculture has emerged as the backbone of the economy.
Food and exports
It is important, all agricultural crops perform at their optimum level to feed the country's population of 22 million and maximise export earnings. Increased rubber production could boost rubber manufactures. Tea may have a relatively strong demand, though lower oil income may temper demand in Middle Eastern markets which matter.
Trade balance
The trade deficit is likely to increase owing to the fall in exports, but is likely to be cushioned by a decline in imports of fuel, raw material and capital imports. Fuel imports will decrease owing to lesser demand for public and private transport and the unprecedented fall in international oil prices. The reduction in oil prices may reduce international fertiliser prices.
Capital goods imports too are likely to fall due to curtailed infrastructure development and construction. The banning of non-essential imports like motor vehicles would also reduce import expenditure. The reduction in manufacturing will reduce several raw material imports. Overall, the trade deficit may be contained at less than US$ 9 billion this year.
Balance of payments
In spite of reduced imports, the balance of payments deficit is likely to be large owing to much reduced earnings from tourism, lower workers' remittances and low inflows of capital. This situation can be salvaged only by inflows of foreign assistance from friendly countries and multilateral agencies.
External vulnerability
The most serious problem facing the economy is the increased external financial vulnerability. The debt servicing obligations are estimated at about US$ 5 billion this year. Given the weak balance of payments position and foreign exchange reserves estimated at about US$ 7 billion, the country's external vulnerability is high. Foreign assistance is crucial to resolve the country's external financial woes.
Foreign assistance
A moratorium on loan repayments as proposed by the World Bank and IMF is essential. However at present only the 25 poorest countries, of which Sri Lanka is not included as it has been classified as a high middle income country, have been granted a moratorium on their repayments. We can hope that in the second round there will be an accommodation on loan repayment.
The country's external finances could be redeemed by foreign aid. These amounted to only about US$ 1.5 billion by mid April and includes a Chinese loan of US$ 500 million. TheGovernment must aggressively seek more foreign assistance from international agencies and developed countries to tide over the current external financial difficulties.
One would expect assistance from the US, the EU, UK, Japan, the ADB and the WHO to fight COVID-19. These would strengthen the weak balance of payments. There is an expectation that the World Bank and IMF too would offer financial assistance.
Conclusion
The Sri Lankan economy has been battered by the global pandemic and economic shutdown. Sri Lanka's trade dependent economy can revive only after there is a global recovery and international trade gains momentum. Meanwhile those economic activities which could expand must be developed, and along run perspective of the country is imperative.