Polls date: Opposition parties to move Supreme Court
By Our Political Editor
View(s):
Fissures in Election Commission; Chairman Deshapriya at odds with Commissioner member Hoole
Govt. rules out reconvening of Parliament but coming  weeks will be challenging
Basil to lead Task Force to deal with economic matters as well
If not for Ratnajeevan Hoole, a member of the Election Commission (EC), parliamentary elections would have been gazetted for May 28.
The draft gazette notification with this date was handed to Hoole for approval at the EC office in Battaramalla last Monday. This was after the other member, Nalin Abeysekera, had already endorsed it. Hoole read through the document and said, "This is not the date we decided upon." It was only then that Abeysekera too realised it was a mistake for him to have placed the word "ok" on the draft.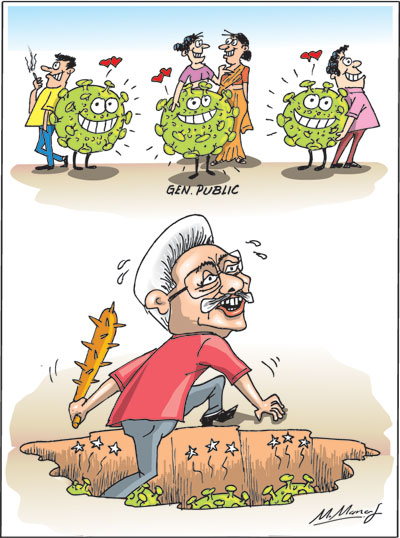 Both members went to Chairman Mahinda Deshapriya to point out the wrong date, perhaps one during which a parliamentary election would be impossible in the light of a spike in Covid-19 cases. This has led to the isolation of infected cases, tracing people whom they have been in touch with for quarantining and ensuring social distancing. A discussion ensued and a new draft with the polls date as June 20 was signed last Monday evening.
Needless to say, that even June 20 hinges on the degree of return to normalcy. Chairman Deshapriya declared on Monday that if conditions did not permit a poll on this date, the Commission would have to promulgate another date. At Monday's meeting of the EC, Hoole was strongly opposed to an election in May. So was his colleague Abeysekera. Ahead of their meeting, he ,in fact wrote to Chairman Deshapriya. The latter was annoyed that the letter had been released to the media even before the meeting. Not surprisingly. Two letters written by Deshapriya to President Gotabaya Rajapaksa had also been issued to the media.
Ahead of the meeting, in a signed article, Hoole said, "certain parties want us to think that elections will, be held on May 28 while saying Election Commission will decide." He charged that "high profile consultants are carefully chosen to arm twist the Commission into agreeing to May 28 for elections. Because of the constitutional quorum of 3 out of 3, I state there was no meeting to take these momentous decisions choosing these consultants and what they will be consulted on, without my presence."
Calling upon the Election Commission to "refrain from fixing a date for the election," the Tamil National Alliance (TNA) declared "there can be no effective exercise of democracy in the form of an election in the midst of a pandemic."
It said in a statement last week: "Unless local and global health experts clearly indicate that it is safe to do so, conducting an election in the present circumstances will be extremely dangerous and irresponsible." The Sri Lanka Muslim Congress Secretary, Nizam Kariapper, noted that persons or parties interested would take up issue before a court of law.
Hence, the SLMC urged the EC not to publish a notice with the date of the polls. These two groups were adding their voice to previously stated positions by the Samagi Jana Balavegaya (SJB), the United National Party (UNP) and even the Janatha Vimukthi Peramuna (JVP).  Mano Ganesan's Tamil Progressive Front (TPF) and Rishad Bathiuddin's All Ceylon Makkal Congress (ACMC) also expressed similar views. Almost all representations by political entities, barring the Sri Lanka Podujana Peramuna (SLPP), are not to announce the date for polls.
They are now consulting each other to reach consensus on going to the Supreme Court to challenge the EC notification. TNA's M.A. Sumanthiran, a prime mover, has handed over to both the SJB and the UNP a document, the draft of an appeal all opposition parties want to jointly make. A copy is to be handed over to the JVP too. This appeal calls upon the President to re-convene Parliament and assures that they would support votes for additional funds. One source said this was a prelude to legal action. The idea is to say that their appeal too has been turned down. The move came as military personnel took charge of security in the outer perimeter of Parliament.
SJB General Secretary Ranjit Madduma Bandara told the Sunday Times," We are opposed to the polls being held on June 20. We cannot conduct a cohesive campaign. This is not the time for polls but to look after the welfare of the people." He said the alliance was consulting lawyers since there were several constitutional issues in the current situation. He charged that the Police Chief had not given them permission to summon a meeting of party leaders of the SJB. This is at a time when the ongoing curfew is illegal since there is no state of emergency, he added.
JVP leader Anura Kumara Dissanayake argued that if Parliament could not be re-convened, then the Prime Minister and the present Cabinet of Ministers should quit. They had come through Parliament. He told the Sunday Times, "We are not saying the Parliament should re-convene. The President should decide. If he cannot, he should go without the Premier and the Cabinet. We are opposed to an early election whilst the coronavirus is spreading."
A meeting of the Constitutional Council fuelled speculation that the June 20 polls would come up for detailed discussion at its meeting last Thursday at the Speaker's official residence. There was only a passing reference. That was a remark by former Speaker, Karu Jayasuriya, about what he would have to do if the Supreme Court (SC) were to direct him to re-convene Parliament. He was alluding to moves by groups to petition the SC. The remarks did not gain any traction and the issue ended there. On another issue, when asked whether he was still Speaker, Jayasuriya had replied that he was not. Sumanthiran, an attorney-at-law had opined elsewhere that the Speaker could have continued in office until his successor assumed office.
JVP's Bimal Ratnayake sought a briefing from Prime Minister Mahinda Rajapaksa on the current situation of the deadly coronavirus outbreak. He replied that the situation was well within manageable limits. He said that a close watch was being maintained in the districts of Colombo, Puttalam and Kalutara. He noted that a fish vendor in Piliyandala, who was quarantined, was found not infected by the virus. So was another person from Piliyandala. He also referred to Bandaranayake Mawatha (Hulftsdorp) where the number of those affected by the virus had increased. When the question of Police transfers was raised, Premier Rajapaksa replied that it was a matter for the Police Commission. Jayasuriya functioned as the Chairman during the CC meeting. The appointment of a Reparations Committee was referred to the Ministry of Defence so they may consult civil society groups.
The SLPP-led government believes that the demand by different parties to put off a date for parliamentary elections is two-fold — to pressure the government to re-convene Parliament. Such a move would have annulled automatically the proclamation issued by the President dissolving Parliament on March 2 and calling for elections on April 25. The other is to seek fresh nominations on the basis that the re-opening of the new Parliament on June 18, as constitutionally required before June 2, would have lapsed. This is amidst backchannel moves to revive political alliances.
On the other hand, opposition parties argue, that elections should be put off until the situation stabilises in the country. They also contend that the government would have no sanction to utilise public funds after April 30 since Parliament has not given approval for such funding. It is only through the re-convening of Parliament, they say, such approval can be obtained with their support. The question is what happens if such a motion is rejected by Parliament.
Premier Rajapaksa told the Sunday Times, "Declaring dates for the polls is not our business. It is in the hands of the Election Commission. It must decide." Once a date is chosen, our position is, that the President would announce a date on which the new Parliament will convene, he added. That effectively rules out the re-convening of Parliament.
On May 3, the Election Commission is due to allot numbers for candidates for the parliamentary polls. Such a move is a signal that the polls campaign could begin though the reality is somewhat different. This puts candidates in a dilemma. Whilst allotting the numbers, the Election Commission is also expected to lay down a set of guidelines with regard gatherings at meetings.
Though he avoided the print media and news conferences, EC Chairman Deshapriya has been giving a string of television interviews. They are not necessarily to the national electronic media most but to those who edit packages and post them on the You Tube. It appears that he has become alive to a changing media landscape where such short television story packages have become popular. This is with the print media being compelled to halt production due to the lockdown and resorting to web and e-paper. The visual packages are within one's reach with most people carrying smart phones. Most Sri Lankans with overseas connections are joining Zoom, an encrypted video conferencing service. They are now updating their security against interruptions and hacking.
In one such interview, Deshapriya deflected questions over serious differences of opinion with his one-time friend, EC member Ratnajeevan Hoole. The relevant Q & A reflects the present position.
Q:     There are rumours that the elections will not be held on June 20 and this date is not confirmed.
A:      No, we have decided that it should be held on June 20 and we have announced it officially. There is an uncertainty in any election. That is why we are empowered to put off elections. The three members of the Commission are empowered to take decisions.
Q:  There are reports of serious differences between you and fellow member
Hoole. Your comments.
A: There are no issues between us. There are differences of opinion between us. However, we always argue. All three of us signed the document calling for parliamentary elections on June 20. The three members appointed to the EC will naturally have varied views.
Q: What about some of your internal discussions ending in the public domain.
A: We never talk normal matters outside. Even Prof. Hoole would not do that. However, he is a person who writes about his views to newspapers. You should ask him about his views and actions. Not me.
Q: Did you decide on parliamentary elections on June 20 because it is President Gotabaya Rajapaksa's 71st birthday?
A: That is something known by the family. We do not memorise birthdays of politicians. We never send birthday greetings.
Election Commission Bickering has now become public knowledge. Yet, by agreeing to a date (June 20), the Commission has made clear it had the authority to fix a date. That way, in the event this date is put off, another date would be announced. It will, however, be under a different environment, with the allotment of numbers. The government was forced to take a step backwards after announcing plans to relax curfew in the Western Province. Several establishments, both in the public and private sectors, had planned to resume functioning. However, an unexpected spike in Covid-19 cases put paid to it. This week, President Gotabaya Rajapaksa was meeting officials to determine whether a partial relaxation is possible to allow time for public to transact business. In the Colombo District this may exclude areas which are regarded as 'hot spots.'
The President's Office on Friday gave a timeline of the Covid-19 outbreak. Here are the highlights:
"December, 2019
The first case of the COVID-19 was reported from Wuhan in China.
"Mid-January, 2020
The Chinese Government warned the world about this virus.
"January 26, 2020
The National Task Force was established bringing the Health Ministry, Tri-Forces, Police, Intelligence and other related disciplines together. Their primary task was to advice the Government on the steps to control the epidemic.
"January 27, 2020
The first COVID-19 patient was identified from Sri Lanka. She was a Chinese tourist.
"February 01, 2020
A special flight was sent to bring back 34 Sri Lankans and their immediate families who were studying in Wuhan. As soon as they landed, they were quarantined in the Diyatalawa Army Camp. Thereby, the virus was prevented from spreading into the country.
"February 10, 2020
It was decided that arrivals from Italy, Korea and Iran to be sent to a quarantine centre.
February 16, 2020
It was decided that everyone who arrives in Sri Lanka must be quarantined.
"February 19, 2020
The Chinese lady who was found infected with the virus on January 27 fully recovered and left for China.
"March 11, 2020
The first Sri Lankan infected with COVID-19 was identified. He was admitted to the IDH. Since then, almost every day new patients were identified. Out of them, 38 were those who had come from abroad and were already in quarantine centers. Since then, another 79 from quarantine centers had been tested positive for COVID-19. Also found another 139 outside quarantine centers, who had got infected in various ways.
"March 12, 2020
Every school, university, and education centre for vacations was closed. While the schools and universities were physically closed, a separate Task Force was established to facilitate distance learning.
"March 18, 2020
All arrivals from the Airport were stopped. A special flight was sent to bring back home 900 pilgrims who got stranded in India. They were sent to a quarantine centre.
"March 20,2020
An All Island curfew was imposed.
"March 27, 2020
The first "work from home" week for public servants was declared from March 20 to March 27.
"Since March 27 to date, Sri Lanka has lost seven people to COVID-19. Fluctuating numbers of new cases continue to add to the total number of infected cases almost on a daily basis. At the same time, a steady number of recoveries are also increasing almost daily."
President Rajapaksa has appointed his special envoy, Basil Rajapaksa, to a second Task Force that will deal with economic matters. The members of this Task Force are Nandalal Weerasinghe, (Deputy Governor, Central Bank of Sri Lanka), Lieutenant General Shavendra Silva, (Chief of Defence Staff, Commander of the Army), C.D. Wickremeratne (acting Inspector General of Police), Major General (retd.) Shantha Dissanayake, Chairman, Consumer Affairs Authority, J.A. Nushad M. Perera (Chairman, Lanka Sathosa), Susantha Ratnayake (Chairman, Board of Investment of Sri Lanka), Jayantha de Silva, (Chairman, Information and Communication Technology Agency), Himali Fernando (Chairperson, Sri Lanka Tourism Development Authority), Jayampathy Molligoda (Chairman, Sri Lanka Tea Board), Prabath Subasinghe (Chairman, Export Development Board), A. Wimalaweera (Commissioner General of Labour), S. Singapuli (Commissioner of Co-operative Development), Rear Admiral (reetd) Ananda Peiris (Director General, Department of Civil Defence), Major General (retd.) Vijitha Ravipriya (Director General, Sri Lanka Customs), Bandula Thilakasiri (Director General, Department of Commodity Development), Sanjaya Mohottala (Director General, Board of Investment of Sri Lanka), Major General (retd.) Sudantha Ranasinghe (Director General, Disaster Management Centre), Mahesh Gammanpila (Director, Fertilizer Secretariat), Buddhika Madihahewa, (General Manager, Ceylon Petroleum Corporation), Rohan Seneviratne (Additiional General Manager, Ceylon Electricity Board), Mano Sekaram (Director, Board Member, Information and Communication Technology Agency), Major General (retd.) Sumedha Perera, Sanjiva Gunawardena (Executive Officer, E.B. Creasy & Company, Samantha Kumarasinghe (owner, Nature's Secret), Mahesh Amalean (Chairman, Mas Holdings), Ravi Liyanage (Chairman and CEO, the Kingdom of Raigam), Padmalal Vithanage (Managing Director, Sanmit Group of Companies, S.B. Divaratne (retired Deputy Secretary to the Treasury),
Also in the Committee are the Secretary to the Prime Minister and the Secretaries to the  Ministries of Finance, Economic and Policy Development, Roads and Highways, Public Administration, Home Affairs, Provincial Councils and Local Government, Plantation Industries and Export Agriculture, Industries and Supply Chain Management, Power and Energy, Women and Child Affairs, and Social Security, Mahaweli, Agriculture, Irrigation and Rural Development, Water Supply and Housing Facilities, Defence, Internal Trade, Food Security and Consumer Welfare.
Government sources said that the Task Force on economy will formulate a new strategy after consulting different stakeholders. They will also review the unemployment situation caused by the crippling effect the deadly virus has caused. Coupled together with this is the retrenchment of Sri Lankans in some West Asian countries.
Trade chambers in different sectors are still not included in this Task Force. Earlier, President Rajapaksa named Basil Rajapaksa to a 40-member Task Force primarily to ensure food distribution during the lockdown and to adopt measures to ensure agriculture and industrial sectors return to normal and essential services are operational. This functions with Governors in charge of provinces overlooking activity.
The coming weeks no doubt will be incredibly challenging to the government leaders. On the one hand, they would have to ensure normalcy so the parliamentary election could be held. Last Monday's unexpected fallout led to cancellation of all plans. On the other, the opposition is increasing the heat with a demand that Parliament be reconvened. They are bent on going to the Supreme Court to challenge the June 20 notification issued by the Election Commission. The longer the polls are delayed, the longer it would be agonising for the government.
ST Political Editor rubbishes Colombo Telegraph article, sends letter of demand to editor

The Sunday Times Political Editor has through his lawyers has a letter of demand to the London-based web portal Colombo Telegraph for carrying several defamatory and malicious articles about him, including a April 22, 2020 report headlined 'Journalist Iqbal Athas Exposed In 'Poison-Pen' Propaganda Operation.'

David Benson Solicitors appearing for Mr. Iqbal Athas have sent the Editor of Colombo Telegraph, Mr. Uvindu Kurukulasuriya a Letter of Demand inter-alia denying the allegations made in the said article, stating that a false screenshot purported to be from Mr. Athas has been published accompanying the said article and for damages caused by intentionally bringing disrepute to his professional standing by the publication thereof.

Athas is Consultant Editor and Political Editor of the Sunday Times said that several malicious reports about him have appeared in this website which is operating without an address or registration under UK laws.

His attorneys, David Benson Solicitors in London, have told Mr Kurukulasuriya that Mr Athas has neither created nor circulated documents or notes and that the article they posted was false. He has said "it has long become the practice of the Colombo Telegraph to publish news articles without an iota of proof insidiously abusing the territory of the United Kingdom to vilify opponents in other countries."

The British law firm said "our client did not create the purported note and did not circulate it" as claimed by this controversial website. They asserted "there is no documentary or other evidence to suggest proof of the allegation. It added: "The article refers to a "word document screen shot" which is not conclusive evidence.

The screen shot does not suggest what the document is. Our client asserts that he has not created any document/notes, which were referred to in the said article."  They have claimed Sterling Pounds 30,000 as damages.

Athas's attorneys have said linking other articles under the latest report is showing "express malice on the part of the Colombo Telegraph and Editor Uvindu Kurukulasuriya."

 See also https://bit.ly/2Y4phyL