Elections: Caught between a rock and a hard place
View(s):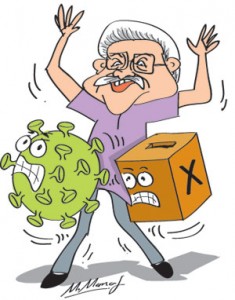 My dear Gota maamey,
I know you are very busy these days dealing with this coronavirus menace, but I thought I should still write to you, what with all this fuss and bother about whether we should have elections as quickly as possible or not. It is sure to be an issue that will not go away in a hurry – just like the coronavirus.
Most people thank you for the situation we find ourselves in, despite the coronavirus. If not for the difficult decision you took to virtually shut down the country – even though you allowed time till nominations for the elections were handed over – we would have seen many more people dying.
Since then, your favourite outfit, the armed forces and the Police have worked with the health authorities – despite the odd hiccup here and there – to ensure that people follow the rules and stay away from each other. The curfew does cause hardship to some, but it is the price we all pay to stay alive.
Now, people are asking you about elections. That Maco chap sent you a letter asking you to refer the matter to the highest court. He must have thought that you would be like Cheerio Sirisena, asking the highest court just about anything. You didn't want to take that chance, did you, Gota maamey?
This is a great chance to get the two-thirds majority you want so much, so you can get rid of all the checks and balances imposed by the Nineteenth Amendment. The Greens don't know whose side they are on any more, and the people are singing your praises for managing the pandemic reasonably well.
You don't even need Basil to tell you that elections need to be held as soon as possible – even if it means 'opening up' the country a little too soon, and running the risk of a few hundred more people getting infected with the virus. You would be silly not to take advantage of this once-in-a-century chance!
It was clever to get PB to draft your response to Maco about an opinion from the highest court. PB, after being found guilty, once gave an undertaking to that court that he wouldn't hold public office. A year later, once the court changed, he was back. He knows how to wriggle his way out of these issues!
We heard you tell Maco, through PB of course, that the question of referring elections to the highest court 'does not arise'. You also told Maco that fixing dates for the election was his job and you were not going to tell him how or when he should do that. He went quite silent after that, didn't he?
Now though, he has fixed that date for some time in June. That means the new Parliament wouldn't be able to sit within the three month deadline set by the Constitution. Some are saying that you should recall the previous parliament because of that, although Karu has said he wouldn't do that just yet.
We saw your response to that, Gota maamey, in that interview for which you chose Lalith, who was secretary to Mahinda maama several years ago, as the moderator. You really don't have a shortage of chaps who have been found guilty by the courts to be your secretaries and advisors, do you?
I don't know who advises you about interviews, but it looked quite embarrassing because you seemed to already have prepared answers for Lalith's questions. Most interviews are like that, but they are not so obvious as this one – it was like watching Sanga bowling full tosses to Mahela who was hitting sixes!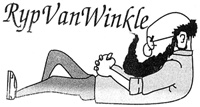 Still, what is important is you got to say what you wanted to say. Under no circumstances will you summon the old Parliament, you said, saying that the 'law doesn't expect you to do the impossible'. Gota maamey, I am a bit worried about that statement, because we have heard similar words before.
Remember Cheerio Sirisena? When he tried to stage his own constitutional coup nearly two years ago, he declared that he will never ever appoint the Greens Man as his PM again. After the courts ordered him to do so, he had to do just that – one of the many times he went back on his word.
Gota maamey, we know you want to get the election over and done with as soon as possible to have the best possible chance of getting a two-thirds majority. The opposition – which wants the elections delayed – also want to do so not because they love us more, but because they are staring at defeat.
Wouldn't it be better if you talk to each other and choose a date which poses the least risk to all of us? Now, the number of those infected is like the number of runs scored in the last few overs of a T-20 game, always on the increase. Surely, you don't want to be remembered for losing the 'corona war'?
Yours truly,
Punchi Putha
PS: Basil maama has been appointed to head a task force on restructuring the economy. I thought he had his hands full with the 'corona' task force. Isn't there anybody else who could do what he does, Gota maamey? I'm curious because we don't want to see another luxury house without an owner!