Mass Damnation release 'Turmoil'
By Joshua Surendraraj
View(s):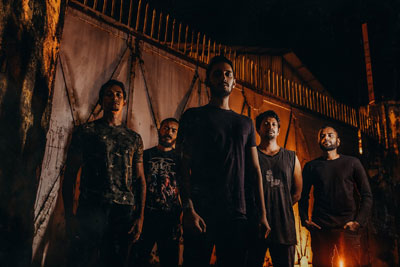 The enforced curfews have restricted movement and impacted the daily lives of everyone. However, local heavy metal giants Mass Damnation didn't allow the lockdowns to keep them from recording  their upcoming album, the band decided to go ahead and release one of their completed tracks, 'Turmoil'.
'Turmoil' is the second single off their upcoming album. And though the song manages to capture that old school Mass Damnation sound, the rest of the album itself will be significantly different to the band's previous releases. This week we caught up with Tony Jayathilake, the band's founder/ guitarist and Ryan Johnson, the band's vocalist, who gave us an insight into the new single and the upcoming album.
Over the years, Mass Damnation has grown both musically and individually. This, in turn, has impacted their sound. Ryan feels that, as musicians they are destined to explore and experiment with other genres.
"It's a fun process and digging into a new territory and adapting to it vocally and instrumentally is a challenge," he explains. But you grow with challenges. On this note, he confirms that Mass Damnation is approaching a new direction, whilst still keeping their signature sound alive.
In terms of its theme, the new album focuses on "how we have created an utopia of chaos that we thrive on and worship and dehumanize within this very existence." Tony explains, the new tracks will be heavier, melodic and more aggressive with the band's death metal influences. However, it will still feature their core groove elements. In fact the first single they released, titled 'Beyond the void' compliments the more melodic side of the album.
"We have experimented a lot and it's going to be very interesting, not only to the fans but for ourselves as well," he says.
Sri Lankans have continuously dealt with some form of turmoil and while this was the initial thinking behind the song, it definitely relates to what the whole world is going through right now.
The band had come up with the title 'Turmoil', even before the lyrics of the track were written. "We wanted to make it as chaotic as possible for that time and turmoil is just the first thing that popped into my head," Tony explains.
In comparison with the rest of the album,  'Turmoil' is straightforward. "The song is more in your face, thrashy groove head on collision," Ryan says. But like every song, it changes its structure and Turmoil has had a journey of  its own. Overall, the band wanted it to connect with their EP 'Catalyst of Hate' which they released in 2013 .
Looking back, Mass Damnation's journey has been a long and steep one. But, as Tony says, they are happy with where they are right now. "We've struggled quite a lot with a number of line-up changes, hiatuses etc. but we've overcome all of that and are now better than ever." Their current line-up also includes drummer/ founder Nirodha Jayasinghe, Thishan Wijesinghe (Guitars) and Akila Peiris (Bass).
He was quite correct. In fact Mass Damnation emerged the winners of the first edition of the Wacken Metal Battle, Sri Lanka 2018. Their highlight however, came later on as they got to play alongside the likes of American death metal giants 'Suffocation' and the renowned Norwegian black metal artist 'Abbath' at the Bangalore open air 2019.
The story of this talented band still continues and they reveal that they have several exciting plans for the future, despite the minor setbacks with these lockdowns. Tony explains the pre-production of the rest of the songs in the album are continuing in his  home studio. But there is only so much that can be done until the band physically starts tracking the balance. And until that can be done safely, they are currently sticking to individual practicing.
Tony accepts that things can get really frustrating because everything is on hold at the moment.  But, he is certain that things will get better and we will get back up from this. The main thing is to be patient and stay indoors.
"It can be really tough to deal with a situation like this which none of us have dealt with before. It's quite thought provoking and who knows it might even have an effect on our music as well," he adds.
As we close, both Ryan and Tony urge their audience to support local bands, especially during a time like this. "People will come out stronger once all this is done so stay sharp for what's to come."
Turmoil is currently available on all streaming platforms and can also be accessed on- http://www.sundaytimes.lk/200419/
For more updates follow their Facebook page on-http://www.sundaytimes.lk/200419/ and Instagram on- http://www.sundaytimes.lk/200419/