Dananja Aloysius's little piece of heaven
By Joshua Surendraraj
The rocker is set to release his latest album 'Kage Goes To Heaven' next month
View(s):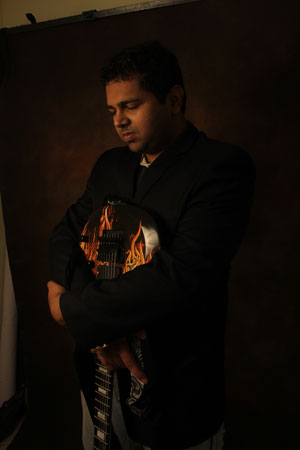 If a picture paints a thousand words. Then music must paint a million.Music offers a mix of all kinds of styles and colours and is the ethos behind Dananja Aloysius's new album, "Kage Goes To Heaven". The album is set for release on Labour day (May 1).
As a musician Dananja's style has always been diverse. He started off by playing rock music as he was learning to play the guitar and has remained a "rocker at heart since." However, musically he enjoys incorporating different styles which would also feature electronic and even  hip hop music. And interestingly his favourite musician has always been Michael Jackson the King of Pop.
The highlights in his musical career came early on in his life, in fact when he was 18, Dananja recalls being part of an all island competition with his rock band Amorphus at the time . Together they played to a sold out crowd at the Ladies College Auditorium, where they made it to the finale. Today, any local concert goer would easily recognise the spirited musician, with his Trilby hat, deep vocals and bubbling personality up onstage.
We talk about his new album, which he explains was the result of a series of peculiar dreams he had been having. "At first they didn't make sense as they were incoherent with no specific order," he explains. However, the more of these dreams he had, the more he was able to understand that they formed a story.
"So what I do is art, there is no science to it. The only science present is having to learn your craft. Whether it be guitar, vocals, audio production etc."
'Kage goes to Heaven' is a concept album which relates a story that revolves around a fictional man named 'Kage', who wakes up in a strange land with no money. He's wearing a pair of light brown pants and an old torn dark brown t-shirt which says NYC on it. His only other possession, besides his clothes is a map with the directions to heaven.
However, the map keeps changing (no it's not your average Google Maps) and Kage also gets hungry and thirsty often. But, since he has no money he has to depend on the kindness of strangers who help him find his way to heaven.
Some of the notable tracks off the album are 'Time to get real Hun', 'Poly Want a cracker' and 'Holy Roller', among others. Dananja has also included spoken words with enactments of scripts, in order to better narrate the story.
"The best musical similarity I can give is Frank Zappa's album "Thing-Fish," he tells us, referring to the concept album which relates a story based on the satire of a white Anglo- Saxon Protestant couple.
'Kage goes to Heaven'  will be Dananja's second professional release. He tells us that even though he has approximately 700+ songs recorded in his computer, as a solo artist he has only made one other professional release, titled "33″. This is available on Apple Music, Deezer and Spotify, with a few videos on Youtube.
What makes this new album a little more special is that the entirety of it, including the voice overs for the dialog (such as that in 'The Kind Stranger')was done by Dananja alone. Though he had initially  wanted to get other people involved in it, the curfew and the social restrictions made things a little difficult.
However, this is where his experience working with the Workshop Players, Shanuki De Alwis and Jerome De Silva helped him. "I'm just glad I'm only having to work on the audible element. If not I may have to do some dancing and I've been told by many women that I have two left feet," he tells us with a chuckle.
On this note, it comes as no surprise that managing a crisis situation, planning and prioritising his work has always been his forte as a businessman. So regardless of whatever is on the agenda, the most pressing matter takes priority.
Dananja's days are never the same, as one may find. He tends to focus on different things, including being a professional muaythai (thai kickboxing) fighter, running his family business and of course music.
"I have to deal with multiple cognitive models in my head. I can't always think like a musician or a businessman or a martial artist," he explains. However the rotation of these models have gotten easier with age and maturity.
As the curfews continue, Dananja plans to keep on making music, whilst also focussing on his YouTube channel which has been his medium of expression. He also plans to put on a few live concerts as soon as the danger of the pandemic passes .
As we close, he tells us sometimes you need to be inspired in order to inspire. And there are many people who have inspired Dananja along the way. He is especially thankful to "Urs my bff. Asith the ninja. Daky the mad scientist. Devaka and AnilB my senpais. Jim from Strictly 7 Guitars. Glenn from APRA AMCOS and everyone from the Muaythai Association of Sri Lanka."
'Kage goes to Heaven' will be available on all streaming platforms from May 1. For more updates log onto
https://www.dananjaaloysius.com
https://www.instagram.com/dana_guitar
https://twitter.com/AloysiusDananja
http://www.sundaytimes.lk/200419/