Corona-hit economy will look to Government assistance
By Namini Wijedasa
View(s):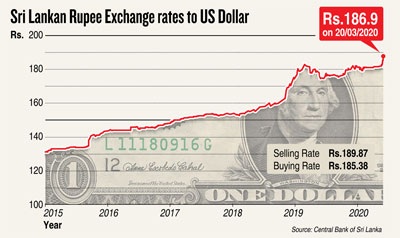 Natural disasters, a devastating terrorist attack—and now a sweeping viral epidemic that will leave no sector untouched.
Sri Lanka's economy has long been called "resilient", especially for how it sputtered stubbornly through the war years. But, now an upper middle-income country, it no longer has recourse to generous international financial aid and concessions. The solutions to this crisis must largely be home-grown. And every industry is now anticipating Government assistance.
Government relief
As observed in a Cabinet paper submitted by the President this week, several districts including the dry zone and smallholder tea areas are drought-stricken. Around 200,000 families were already in need of assistance there.
Covid-19 now poses additional risks that require Government intervention, the paper said. The sectors named are public health services, supplies and logistics, tourism, exports, overseas employment, information technology and related small businesses. The Treasury has released Rs 500mn for 'corona control measures'.
The Government has also announced a six-month debt moratorium applicable to sectors most affected by the pandemic. They are apparel exports, tourism, IT, foreign employment and small enterprises. Banks are also requested to provide working capital loans to these businesses at four percent interest.
There is a lack of clarity, however, on how these relief measures will be rolled out. For instance, would the moratorium apply to personal loans and lease payments? How would it affect the non-performing loan components of banks and non-bank financial institutions? In what form or kind would financial assistance be given to the most vulnerable segments of society?
No provision has been made for the national carrier which is in deep debt. "SriLankan Airlines was already hit," said an economic analyst who did not wish to be named.  "Now it is that much worse. It will see operational cost drop but it will have to pay for its leases. There are no moratoria on those. The Government will have to pump in another bailout to keep it afloat."
On the flip side, oil prices have dropped to an all-time low. This will provide some relief on the import bill. This will not be passed on to the customer, Cabinet has decided. Current domestic fuel prices will be maintained. There will be a duty on fuel imports to recover profit margins from petroleum imports.
Savings from oil price decline will go into a "fuel price stabilisation fund". The Cabinet paper anticipates nearly Rs 200bn to be generated from such savings over the next six months. The fund will provide Rs 50bn to the Ceylon Electricity Board (CEB) to reduce its debt to the Ceylon Petroleum Corporation—which, in turn, will settle its liabilities with the Bank of Ceylon and People's Bank.
But the CPC will pass the full benefit of the oil price reduction on account of heavy oil to CEB. It will supply such heavy oil at Rs 70 per litre to the utility to reduce its thermal power generation cost. There will also be a maximum retail price for lubricant oil "since the prices have come down drastically". This is expected to provide some respite to agriculture, machinery, three-wheel operators and public transport.
Private sector takes a hit
Export earnings will stumble. Meanwhile, larger companies that have a capital buffer—and not those that are heavily indebted—will withstand the crisis. "The banks may have to give them moratoria," the analyst said. "This is likely to happen the world over."
"It's a question of whether the local companies can weather this storm," he continued. "Some of the larger entities can afford to pay even a three-month wage buffer and not take a major hit. They will eat into their reserves."
Some large factories with production lines were operating partially over the past few weeks to meet ongoing orders but the future, depending on the spread of the virus, seems uncertain.
"Now the factories are closed because of the curfew," said Anton Marcus, General Secretary of the Free Trade Zones & General Services Employees Union (FTZ&GSEU). "Before that, because the Government only made a 'work from home' request, most private sector employers took the position that they were not legally bound to grant holidays."
"It was only Monday, March 16, that they gave leave because it was decreed a private and public sector holiday," he continued. "We argued that this is not a legal matter but one of national interest, a global crisis. They have a social responsibility."
There can be no "social distancing" in production lines, Mr Marcus pointed out. Unions made a proposal during a tripartite task force meeting set up by the Labour Minister for workers to be paid their basic salary and overtime by way of a package to tide over the crisis. They also suggested to the Government to provide relief to the employers to facilitate such a move.
"There was no decision on these matters but we heard Cabinet has decided to give concessions to the private sector, including for garments and tourism, so they are able to pay their workers," he said.
"This is not a labour issue but a health issue," said Commissioner of Labour Ananda Wimalaweera. "At a task force meeting chaired by Labour Minister Dinesh Gunawardene, we requested the private sector to pay wages if they are temporarily closing down."
"If labour disputes arise, they are secondary issues," he said. "Businesspeople have been requested to close down. On the other hand, we need to continue food production and other essential activities."
The top three garment factories employ more than 200,000 around the countries. Some have suspended activities, and "as per the information received, workers will be paid". This will be further discussed at the level of President Gotabaya Rajapaksa's Secretary, Mr Wimalaweera maintained.
It is encouraging so far that confirmed Covid-19 cases are mostly in the Western Province. This would enable other centres to work, provided the epidemic is contained this way. Agriculture—including the ongoing paddy harvest—is likely to continue.
Export markets
The issue with garments, however, is that raw material supply is from China and that chain has yet to be restored.
While domestic market will not see major disruption, the export markets will get hit. This is discouraging as foreign remittances have also been declining. But economic bailouts from the International Monetary Fund and World Bank could kick in to support global markets and to address some of the imbalances that nations face.
Some analysts pointed out that it was a good time for State sector reforms targeting enterprises that can be shut down or made efficient with targeted capital injections. But the informal sector, they hazarded, would be the best way to get the engine running again with assistance like moratoria, low credit, re-financing schemes, etc.