'Continue lockdown and tell people the plan from Monday'
Mapping of all who may be suspected of having COVID-19 crucial, says former Epid Chief Dr. Nihal Abeysinghe By Kumudini Hettiarachchi, Ruqyyaha Deane & Meleeza Rathnayake
View(s):
All crucial sectors should meet urgently and have a plan without gaps which may need to be changed on the run, as the next step to prevent Sri Lanka facing a COVID-19 disaster. This plan should be clearly explained to the public, urged former Chief Epidemiologist Dr. Nihal Abeysinghe.
"The public needs to be made to understand that we are facing a pandemic globally and the new coronavirus epidemic is evolving daily, weekly and monthly. The need of the hour is a daily review and action to suit our needs, changing the plan accordingly as nobody can predict what can happen even the next day. The public should be made to trust the health staff including the clinicians and the public health officials," he stressed.
Technically-strong Dr. Abeysinghe was categorical that the essential and important decisions should include whether the curfew would be extended, while requesting shops and supermarkets and pharmacies selling food and medications to have a plan to open their outlets and informing the public to send just one person from a house to collect their needs if absolutely necessary, otherwise to stay home.
He said: "This would be while health staff would fan out across the country over the weekend to get into the net all those who may be exposed to COVID-19 but have fallen through, unwittingly or wittingly, and bring them to a designated hospital if they are ill or ensure home-quarantining if they are not ill. All information about all arrivals will be available at the airport even if these people have slipped through, without handing over their health declaration forms.
"Another aspect that needs to be looked at while the lockdown is on is keeping food establishments and pharmacies open, which will also prevent a rush of people from entering them and being a disease-spreading source. The public should be informed clearly about these decisions in time, so that they will not panic and know that they will not starve even though the lockdown is continued. People living alone like the elderly or ill need support in getting their food and medication and despatching someone to do so is important."
Dr. Abeysinghe was adamant that the lockdown needs to go on at least for another 10 days, if Sri Lanka is to avoid a disaster.
The immediate need is for the authorities to have a plan for when the curfew is lifted. As the police say, people need to stay strictly indoors over the weekend not visiting even their immediate neighbours and a methodology should be in place by Monday morning. Essential services like health, water and electricity should run and food outlets and pharmacies should open but without creating a stampede like what was seen on Friday, he reiterated.
Dr. Abeysinghe added that this is while 'mapping' of all those who may have been exposed to the virus but gone underground needs to be priority. It is "very, very important" for the health authorities to know the vulnerable areas in the country, concentrate on those areas and strengthen the healthcare services to meet the needs in those areas.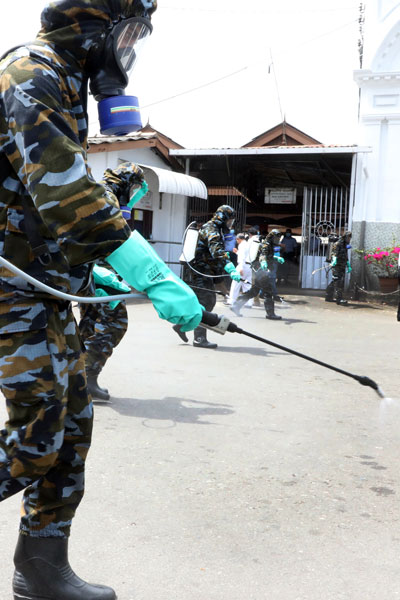 "Stay home," was the strong plea by officials throughout the week as people did not seem to understand the magnitude of the danger posed by the new coronavirus, taking the holidays announced by the government as a time for visiting friends and relatives, having parties or going on trips with families.
"During the curfew, don't visit your neighbours but stay in your own homes," stressed Deputy Inspector General (DIG) of Police, Ajith Rohana, adding that if anyone has to fly out of the country, he/she could use the air tickets as a curfew pass.
Health Minister Pavithra Wanniarachchi urged people to act with responsibility as the government has taken all measures to contain this epidemic and minimise the impact on the larger population.
The Department of Health Services along with the Ceylon College of Physicians and the Epidemiology Unit has created an extensive manual on all aspects of COVID-19 including how to identify the disease, how to treat patients including those who are critical, how to safeguard health staff, how to deal with a situation where the number of those critically-ill rises, how to treat expectant mothers and more, which has been sent to hospitals.
Meanwhile, a plea also went out to the public to come to hospital only if there is an emergency, as the National Eye Hospital and the Dental Hospital in Colombo limited their services as these doctors had to get very close to their patients when treating them.
---
The profile of 65 COVID-19 patients
There were 65 'confirmed' cases of COVID-19 as of Friday afternoon (March 20), with another 218 'suspected' cases in the 24 designated hospitals.
The breakdown district-wise was: Gampaha -18; Colombo – 17; Puttalam – 12; Kurunegala – 4; Kalutara – 4; Ratnapura – 3; Galle -1; Kegalle – 1; Matara – 1; Batticaloa – 1; and Badulla -1; and 2 foreigners (an Indian and a French patient), according to the Epidemiology Unit.
The 'profile' of these patients with
regard to age and gender was:
•    42.6% in the age-group 41-50 years
(the highest band)
•    16.7% in the age-group 51-60 years
•    14.8% in the age-group 31-40 years
•    11.1% in the age-group 21-30 years
•    7.4% in the age-group 61-70 years
•    5.6% in the age-group 11-20 years
•    78% male and 22% female
The 24 designated hospitals are:
The National Institute of Infectious Diseases (NIID); the National Hospital of Sri Lanka; the Kandy National Hospital; the Lady Ridgeway Hospital (LRH) for Children, Colombo; the North Colombo (Ragama) Teaching Hospital; the Ragama Rehabilitation Hospital; the Anuradhapura, Batticaloa, Ratnapura, Karapitiya, Kurunegala and Jaffna Teaching Hospitals; the Hambantota, Negombo, Vavuniya, Gampaha , Polonnaruwa, Moneragala, Kalutara, Matara and Kegalle District General Hospitals; the Marawila and Chilaw Base Hospitals; and the Badulla Provincial General Hospital.
Meanwhile, with regard to the quarantine centres, Army Commander Lieutenant General Shavendra Silva told the media on Thursday that in this process which started on March 10, there are 2,288 people in 16 centres being run by the army.
The navy has set up a four-storey quarantine centre with all facilities able to accommodate 136 people at Boossa on the instructions of Navy Commander Vice Admiral Piyal De Silva.
The Karapitiya Teaching Hospital staff had provided the necessary advice and training to the navy.
---
COVID-19 & stress
A month ago, the world was peacefully going about its business. Now a sub-microscopic organism has transformed life. Beginning in China, COVID 19 has now spread to all continents other than Antarctica. Several countries are in lockdown and air travel reduced to a trickle. Such an abrupt change has invariably brought in its wake an increase of mental health problems, says Prof. Raveen Hanwella, Chair Professor of Psychiatry at the Department of Medicine, Colombo Medical Faculty.
According to him how people respond to stress depends on their personalities and their environment. But particular groups are more vulnerable. These include persons with existing mental illness and substance use problems, the elderly as well as children and teens, health professionals as well as those in charge of law and order.
What would be the signs?  "There would be fear and worry about their health as well as relatives, disturbed sleep and eating patterns, difficulty in concentration and worsening of chronic health problems such as hypertension and diabetes, an increase of alcohol use and other addictive substances," says Prof. Hanwella.
What can you do?
He says it would be good to take a break from listening to news stories. While it is important to keep abreast of important news such as curfews, repeatedly checking updates can be upsetting.
"Take care of your health, exercise, meditate, sleep and eat adequately and avoid alcohol and smoking and other addictive substances. Continue with your regular medication and if you are unable to consult your regular medical practitioner see whether you can get advice through an online consultation. Take time to do things you enjoy such as reading and gardening even if you are confined to the house. Do connect with your friends and relatives but as physical distancing is an important aspect of prevention of the virus spread, confine yourself to the telephone and internet. Do not entertain gatherings in your house," he reiterates.
Prof. Hanwella adds that though it is a time of increased stress and anxiety for everyone, it is also a time to reflect on values, goals and priorities in life. "We will survive the better for it!"
---
Private hospitals given permission to do the COVID-19 test
Private hospitals will be allowed to conduct the test for the new coronavirus under strict conditions, said Health Services DG Dr. Anil Jasinghe, who stressed that the maximum price they can charge is Rs. 6,000 per test.
"The test will be permitted to be performed only on patients who are admitted to these private hospitals, only in instances where a patient shows symptoms and there is a requirement by a specialist," he said.
These private hospitals have to notify the NIID whether the result is positive or negative, he added.
The government institutions carrying out the COVID-19 test are: The Medical Research Institute (MRI), Colombo; the Kandy National Hospital; the Karapitiya & Anuradhapura Teaching Hospitals and the University of Sri Jayewardenepura.
---
Arrivals stopped
All passenger flights to Sri Lanka have been stopped, except authorised flights bringing back Sri Lankans.
The Chairman of Airport and Aviation Services, Major General (Rtd) G.A. Chandrasiri said the ban does not apply to cargo flights where the crew members would not be allowed to disembark. If they do leave the aircraft, they would be sent into quarantine.
This was as the Foreign Relations and Buddha Sasana Ministries coordinated to get back to the country, the Sri Lankans who had gone on pilgrimage to India.
On March 18, 700 pilgrims returned on scheduled commercial flights. But 17 tour groups comprising 871 Sri Lankans were still in India and the Sri Lanka missions were in touch with them to fly them back on special aircraft, a press release said.
SriLankan Airlines would also be accepting the pilgrims, depending on the seats available, on its flights operating to Delhi and Chennai daily for transit passengers from March 19-25, it is learnt.
Arrivals from Italy and South Korea have been banned till March 28; from France, Spain, Germany, Switzerland, Denmark, Netherlands, Sweden and Austria till March 29; the United Kingdom, Belgium and Norway till March 30; and Qatar, Canada and Bahrain till March 31. The ban is on till March 25 from all other countries.
---
Timeline of detection of 65 patients as of the afternoon of March 20
January 27 – A Chinese woman tourist is diagnosed with COVID-19 in Sri Lanka. She is treated and returns home on February 26
March 10 – A 52-year-old tour guide diagnosed with COVID-19 is the first Sri Lankan to be confirmed as positive
March 12 – A second, 44-year-old tour guide, who came into contact with the first patient is diagnosed with COVID-19
March 13 – Three more confirmed cases: A 41-year-old male who had been travelling in Europe for two weeks; and two more males, a 37-year-old and 34-year-old who had returned from Italy and were being quarantined at the Kandakadu centre.
March 14 – Four more returnees from Italy including a 56-year-old woman who were being quarantined at the Kandakadu centre and a 17-year-old relative of the second guide are diagnosed with the disease.
March 15 – A 45-year-old who travelled to Germany with a previous patient who had been travelling in Europe and seven more male patients from the Kandakadu centre who had returned from Italy are affected by COVID-19.
March 16 – Ten more cases are confirmed including a 13-year-old girl and nine males. Among the males are a patient who had returned from Kerala; four from the quarantine centres; and a SriLankan Airlines officer. One of the patients is from the army who had got infected at the airport when some returnees created a disturbance refusing to go into quarantine.
March 17 – Fifteen more cases are confirmed including the wife of the second tour guide, one person linked to the patients who travelled in Germany, a returnee from the United Kingdom, a 25-year-old from Qatar, one person from Kelaniya and another from Marawila.
March 18 – Nine more patients are diagnosed with COVID-19.
March 19 – Seven more cases are confirmed including the gem trader's wife and daughter, two from quarantine centres who had returned from Italy, a child, a 74-year-old and a 23-year-old.
March 20 – Six more cases are confirmed.
---
Messages circulating that the Colombo Municipal Council would be spraying medicine to kill the new coronavirus is false, said Deputy Municipal Commissioner, M.A.C.M. Fazal.