A day in the life of those in quarantine
By Kumudini Hettiarachchi, Ruqyyaha Deane & Meleeza Rathnayake
View(s):
What is it like to be quarantined? Here the Sunday Times spoke to those in some of the quarantine centres to put together the 'day in the life' of those living in there.
Medical student DinulHettiarachchi (20) who arrived in Sri Lanka from the United Kingdom (UK) early on Tuesday is now at the Diyatalawa quarantine centre.
Just two of them, Dinul and another student, had been taken in a bus accompanied by several police cars, after the initial screening in a separate section of the airport, reaching Diyatalawa at midnight and being ensconced in an army holiday bungalow.
"It is an unexpected experience," said Dinul, adding that he thinks these two weeks will change his life.
Having been provided all the essentials such as toothpaste, soap, a toothbrush, a mug, a towel and a blanket, Dinulwho shares the bungalow with five other students says that each day he wakes up, performs his ablutions and then dons his mask before collecting his breakfast, like all the other meals, which has been left just outside the door, to ensure that there is no direct contact with anyone outside.
A strong cup of tea and a hearty breakfast of bread or rice with dhal curry, pol sambol, fish curry and potato curry follow, after which Dinulreads a few chapters of 'Life Lessons from a Brain Surgeon' by Dr. Rahul Jandial.
The other meals during the day are variations of rice and curry as well as the occasional pasta dish.
An exercise routine, watching movies, playing card games and 'vlogging' (video recording) his quarantine experience fill up Dinul's day.
"My motive in sharing what the quarantine procedure is all about is to show people that it is not as scary as it sounds," he says, explaining that a doctor calls them to ask after their wellbeing and their temperature is taken daily. As Dinulis having a mild cold, the doctor has sent over some medicine.
The Sunday Times also hears from a 19-year-old who returned from a vacation in the UK at 7 p.m. on March 16, that having been taken to a separate section, there had been a disinfecting process, followed by food being provided after which the arrivals were escorted to a bus at about 9 p.m. The journey started at 2.30 a.m. and they reached the centre in the Wanni at 7.30 a.m. The centre accommodated those who had returned from the UK, but the next day passengers who had come back from Qatar, Bahrain and the United Arab Emirates had also been brought here.
This centre is in the Air Force training camp, the UK returnee said, adding that "it's okay".
It is dormitory-accommodation with 24 bunk beds, but each bunk bed is only occupied by a single person. Toilets, showers, Wi-Fi, a welfare shop where they can buy their needs are all available, the returnee said, appreciative of the efforts made by the Air Force to keep them comfortable and happy.
Just outside there is a large area with trees, says the returnee, adding that all meals are provided, a mix of Sri Lankan such as rice and malupaanand western such as pasta.
The returnees' temperature is checked daily and up to now no one has been diagnosed with any symptom.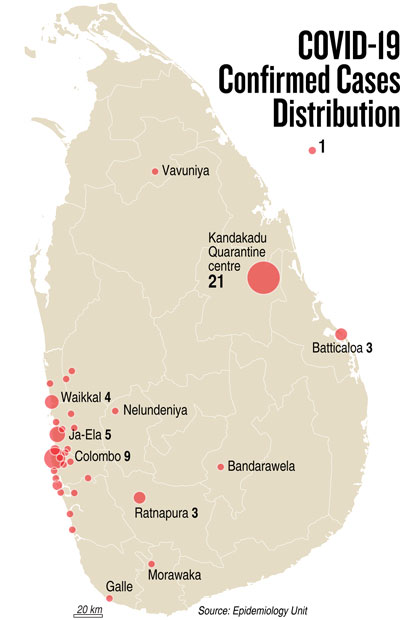 What it means to be home quarantined

Oft heard in these past few weeks has been 'self-isolation' and 'home-quarantine'.

It is from the Epidemiology Unit that we get the guidelines for 'home quarantine'.

'Home quarantining'means keeping visibly healthy but possible high-risk people separately in a non-healthcare setting. These high-risk people may include those returning to Sri Lanka from countries where local transmission of COVID-19 has been established and those who had maintained close contact with a suspected or diagnosed case of COVID- 19.

The requirement is for such 'high risk' contacts to be home quarantined for 14 days to prevent community transmission.

Here is how it should be done:

•   Allocation of a separate room with adequate ventilation in the home of the person, if possible, with other members of the household staying in another room or away from him/her. This person should not leave the house under any circumstances and others should also, as much as possible, limit their outings.

•   Advising the person to keep at least a one-metredistance from family members.

•   Preferably, other members of the household should use a separate bathroom. However, if the bathroom is being shared, taps, doorknobs and utensils being cleaned with soap is a requirement.

•   Visitors should not be allowed into the house.

•   Everyone in the house should frequently wash their hands with soap and water for at least 20 seconds or follow alcohol-based hand hygiene in instances where hand washing facilities are inadequate

•   Avoid touching the eyes, nose and mouth with unwashed hands.

•   The person who is undergoing home quarantine should monitor his/her body temperature using a thermometer twice a day. If he/she gets fever, cough, difficulty in breathing, sore throat, body aches and pain, including flu like symptoms, the Medical Officer of Health (MOH)/Public Health Inspector (PHI) of the area needs to be informed immediately.

•   Any disposable face-masks and gloves used should be discarded without reuse, preferably in a closed container

•   The person in home quarantine should use separate dishes, glasses, cups, eating utensils, towels, bedding and other items for the quarantined person.

•   Used utensils, bed linen and clothes should be washed with soap and water.

•   The relevant MOH will assign a PHI to monitor the person in home quarantine. The PHI will check his/her health status daily by visiting, telephoning or seeking information through an SMS, throughout the 14-day quarantine period.

•             If the quarantined person shows signs and symptoms, the PHI should immediately inform the MOH and the Regional Epidemiologist and the suspected patient taken to a designated hospital by the 1990 on-call ambulance (Suwaseriya) service.

---

Home quarantining

She went to South India on March 3 on pilgrimage, visiting several Hindu kovils where there were crowds and returned to Sri Lanka on an early morning flight from Chennai on March 10, landing at the airport around 2.45 a.m.

On her way out, she spotted only two officials in police-like uniforms, handed over her Health Declaration Form, passed through customs and went home to a suburb of Colombo.

Widowed, she is living with three maids in her home and after her pilgrimage she went to the bank and supermarkets as usual. "I went about normally," she says, joining the crowds on the day of panic buying to stock up.

It was on March 16 or 17 that she woke up around 2.30 a.m. to hear a message being blasted from a hailer that all recent travellers out of the country should report to the Police Station and that's what she did that same morning, going with her passport and filling up a printed form with her details.

From then on, she has not been leaving her house as she has been told to self-quarantine herself till March 24 and been receiving calls to check whether she is showing any symptoms such as fever and cough. She is keeping a distance from her domestic help and is sad that she cannot take her usual walk on the beach with her pet dog.

When the Medical Officer of Health (MOH) Office called her at home and asked whether she had gone out, she had said yes. Then the caller had asked her whether she was not told to refrain from going out of her home at the airport and she had told the person that she was not told.

"So far, I am alright. Why didn't they tell us all this at the airport," she asks, saying that it would have made life easier and also been a strong precaution against the spread of COVID-19.

---

AMS calls for one or two-week lockdownand makeshift ICUs

Consider seriously the need to lockdown the country for one week, if needed for a second week, to contain and slow the spread of COVID-19, said the Association of Medical Specialists (AMS).

The AMS urged that there should be at least one dedicated hospital for COVID-19 positive patients and 'highly suspicious cases' in each district, starting from areas where there are more cases.

"Makeshift Intensive Care Units (ICUs) with ventilators should be set up quickly to cater to about 5-10% cases likely to develop severe disease. All measures needed to limit access and stringent measures to prevent the spread of disease to staff and the uninfected have to be established in these hospitals," states the AMS,pointing out that there are no reserve ventilators within the current system and as such they need to be purchased immediately.

Reiterating that as the numbers grow, continuing to manage these patients in larger hospitals which are already overcrowded with other patients can lead to a dangerous spread of the disease to the hospital staff and other patients, the AMS states that whenever a healthcare worker gets the new coronavirus infection, all the other healthcare workers who are associated would have to be in quarantine for 14 days and this can shut down a whole section of a hospital with terrifying effects on the health service.

There is a need to ensure that stocks of all drugs and essential items needed to handle the epidemic are available. Face masks and hand sanitizers for the public are becoming a scarcityand hospitals can run out of Personal Protective Equipment (PPE), the AMS adds.

---

Luxury Club Hotel Dolphin offered as quarantine centre

The luxury, 154-room Club Hotel Dolphin at Waikal, about 10 km north of Negombo, has been offered as a quarantine centre to the government by Hemas Holdings, owners of the property.

"The decision to offer the property as a quarantine centre to the government was taken today by the board of directors," a company spokesperson said.

Waikal is located in the Negombo-Chilaw hot spot where many Sri Lankans, who work in Italy – adversely affected by the coronavirus-, arrived in the island to their homes in this location in northwest Sri Lanka.

---

A statement issued by the Sri Lanka Medical Association (SLMA) under President Prof.IndikaKarunathilake's signature says that although the total number of laboratory confirmed patients may seem low at the moment, "we are seeing a steady increase with more patients being detected from the community".

"We are still within a brief window of opportunity to act as these cases are from localities with known contagious contacts and there is no report of community spread, as yet. Unless stringent action is taken to curtail the spread at this moment, Sri Lanka too will witness a rapid increase with community spread.  Our health system will soon get overwhelmed beyond their capacity," the SLMA states giving the following recommendations:

•   Trace the addresses (available with the Immigration Department) of those who have entered the country since March 1 and have not been quarantined and also the addresses of cases and contacts which are available with the MOHs and preventive services. Locate these on a map using software such as Geographic Information Systems (GIS). This will help to identify the high-risk areas and strict measures taken to prosecute any individual who does not adhere to regulations and instructions.

•   Active and extensive contact tracing and quarantining of suspected patients, probable cases or confirmed patients should be done as a routine activity of the preventive sector to eliminate all likely sources of infection from the community. The confidentiality and privacy of the patients must be respected at all times while prosecuting any who do not heed the quarantine measures and instructions.

•   Take immediate measures to set-up or identify dedicated hospitals exclusively for COVID-19 suspected/probable and confirmed patients to minimise spread within healthcare institutions Admission of suspected, probable or confirmed cases of COVID-19 to busy tertiary care hospitals precariously exposes hundreds of patients and staff who routinely use these healthcare institutions. This may accelerate the spread even further. Thededicated hospitals should be provided all necessary manpower, material, resources and facilities for referral if needed.

•   Ensure a continuous supply of Personal Protective Equipment (PPE) to the hospitals. The availability of hand sanitizers and masks to the public should be ensured. The whole supply chain to provide protective clothing, supply of extra oxygen and waste disposal has to be considered to avoid overloading the system and to ensure safety of frontline health workers.

•   Compulsory regulations for commercial institutions to implement sanitisation processes targeting areas frequently used by customers.

•            Utilize technological advances such as social media, online learning, mathematical modelling, artificial intelligence, GPS tracking, tele-medicine etc, for health education, surveillance and patient management. recommendations