Shakespeare Centre brings "Julius Caesar"
View(s):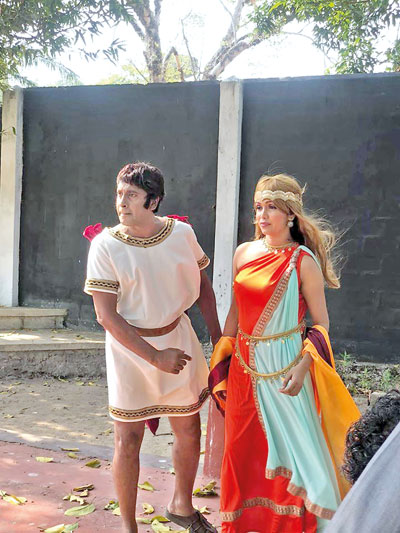 The newest theatrical production by the Shakespeare Centre of Sri Lanka, "Julius Caesar" is scheduled to be staged on May 17 at the Elphinstone Theatre Colombo 10. The play that was planned for March 15 was rescheduled following the closure of all public activities including plays and film screenings, due to the fear of Covid 19 spread.
This is the seventh theatrical production of William Shakespeare by the Shakespeare Centre. Started with Romeo Juliet in Sinhala in 1976, for over the last four decades the Centre has produced 'Othello' in 1990, Macbeth (Sinhala) in 1992, Hamlet in 2006, and Othello (English) in 2016 and Macbeth (English) in 2017.
Under the leadership of Obinamuni Gamini De Silva, President of the Shakespeare Centre, a large number of actors and actresses have been presented to the Sri Lankan theatre and cinema.
"'Julius Caesar' has a cast over 30 actors and actresses. All of them have undergone training at the Shakespeare Centre and they are professionally trained in acting," said Gamini De Silva, who runs the Centre with a Council of Trustees and Council of Hon, advisors. The Advisors include Deshamanaya Clarence Kumarage, Dr. Edwin Ariyadasa, Dr. Karunasena Kodituwakku,  Dr. Sunil Wijesiriwardena, Dr, Lakshmi de Silva, Dr. Praneeth Abeysundara, Wasantha Navaratne Bandara PC, Pradeep Jayatilaka, Dr. Sarath Amunugama, Prof. G. L. Peiris, Jeewan Kumaratunga, U. R. De Silva, Dr. Michael Fernando, Prof. Mudiyanse Dissanayake and Dr. S. Wijetunga.
Dr. Rahul Perera is the Vice President while Maheshika de Mel is the Secretary.