Christopher Paul: Ever green living legend
View(s):

Christopher Paul, ever green, veteran oldest Sri Lanka's living vocalist in his twilight years, is now reported semi paralyzed status and is looked after by his daughter Harshini at her residence in Ja Ela.

He was the number one and most sought-after one star during 60s and 70 era. 'Ela dola ganga', 'Katuroda gammane', 'Wathura Nala', 'Rosa malak dutuwama', 'Menika Menika', 'Veena vile meda olu male', 'Muthu bello' are some of his popular hits still aired by radio stations and reproduced by new generation artistes.

Adihettige Christopher Emmanuel Paul was born on 10th April 1936 as the eldest son of S A Paul, who was ex serviceman and an employee of Registrar General's Office from Moratumulla, Moratuwa. Has had his primary and secondary education at St. Sebastian's College Moratuwa.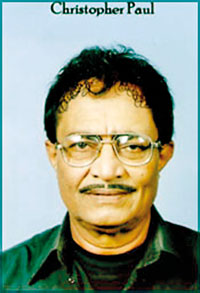 In his senior classes, there had been famous Roy de Silva and Freddie Silva. The trio had been famous in wearing wedding attires to attend uninvited wedding parties to eat and drink, then to vanish from the reception halls before getting apprehended.
His close associates were renowned musician Patrick Denepitiya, vocalists CD Fonseka, Maurice Dahanayake, who were all senior. It was his music teacher in class Francis Perera, who had identified his singing talent had advised him to attend Sunil Shantha's music classes in 1956. Christo was thrilled to follow the advice as Sunil Shantha had been his favourite singer. The class had been held on the first floor of Newton Studio in Maradana. In the meantime he had followed a course in motor mechanism at then German Technical College in Katubedda which helped him to secure a job at Dias Motor Garage in Negombo.
His father S A Paul was a theatre lover and was a member of Indo Lanka Club in Maradana where he had acted for women roles in dramas as those days ladies do not come to theatre. His father's ambition was to make him a singer at the then Radio Ceylon Commercial Service.
After successfully passing as a 'A' grade singer, his first song recorded was a duet with his younger sister Bernedeth who is married to famous Ariyasena Millavithanachchi  of the Radio Ceylon. The song was 'Veena Vile Meda Olu Male' lyrics by Sarath Wimalaweera while the musical score was by Vernon Perera.
In year 1978 muthu bello in the thousands had been washed ashore around Sri Lanka. For the lyrics of Basil M Fernando and music of Vernon Perera the song 'Bello Muthu Bellow' was sung which became an instant hit. This was an original tune. Christo had been a lover of western songs. Basil M Fernando had written a song 'Pem loke pura' to the tune of Elvis' 'Wooden Heart' to the music composition of Patrick Denepitiya.  In year 1959 to an modified Italian tune Karunaratne Abeysekera had written lyrics for the song 'Ha Mal Pipenne' to the music of P L  A Somapala which too became an instant hit even to date. After which a spate of songs were recorded which were instant hits even up to date. 'Ude gedera punchi uddayak', 'Ela dola ganga', 'Katuroda gammane' 'Wathura Nala',  'Rosa malak dutuwama' etc.
Christo met his future partner Lilani Gunasekera, an old girl of HFC Bambalapiya inside the  Madu Church and they had tied the nuptial knot on January 6th 1968. They are blessed with a son Sampath and two daughters Sharmila and Harshini.
Christo was a sought after singer for over four decades was often invited to sing in outdoor and indoor concerts. He has toured many overseas countries for concerts.
For his contribution to music the department cultural Affairs had organized a solo concert 'Christo 82'  in 2018 at the Bishops Auditorium where he had sung twenty five songs as his one and only solo concert.
Anyone who needs to find about him could contact Harshini on 0772412615 or wife Lilani on 0775571123.
- Sunil Thenabadu in Brisbane