Smuggling national wildlife; Russians remanded
Pix and text by Shelton Hettiaarachchi
View(s):
Three Russians are being investigated for organised smuggling of endemic animals and insects and invertebrates from Sri Lanka after being arrested with a haul of creatures they illegally collected.
The Russian suspects are identified as Ignatenko Alexander, Riyabo Artem and Kilfuyan Nicolai.
Attorney C Perera appeared for the suspects who were due to leave Sri Lanka on February 25.
They were arrested for attempting to smuggle 500 endemic wildlife.
The three Russians had collected endemic species from national sanctuaries including forests in Habarana, Badulla, Ginigathhena, and Jaffna. They have collected samples of plant species to extract rare genes from plants in tropical forests. They have attempted to collect insects and invertebrates such as centipedes and millipedes from Horton plains.
The Russians had arrived in Sri Lanka in early February, obtained an international drivers' licence and hired a vehicle to reach various locations.
They systematically organised and stored the samples of biological species and transported them to hotels where they temporarily stayed.
The police arrested the Russians at Horton Plains. Seven varieties of rare insects had been found in their pockets.
Forest officers had tailed their vehicle, and found bees, butterflies, and insects — 184 species in total.
Park Ranger, Pradeep Kumara checked the wildlife and produced the suspects and the wildlife before the Nuwara Eliya Magistrate on February 26, 2020.
Searches were also done in Hettipola, where some species and equipment were found.
The suspects were remanded until March 3.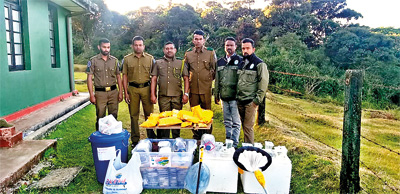 The court consented to a request by wildlife officers that the wildlife be released, that samples be classified, listed and branded by museum authorities and the Peradeniya Institute of Biology and Animal life and that the chemicals the Russians used be analysed by the Government Analyst.
The magistrate remanded the Russians until March 12. The vehicle was seized.
Horton Plains National Park Ranger, Pradeep Kumara with the concurrence of the director of the Central Province Wildlife N G Wickramatillake, had released the wildlife after Prof Deepthi Wickremasinghe from University of Colombo, and Dr Sampath Tennekoon classified them. The wildlife were released in Sigiriya, Kitulgala, Ginigathhena, Yala and Bundala.
Mr Kumara said the Russians are also suspected to be involved in wildlife smuggling in Uganda and India.
Wildlife officials, P M T Panawalage, T P Dayaratne, K G P Priyadarshana including the manager of the Horton sanctuary, Pradeep Kumara, Deputy, T P Dayaratne, K G T Udayakumara and driver Chandralal were involved in the search.
Some of the wildlife species the suspects attempted to smuggle