The first hundred days of President Gotabaya Rajapaksa
View(s):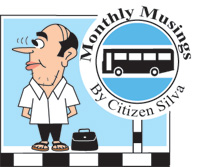 I had calculated that in exactly three days, on February 26 2020, Gotabaya Rajapaksa will complete his First Hundred Days of office as our President.
It was during the time of the 32nd American president Franklin Roosevelt that this phrase "The First Hundred Days" came into popular culture to describe a new president's initial achievements since assuming office. On taking his oath of office on March 4th 1933, Roosevelt inherited a country in financial tatters – with massive unemployment and many folk deeply in debt.
Roosevelt had strong support from the American public and at the November presidential election won the popular vote by about 17 percent. The people were so fed up with the previous administration of President Herbert Hoover (who presided over the stock market crash of 1929 and the beginning of the Great Depression) that they overwhelmingly voted for Roosevelt.
They were prepared to support any new measures that he proposed to take in order to put people back into jobs, put food back on their tables and the nation back on its feet.
During these first hundred days, Roosevelt (strongly supported by the American parliament, the US Congress) initiated action to bring about what he called the New Deal. Some of his measures were successful, some were not – but he was seen by the people as a man who was able to take decisions and work hard for their benefit.
In 2019 we were facing a similar situation to what America suffered in 1932. We were governed with a deplorable lack of good governance by a President, Prime Minister and unwieldy cabinet who were woefully ineffective in getting things done. While it could not be said with conviction (since there was no evidence for it), the President and his men were taking bribes, people like Mahanama, the President's Chief of Staff, Herath from Public Enterprise and Kandy Development and Chandrasena from Sri Lankan Airlines (to name but a few) were well known to be accepting money in order to "facilitate decision-making."  The question on everyone's lips was "Where did the buck actually stop?"
In a land where the security forces had succeeded in defeating one of the worst terrorist organisations the world had seen and given us citizens a safe and secure country, petty squabbles and bitter feuds between President and Prime minister left a gaping void in the nations' security by 2019.  Innocent citizens who should have been provided with security and protection by the state ended up paying the supreme price for the incompetence and utter lack of responsibility of our leaders.
Small wonder then that nation, like America in 1932, was fed up — and voted overwhelmingly for Security and Safety. People were willing to forgive the lapses and misbehaviour of Mahinda's cronies because we wanted to give Gotabaya the chance, like Franklin Roosevelt was given in 1932, of putting our country right.
The new President started off on the right foot – limiting his inner cabinet to just 15 as well as appointing (and appearing to appoint) capable and experienced persons to key positions. Like the Caliph Haroun Al-Rashid who used to travel incognito in his capital city to find out how his citizens were faring, the President started making unannounced visits to places like the Office of the Registrar of Motor Vehicles, the Bandaranaike International Airport and the Economic Centres at Thambuttegama and Narahenpita. This concept of what management guru Tom Peters calls Management By Walking Around (MBWA) is an unorthodox but very smart approach to management, because it helps those in charge keep their ears to the ground. You can learn very well about how your employees are doing, whether your organisation is doing its job efficaciously and if your customers are satisfied. Walking around and interacting with those who serve the public and those who should be served as the public is better at achieving results and solving problems rather than sitting behind a desk and waiting for the reports to reach you.
The President has the right idea and his election augurs well for the country.
We are aware that the new President is neither an orator nor a horse-trading politician. We can only hope that those who helped him achieve his election win and on whom he has to depend for his political victories will have the good sense to behave themselves and let him get on with doing his job.
We citizens are not interested in promises of so called Good Governance of which the Yahapalanaya types made such a mockery.
What we want is security – and an efficient government.