The weight of diaries
Saskia Fernando in conversation with artist Fabienne Francotte
View(s):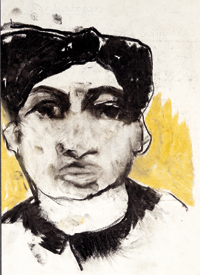 Fabienne Francotte moved to Sri Lanka in 2016. Her visual documentation of her experiences in the island was repeatedly maintained in her diaries. Her works combine social, emotional and spiritual experiences; the vivid narrative of an expatriate, teacher and observer.
Born in Belgium, Fabienne studied calligraphy at the Maison du Livre in Brussels. I Don't Know But I Remember presents cathartically, pages removed from within her books, creating a chronological visualization of time, both interconnected and disconnected via its narrative. The images are a survey of her surroundings and environment; a juxtaposition of emotional exchanges and simple observations.
Included in this exhibition are six miniature figurative clay works that connect the artist's discipline to three-dimensional form and bear an  undeniable link with the process of her paper work. The intimate nature of these works, both in their subject and medium, act as a gift to the viewer; the artist chooses to share them as an ode to her journey and her encounters.
SF: Describe this exhibition to us
FF: The exhibition is a very special one, it was unexpected for me. The material is very intimate; it includes photographs, drawings, texts and writing. We can refer to them as diaries but for me the exhibition is a gift. I think I finally agreed to do it, with you, to cut pages out of my notebooks, because it was like they belong to this country. Before that, I thought I would never be able to do so because they are my archives, what I have in Brussels is another twenty such diaries. If I look back on the last eighteen years of my life, what I have is my notebooks. They are what I want to save. It's a mental construction: like my spine, they make me move forward and not only draw but think about what to say and how to say it. They allow me to have a kind of path; it's a thinking process while at the same time it's full of freedom. This is a complex piece of work that I have never shared until now.
SF: If these works are private to you, how do you feel about presenting them to the public?
FF: I think as an artist what we are looking for is also visibility. And after all why not? Show something more intimate, sharing the recipe of how I move to large scale works later on. I think also, time is flying so I would rather want my works  to end up in collections not in a flea market with some anonymous collector of notebooks. I have photocopied these works and replaced the missing pages in my books. If these pages can go into other places in Sri Lanka or elsewhere it is a way of sharing my drawings.
SF: And where will you go from here with your practice? What happens now?
FF: I have big plans; I always have new ideas. I am a project-obsessed person.  I would like to work on big installations and challenge myself to speak about heavy subjects in a subtle way. Not showing for the purpose of showing but to invite, to question and to grab the others' attention.
SF: How do you see yourself placed in the local contemporary art scene?
FF: Now after three and half years I have started to feel being part of the local art scene and the artists are interacting with me in a more comfortable way than at the beginning. I have been invited to be a part of it. It takes time to merge into a community when you might have been seen as an outsider.  On my side, having lived quite a while in Sri Lanka I appreciate much better the works of my fellow artists.  I think we have a lot to share and learn from each other.
SF: You often work in the night, are these diaries also a part of this nocturnal practice?
FF: No, the diaries are ongoing during the day. They are with me in my bag all the time; heavy and weighing down my shoulder.  Also ready to be opened at any moment.   Later in the night, I turn up the volume. I am often the most creative when I am alone and tired.
'I Don't Know But I Remember' by Fabienne Francotte will be on view to the public daily from 10 a.m. to 6 p.m. at the Saskia Fernando Gallery, 41 Horton Place, Colombo 7, Tel 0117429010 Email info@saskiafernandogallery.com