Passing of Ven Ampitiye Sri Rahula Maha Thera marks the end of an era
View(s):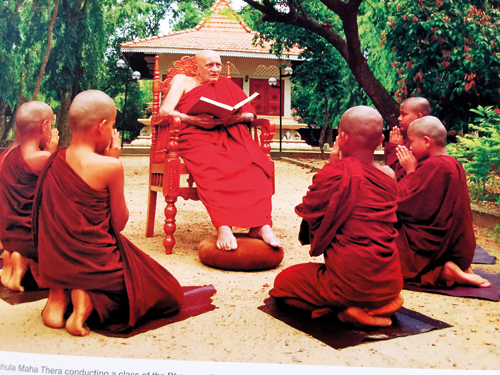 The departure of the Most Venerable Ampitiye Sri Rahula Maha Thera ends the 'Pelene Siri Vajiranana Era' where the learned monk, Most Venerable Pelene Sri Vajiranana Maha Nayaka Thera trained a set of monks resident at the Siri Vajiraramaya, Bambalapitiya with the aim of propagating the Buddha Dhamma both locally and globally. Along with fellow-monk, Most Venerable Madihe Pannasiha Maha Nayaka Thera, Rahula Maha Thera planned to establish a centre to train monks and discussed the project with Senator D.L.F. Pedris, a member of a well-known Buddhist family.
After agreement was reached about starting a centre, the Sasana Sevaka Society was formed and a house at Lake Road, Maharagama was leased to get going with the project. This was six decades ago – in April 1958. The premises opposite the house was obtained and the necessary facilities were arranged. Rahula Maha Thera undertook to be overall in charge under the guidance of the Madihe Maha Nayaka Thera who had a busy schedule as the chief prelate of the Sri Dhammarakshita Nikaya, a sub-order of the Amarapura Nikaya.
Soon word got round and chief prelates from temples in numerous areas began sending novice monks to the Dharmayatanaya, as the temple was named, for training irrespective of which Nikaya they belonged to.They were resident monks.   As part of the training the student monks had to take turns and go from house to house for alms. They also had other traditional customs a monk had to follow.
"Rahula Nayaka Hamuduruwo was a strict disciplinarian and kept a close eye on the student monks," recalls Meeghakumbure Dhammagaveshi Nayaka Thera, a student monk who is now the chief prelate of Lankaramaya in Sydney, Australia. "Apart from the Dhamma we learnt a lot on how a monk should lead his life, particularly in dealings with the laity."
He trained senior monks to teach at the Dharmayatanaya after which Rahula Maha Thera preferred to lead a quiet life meditating. He moved to Bowalawatta in a hilly area close to Kandy and later to Katupotha off Anuradhapura.
I remember meeting him at both places. He was quite pleased with his 'solitary lifestyle'. At Katupotha he was in a rock cave and irrespective of his ripe age, had started going on 'pindapatha'where he had to walk quite a distance to collect alms since the houses were far apart.
When he passed away Ampitiye Rahula Maha Thera was 106 years old and had completed 79 years in robes. Buddhists will agree that the Maha Thera is well on his path to Nibbana.
-D.C. Ranatunga