Appreciations
View(s):

Toast to a great love story and  a wonderful lady

Neelanganie Liyanage

"Who can find a virtuous woman? for her price is far above rubies." Proverbs 31:10

"Anything worth having is worth waiting for"

"If the people we love are stolen from us, the way to have them live on, is to never stop loving them."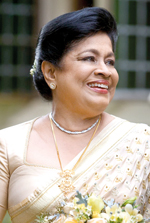 Who would ever find a lady as ladylike as Neelanganie Liyanage? Elegantly dressed, well groomed, not a hair out of place and immaculately manicured.  Kindness personified her, and that was her key characteristic – everybody commented on this quality.  What else characterised her?  She never spoke disparagingly about anyone, nor did she ever encourage such talk.  What a collection of lovable features in one individual!
She was not born into nor did she inherit riches.  When she lost her father when she was only 18, she had to give up all thought of higher education, leave school (Visakha) to start employment, support her two younger siblings through school, and also her mother who was a housewife.  Her dad, as the Superintendent of the Hydraulic Laboratory in the Irrigation Department, was living in a rented Government house in Gregory's Avenue.  Pursuing one of his interests he had pioneered colour photography, doing his own colour-printing, back in the 1950s; his other passion was as a radio ham.
So, what a start for this young girl, who straight out of school, had to look for a place for the family to live, then go out to work as the breadwinner.  In 1961, when the bus fare for one-stage (e.g. Wellawatte to Bambalapitiya) was a mere five cents, yes five cents, she would get off the bus and walk the length of two stops to save five cents.  She travelled daily from Ratmalana to Kollupitiya, by bus, with a one mile walk from home to the bus stop.  That was how she cut her teeth, and boy, did it not develop her for later life!
Her first job was at the Cement Corporation where the Chairman, a good old-fashioned senior Civil Servant, recognised her talent and capability, supported and encouraged her, and guided her early career development.
She was later chosen to work for the United Nations in Colombo.  Such was her rapid development and strength of character, she took herself off alone to Sierra Leone, where she continued to work in the UN Development Programme and served two terms there.
On her return, she married Peter "Suresh" Samuel, who then headed one of the best-known engineering companies in Sri Lanka.  In later years, after the untimely death of her husband, she served as Co-Chairman and Managing Director.
Some 35 years ago, she founded a greeting card company.  It was under licence Gibsons Greetings of USA; the carefully crafted, catchy company name Uthum Pathum, her brainchild, created a niche market for high quality greeting cards.  Her mission was to give thanks to the Lord for all His blessings and the comforts bestowed on her to support the local community; and to provide employment for at least a moderate number of people.  This company, of which she was Chairperson and Managing Director since its founding, was her life's work and devotion.  Uthum Pathum became inextricably linked with,and as well-known as her own professional name – Shanthie Samuel.Uthum Pathum has been producing quality greeting cards, which they have exhibited by invitation even in the USA.  Uthum Pathum has grown from strength to strength.  They also design an exclusive range of wrapping paper and gift bags.
She travelled the world to establish brand names like Gibson, Hallmark and Archies in this country.  Her legacy is the multiple store organisation where she personally led the team in designing, printing, marketing and selling quality cards.  They ventured to the field of gifts alongside the cards.  One of her passions which she never lost, was to develop young artists; through them, she was closely involved in the painting and the production of hundreds of original greeting cards, with a Sri Lankan theme.
Her world changed in 2015.  After a lapse of some 54 years and no contact whatsoever – the two of us who were childhood sweethearts growing up as neighbours on Gregory's Avenue, met each other.  Back then we had dated for over four years, until our lives took different paths.  I qualified as a doctor in 1965 and migrated to the UK where I was a Consultant and a Medical Director. Having been widowed, after my retirement, and on one of my few short trips back to Sri Lanka, Neela and I met.  If ever the cliché "love at first sight" became a reality, this was it.  Nothing ever happens by chance . . . this was God's plan for us.  Instantly, we became inseparable and married in 2016, and lived "happily ever after".  In a sense, we cut themselves off from a busy social life, so that every moment was exclusively for each other.
Neela had old-fashioned values – the thought of me her husband lifting a finger to do any housework or grocery shopping was abhorrent to her.  But the Lord works in mysterious ways, and I saw to her every need particularly during her illness, when she was overcome by tiredness.  It now transpires that she had told all her family and friends how blissfully happy she was, and how I had looked after her like a baby!
Though she was diagnosed with advanced cancer two years ago, we committed ourselves to each other and breathed not a word of the diagnosis to any other. She received treatment in Singapore and in the UK.  Neela remained positive and cheerful, deeply engaged in her greeting cards business, and forever praising and thanking the Lord for His love and benefits.  Never did the thought "why me" ever cross her mind.  She found comfort in the Lord, and the faith of one spouse was strengthened by the other.
Neela was part of a small prayer group of five ladies, who met regularly, predominantly to pray for Sri Lanka.  Ladies of varied backgrounds, four of them widowed, but with one common goal, to seek divine guidance, help and blessing for their beloved country.  Every aspect of the prosperity and future development of the country was included in their prayer list.
She had a symbiotic relationship with the King's Revival Church and had comfort in livestream broadcasts of several Sunday services, healing services during the week, and she watched their YouTube collection for hours on end.
Her recently widowed sister lives in the Netherlands, while her brother and his wife are in the US.  She doted on her two nephews and her niece.  My two sons in the UK and the two grandchildren were devoted to her, as was my only surviving brother and his wife living in England.
Our early love for each other, then total lack of contact for five decades, followed by a "chance" meeting leading to instant and intense love and a life together is a theme for a movie.
She is safe in the arms of Jesus and we will surely be reunited one day, never to part again.
Dr. Sunil Liyanage
---
Our dependable, ever-faithful friend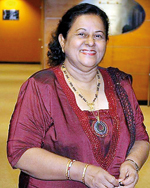 Padmini Samarasinghe
It feels unreal to be penning an appreciation about Padmini, a remarkable lady who I considered to be a dear friend. She was full of life and laughter, vibrant in every sense of the word. Padmini was many things in her life but when I met her in 2006 she had just embarked on a new chapter of her life : Padmini, the Toastmaster. It's not an exaggeration to say that Padmini was CIMA Toastmasters and CIMA Toastmasters was Padmini. She was a founding member, the club mentor and active member till the end. The double DTM, she was the first lady Distinguished Toastmaster (DTM) in Sri Lanka. She was the livewire that made our club the strong club it is today. That is why it's only apt that I write on behalf of all the past and present Toastmasters of our club as we remember her on her first death anniversary, February 15.
Padmini was many things to me – friend, mentor, coach, a mother and sometimes my biggest critic. She was all that to many others as well. She was our greatest strength, always dependable, never failing, ever-faithful friend.
Padmini loved public speaking but she thrived on mentoring the younger ones even more. It brought her joy and satisfaction to watch them discover their true potential. I realize how fortunate I have been to associate so closely with her. It is very rarely that one finds a teacher who would take personal interest in a student's growth, especially in one's adult life. I am not alone. Everyone who had the good fortune to be coached and mentored by her would no doubt, be thankful. She in her own unique way has changed many lives.
Ever the optimist, she did not know the meaning of the word "NO". She would always find a way to get things done. She had a great talent for managing her time, and if you needed her help she would always extend it without any hesitation,however busy she was. I can't remember how many of my speech scripts she had corrected – she would see things I could not and always came up with great suggestions to improve it.
Padmini was a disciplinarian and the no-nonsense kind. She wouldn't hesitate to call a spade a spade. But what most people did not know was that underneath that firm exterior was a lady with a generous heart. If she found fault with you, she did it with all the good intentions. She gave unconditionally and without any fanfare. There have been so many instances when I was taken by surprise by her generosity.
Ever the stylish lady, one could always look forward to seeing her impeccably dressed in one of her many vibrant sarees at any Toastmasters' or CIMA event. Her zest for life was infectious. Although I was half her age I would struggle to keep up with her on our shopping sprees or on the dance floor.
To say I miss her is an understatement. I miss our long conversations and her laughter. When I close my eyes I can still vividly hear her sweet melodious voice. It gives me solace to continue her great work although I could never hold a candle to this remarkable lady. She left us too early for there was so much more she could have done. I am too selfish to wish her eternal rest, no, we must meet again somewhere in our journey through sansara to laugh and love like we did before.
With love,
Probo on behalf of all CIMA Toastmasters
---
Recollecting Bamba Achchi on her 90th b'day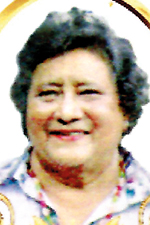 RITA PERERA 
It was a weekday and my six-year-old self was getting ready to don my St. Bridget's Convent uniform. As I was getting dressed Bamba Achchi made an entrance in a baby blue cotton sleevless dress with her purse tucked tightly under her arm. She saw me and asked with a smile,  'Thunai dekai?' I just blurted out 'Hatharai!' and realised my error, which I was fervently hoping would escape her sharp ears. I would find out soon enough whether it did.
This is the earliest memory of my Bamba Achchi. I am pretty sure my mum got a lecture on what we should do about my poor mathametical abilities. The next day from the estate, she brought a huge bag of madatiya seeds, not only for me, but for all the grandchildren so we could be better at mastering the concepts of addition and subtraction.
My grandmother was a multifaceted woman. From her tough childhood to being the unpaid secretary and the secret behind my grandfather's success as one of the living legends in the medical field in Sri Lanka, the list goes on. But this appreciation is not about what she was to others, even though many would agree that she was a pillar of strength to the entire family during her lifetime. This is about Bamba Achchi, and who she was to me.My second memory of Bamba Achchi was in the 50 acres coconut estate in Nattandiya, and I remember associating her with a bullet, a woman of speed. I had no doubt in my mind at the time, that she was the fastest walker on the planet, and all who knew Achchi would agree with me. I could never keep up with her nor could any of the workers. Every Wednesday she would walk across the entire estate and make her way back to Colombo, after buying some goodies from the bakery before tea time.
What amazed me the most was, how she made it in time to the Nursing Home when it was at its busiest, weddings,  family gatherings, spending time with her grandchildren, phone calls to her family abroad and her programme went on…and…on. I do strongly believe that she was able to multi-task and do everything so punctually because of her devotion to God Almighty, every morning as she woke up.
Bamba Achchi was a fashionista. Having travelled the world, she was a trendsetter among her friends and family. She together with my Seeya surely did turn heads at weddings and events in Colombo. Every day, she would be charmingly clad in a fine cotton dress with a matching chunky necklace, Birkenstocks, a Valentino clutch and an Omega watch. Bamba Achchi also had exquisite taste in sarees. Her vast collection used to drive all of us crazy. She knew that the best handmade silk sarees came from Bangladesh and not India, and I can vouch that it is true, since I myself studied and lived in Bangladesh for six years.
Bamba Achchi was quite possessive over her plants, pet cat Autumn, crystals of varying sizes, porcelain items and cookbooks. She was a gourmet and had a  massive sweet tooth, despite being a diabetic. I remember making cheese toast with her and even homemade yoghurt.
Even though she criticised me and said I looked like a  mix between a poodle and Anarkali, when she saw me with blonde highlights, I will never forget the phone calls she made to me when I was a medical student in Bangladesh. Every Friday, like a prayer, she would call and ask how I was and how I was holding up. She called right up until her bypass surgery. I spoke to her briefly on the phone just two days before she passed away. My father Sidath was with me in Chittagong when she passed away and I tried everything in my power to get him on a flight from Chittagong to Colombo. In the midst of political upheavals and a closed airport together with Bamba Achchi's wish to be buried within 24 hours, it was impossible for me to get my father on an airplane.
My dear Bamba Achchi. I wish you had the chance to meet my Danish husband Claus. To see me walk down the aisle. To witness Sadhani's and Shaluki's weddings and meet  your great grand-daughter, Macayla. Thank you for being there for us all, during your life time.
Wish you a very happy 90th birthday in heaven.
 Granddaughter Tehasha Perera Larsen
---