Eppawela phosphate deposit lies idle while global phosphate production races along
By Namini Wijedasa
View(s):
Reserve largely untapped for 50 years, while Sri Lanka spending massive amounts of foreign exchange to import harmful fertilisers: National Audit Office special report
Sri Lanka has not developed the Eppawela phosphate deposit in the 50 years since it was discovered, spending a towering amount on importing harmful fertilisers instead of producing a safer alternative for domestic consumption, the National Audit Office (NAO) says in a special report.
As a percentage of total imports, the expenditure on triple super phosphate (TSP) grew from 0.025 percent in 2014 to 0.129 percent in 2018. That year, US$ 1.276mn was also spent on importing 3,500 tons of single super phosphate (SSP) which can be produced locally from the Eppawela deposit, the NAO says.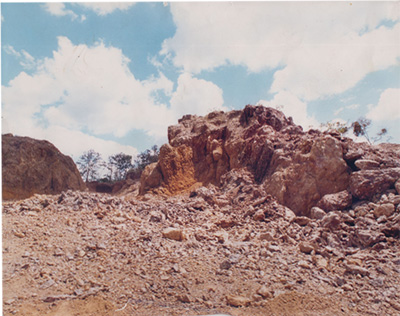 The country has two rock phosphate deposits. The more economically significant one was found in 1971 and occupies around six kilometres at Eppawela in the Anuradhapura District. Along with nitrogen and potassium, phosphorus is an essential element for plant life. And phosphate is the only form of phosphorous that plants can absorb.
Commercial phosphate fertilisers are made using phosphate rock. Global phosphate production is expected to peak around 2030, at the time the world population reaches 8.5 billion people. Some reports have warned that phosphate reserves would be depleted within the next 50 to 100 years.
But Sri Lanka's phosphate resources remain largely untouched. Between 1976 and 2019, only around 1.4mn metric tons of the entire phosphate deposit was used, the NAO says. The average amount of phosphorous in the Eppawela deposit is between 33 per cent and 40 per cent.
And cadmium (Cd) and arsenic (As), generally contained in phosphate, are present only in "insignificant levels". Cadmium content, Bangladesh's International Fertilizer Development Corporation found, was just 0.0005 percent. However, these chemicals are present in large quantities in imported chemical fertilisers.
In 1974, the District Development Council, a forerunner to Pradeshiya Sabhas, started small-scale mining at Eppawela. Four years later, the State Mines and Minerals Development Corporation took over. But, in 1992, the task was delegated to Lanka Phosphate Ltd (LPL), a new State-owned entity.
If Eppawela SSP was manufactured as a substitute for TSP, it would save foreign currency while the surplus could be exported, the NAO says. As a raw material, phosphate can be used to produce fertiliser for long and short-term crops, animal feed, water softeners, various chemicals, artificial bone, ceramics, medicines and paint.
But LPL has neither manufactured nor exported fertiliser–as it is mandated to do–in the 25 years since its inception. It has only sold raw material to several companies and produced a limited quantity of fertiliser for coconut cultivation. Over five years, 46.2 percent of the company's total cost was its average expenditure on employees.
Between 2013 and 2018, LPL sold 276,431 metric tons of Eppawela rock phosphate, high grade Eppawela rock phosphate and other raw material to 12 private entities that produce fertiliser required for perennial crops such as tea, rubber, spices and coconut. Between 2014 and last year, the company earned Rs 2.48bn from these sales.
In 2014, LPL set up a coconut fertiliser mixing plant at Wariyapola; its net loss increased by 4,519 percent in 2018/2019 when compared with 2015/2016, the NAO says.
The Regulation of Fertilizer Act bans the import of fertiliser containing more than five milligrams of cadmium per kilogram. But Sri Lanka buys TSP from countries such as China, Belarus, Jordan, Uzbekistan and Malaysia that have phosphate deposits with high percentages of cadmium and arsenic, the NAO observes.