Stories in metal
By Sashini Rodrigo
Having represented Sri Lanka at the World Youth Forum held in Cairo, artist/sculptor Dananjaya Edirisinghe talks of his passion for hammering and welding all things metal
View(s):
Pushing his creative boundaries beyond borders both artistically and geographically, 33-year-old artist/sculptor Dananjaya Edirisinghe had the honour of representing Sri Lanka at the World Youth Forum in Cairo, Egypt in December 2019.
First held in November 2017, the World Youth Forum (WYF) is an annual event hosted in Egypt, where young people from all over the world are given the platform to meet and engage with influential figures. This global hub is an effort to instigate positive global change, and encourages young changemakers to exchange views and recommend initiatives to policymakers and world leaders. They also get the chance to network with their peers in various fields.
When the WYF invited artists from around the world to participate, Dananjaya was one of thousands to apply and was the first sculptor to represent Sri Lanka at the WYF.
A self-taught artist, Dananjaya began his artistic journey in 2018 creating conceptual works based on figurative sculpture. The inspiration for his pieces come from his own life, as well as stories from his friends.
He was inspired to create sculptures with metal through his father, who owns an iron workshop. "In my childhood I helped my father, and that's why I'm an expert at hammering and welding things," Dananjaya tells us. He has worked with a variety of metals, including sheet metal, stainless steel, copper and brass.
Dananjaya considers himself lucky to have been able to proudly fly the Sri Lankan flag as part of the team of 45 sculptors creating works for the WYF. He was particularly grateful to have experienced so many different cultures, shared different foods and exchanged different artistic techniques with his fellow delegates.
The 45 sculptors were invited to create sculptures based on the human heart. The theme was to revive humanity through art and innovation, and show that despite all our differences, we all have the same beating heart. The sculptors spent 20 days in Cairo, with just 10 days to complete their works at Sinai in Egypt where the finished pieces are now displayed.
"First two days, I was nervous," Dananjaya admits, but after getting involved in group activities organised by the forum, he made lifelong best friends with some of his fellow artists. After receiving invitations from friends from as far as Brazil, Dananjaya plans to travel the world to visit different art symposiums, and looks to expand his artistic journey by working with other materials like stone.
Dananjaya's sculpture for the WYF was his first time working with brass. His interpretation of the theme centred around healing the scars of war, and rekindling "the love, compassion and understanding that seems to have perished from our hearts."
His work symbolizes a world where mankind puts their differences aside and works towards restoring peace and harmony, which will bring undivided prosperity. The flowers represent peace for all, and the broken mirror represents the scars that we need to look within ourselves to heal first.
Dananjaya is currently following the Sculpting, Drawing & Painting Diploma at the University of the Visual and Performing Arts, while also working as a business management professional at a multinational company. This year he hopes to become a full-time sculptor, and dedicate more time to his artistic endeavours. Dananjaya is currently represented by Crimson Spaces Gallery, and plans to do a solo exhibition with them in the near future.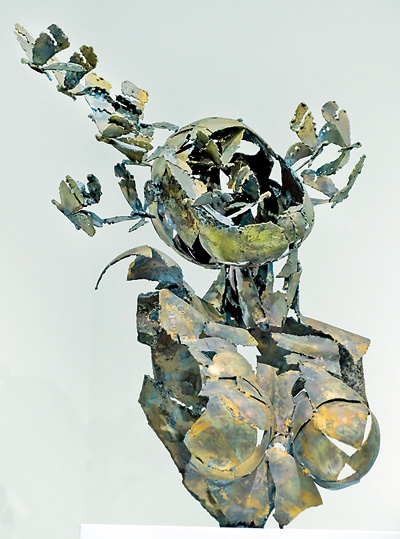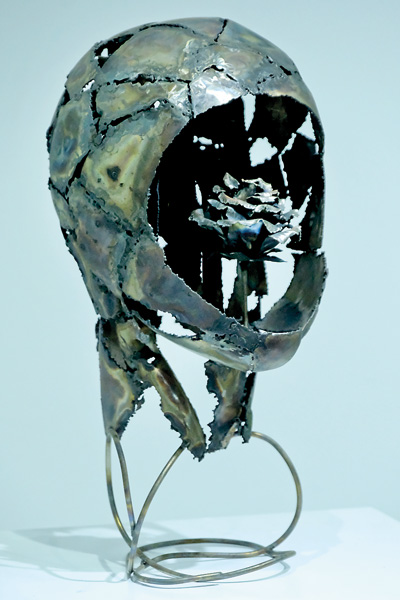 Follow his journey on Instagram at https://instagram.com/dananjaya__edirisinghe