Rib-tickling comedy with 'Oops it's a Cross-Dresser'
By Joshua Surendraraj
View(s):
The vibrant and colourful characters of Michael Cooney's 'Cash on Delivery' form the vital ingredients for this hilarious comedy. Directed by Jith Peiris, the play is set to be staged at the Lionel Wendt on February 28 and 29 under the title 'Oops it's a Cross-Dresser'.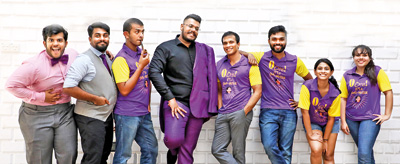 We sat down with some of the cast members this week, who gave us a feel of what to expect at the show.
Linda Swan is probably a wife who deserves to be awarded for the level of tolerance she has towards her husband, Eric Swan as Jehani Muthukuda who portrays her tells us, "Eric is a really lucky guy."
Jehani is a program developer by profession, and is also the resident baker amongst the cast. She feels that though she is nothing like her character, she would definitely love to be like 'Linda', "the perfect wife."
However, despite her many perfections, 'Linda' is clueless about what goes on. With a stern look Jehani adds that 'Linda' is also usually nice until people annoy her by keeping her in the dark. "But, I have faith that Eric will sort this out and he better at the end of the play."
Jehani also points out the production comprises a lot of talent on stage and is definitely not one to be missed.
On this note, we speak to her stage husband 'Eric Swan', who will be cast by Meth Bandaranaike.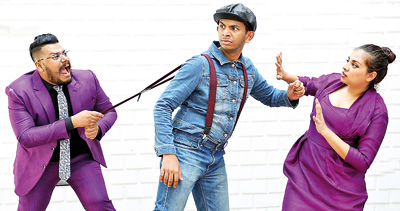 As Meth puts it, Eric is trying to undo the complicated knots he has gotten himself into. What unravels in the process is a comedy of errors that makes the play hilarious.
Meth has been a part of a few shows directed by Jith Peiris, however he finds Eric to be a little more difficult to portray as opposed to the other characters he's played before due to the spectrum of emotions Eric goes through. However, Meth found it interesting to get into Eric's head space and present his scams up on stage.
This is not Meth's first encounter with the comedy, having gotten the chance to watch 'Cash on Delivery' almost eight years ago. He remembers the production because it was hilarious and the script was airtight and well written. "For something to stick with me for so long, it has to be special," he tells us. He is also the assistant director of 'Oops it's a Cross- Dresser.
Although Eric takes centrestage, 'Oops it's a Cross- Dresser' would not be complete without the other characters as well.
Julian Anderson is a young actor, who has been featured in several lead roles in the local English theatre as of recently. However, this is his first time taking part in a production directed by Jith. His character 'Norman Mc Donald' is the upstairs lodger in Eric Swan's house.
Julian describes Norman to be your "average Joe, there is nothing special about him." However, his process of getting into this character is to research online and see how he could merge his personality with Norman's. "I don't want to fit into the character, rather I want the character to fit into me," he explains.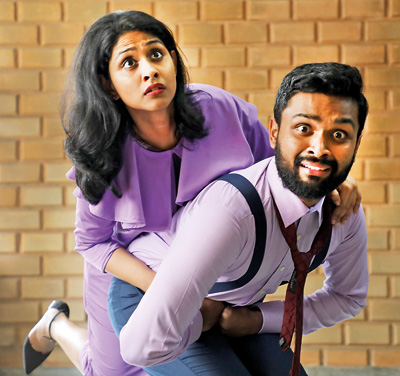 He enjoys working with Jith because the actors are given a lot of freedom. "And that works, because acting is a craft and the actor needs to find his way in the role as well. For me as an actor this brought a lot of experimenting which was a blast," he explains.
Julian finds the overall comedy itself to be a masterpiece that is so intricate. "The wordings, the indirect humour hits you right in the face and this brings out the best in the show."
Sharing in this excitement was Lee-Anne Juriansz, who will be portraying 'Brenda Dixon', Norman's fiancé. Just like her character on stage, Lee- Anne is also the youngest in the cast.
She says the play is guaranteed to give its audience a good laugh and is one that is definitely not to be missed.
Danu Innasithamby, who plays the role of an undertaker, tells us his character is naïve and has the "hots for someone in the house." His sole purpose in the story is to add fuel to the fire and create more chaos.
When asked if he relates to his character in anyway, he tells us "I hope I don't" with a nervous chuckle. What Danu enjoys about Jith's productions is that the scripts are always good. Although he admits that he enjoys his Ceylon plays a bit more, Danu feels that "we can all do with some laughter." And this is just what 'Oops it's a Cross- Dresser' will do for its audience.
Overall the comedy promises a highly entertaining evening that is to be enjoyed by all. It is definitely not to be missed. The other actors for the show include Visura Silva, Tahiri Perera, Vihan Wickramasurendra, Nicole Elias and Wayne White.
Tickets for the show are priced at Rs. 3000, Rs. 2000, Rs. 1700, Rs. 1200 and Rs. 800 (balcony). They are available at the Lionel Wendt and www.lionelwendt.org.
Pix by M.A Pushpakumara