Japanese video game in Hollywood
"Sonic the Hedgehog"
View(s):
The major influence video games has on the cinema is once again proved with the blockbuster animation  movie " Sonic the Hedgehog", which is now being released in cinemas.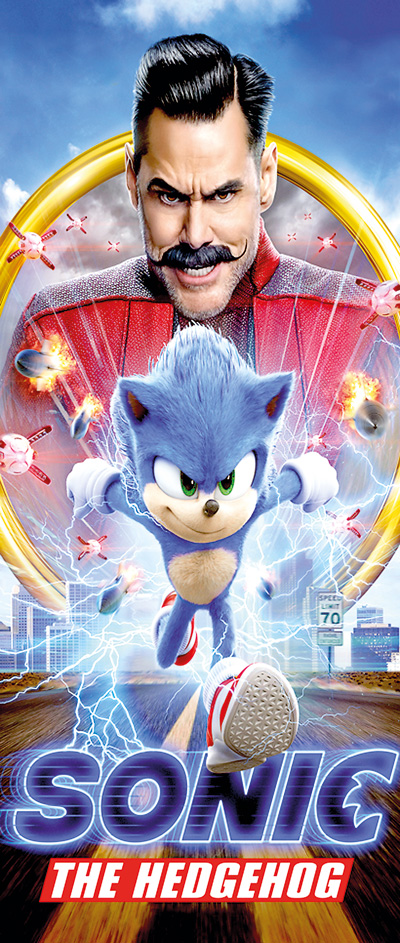 Based on a Japanese video game series and media franchise created by Sonic Team and owned by Sega, the film revolves around a small, blue, fast hedgehog found by a small-town police officer who must help it to defeat an evil genius who wants to do experiments on it.
Based on the global blockbuster videogame franchise from Sega, Sonic the Hedgehog tells the story of the world's speediest hedgehog as he embraces his new home on Earth. In this live-action adventure comedy, Sonic and his new best friend Tom (James Marsden) team up to defend the planet from the evil genius Dr. Robotnik (Jim Carrey) and his plans for world domination. The family-friendly film also stars Tika Sumpter and Ben Schwartz as the voice of Sonic.
This adventure comedy directed by Jeff Fowler as his directorial debut based on a screenplay by Pat Casey and Josh Miller.
The film stars Ben Schwartz as the voice of Sonic the Hedgehog and Jim Carrey as Doctor Robotnik, as well as James Marsden, Tika Sumpter, Natasha Rothwell, Adam Pally, and Neal McDonough. In the film, Sonic teams up with local town sheriff Tom Wachowski to find and reclaim his lost rings and escape Dr. Robotnik.
In 2013, Sony Pictures acquired the film rights to the franchise, and by 2014, had a movie adaptation in development, in collaboration with Sega Sammy's Japan-based studio Marza Animation Planet.
Fowler was hired to direct in 2016. After Sony put the project in turnaround, Paramount Pictures acquired it in 2017, and the majority of the cast had signed on by August 2018. Filming took place between September and October 2018 in Ladysmith and Parksville, both on Vancouver Island, and in Vancouver, British Columbia Canada.
The film is now being screened at Liberty By Scope, Colombo City Center, Majestic Cinema – Colombo, Majestic Cinema – Jaffna, Empire Cinema and other theatres in and around Colombo.