STUDY MEDICINE in World Leading Medical University with Minimum Course Fee
View(s):

I wish you the best in this year's GCE Advanced Level Examination. Furthermore, even if you get high marks at the GCE A/L examination, the relatively low government expenditure on education, due to the district base and the Z-CORE indicators in Sri Lanka in the biology and mathematics field, will make your children miss out on medical and engineering university admissions, especially in Colombo, Kandy, Galle, Matara and Gampaha.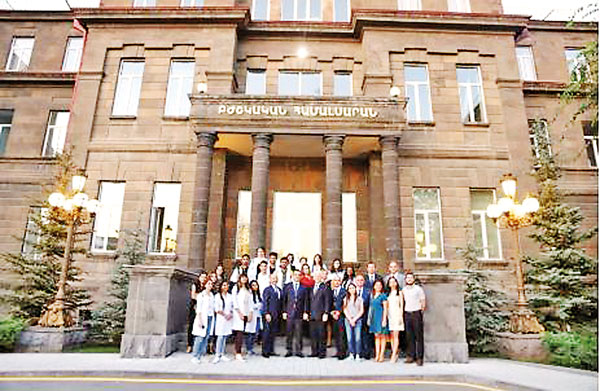 I was one of the students who had a similar experience. Although I got a very high Z-score from Colombo district and an excellent pass in biology, I missed the medical university entrance because of the district system.
Even though I missed the opportunity, students who obtained lower marks than me at the GCE A/L examination entered medical college from other districts. It is the existing law and order and a harsh truth that we cannot make a difference.
Since, there are many alternative options, both students and parents must take a careful decision. Queens's international educational center collaborated with pearl educational center (PEC), directing Sri Lankan students for medicine more than 1 decade and engineering, IT, languages and management more than 2 decades.
We expand our global education service and get strong bond and acknowledgment with Yerevan State Medical University of Armenia.
I am currently working as a registered doctor in a government hospital because of the high and precious gift that was given by my loving parents. I have studied abroad and successfully completed the ERPM and internship in Sri Lanka and now I serve the sick people in the country. It is a wonderful fortune for my parents and myself.
We do not expect foreign education to be a money and business venture, because we are students of such experience. Moreover, we have also made it possible for the students who are studying abroad through our institute to work towards their goals in a definite perspective. An example of this would be the introduction of free courses, online and practical programmes for the ERPM from the third year onwards.
Why we strongly recommend Yerevan Medical University?
1. Recognised by Sri Lanka Medical Council
2. World's top ranked Medical University
3. Recognised by WHO, AMC, GMC, Australian Medical Council and European Union
The first international students of YSMU were those of Armenian descents from Syria, Lebanon, Jordan, Ethiopia, Iran, Iraq, Cyprus, and Bulgaria. Subsequently, the University started providing education in Russian (since 1985) and English (since 2000) for overseas/international students and Armenian diaspora representatives. The number of international students is expanding gradually. At present, YSMU hosts 1276 International students from 26 foreign countries, such as Australia, Belarus, Canada, China, France, Georgia, Germany, the Great Britain, Greece, India, Iran, Iraq, Israel, Jordan, Kazakhstan, Lebanon, Moldova, Poland, Russia, Sri Lanka, Syria, Turkmenistan, Ukraine, the USA, Uzbekistan and Venezuela. ¾ of them has chosen English as the language of study. The number of international graduates is increasing as well. For instance, since the time of its foundation 1154 English-speaking and more than two thousand Armenian and Russian-speaking international graduates have become the YSMU alumni. Many of them have been working as doctors in India, the USA, the UK, Australia, Canada, Russia and Iran.
YREVAN MEDICAL UNIVERSITY
Education
Education of International students is carried out in accordance with the national and international Higher Medical Education standards. Medical education is regulated by the Law on Education and the Law on Higher and Post-Graduate education of the Republic of Armenia. Both Laws are in consent with the main directives of the Bologna Process. During their studies the students earn credits, with one-year of studies equal to 1800 hours of student work equivalent to 60 credits. The credit system is compatible with the European Credit Transfer and Accumulation System (ECTS).
The university offers the following Degree programmes to international students
General Medicine
Dentistry (Stomatology)
Pharmacy
The mode of study is full-time. As a rule, the academic year starts on September, 1 and makes two semesters with 20 and 22 weeks duration, respectively.
The duration of General Medicine programme involves12 semesters (6 years). The graduates are awarded MD degree and qualified as «MD Physicians». The duration of Dentistry and Pharmacy programmes involves 10 semesters (5 years), graduates are qualified as of Doctors of Stomatology and Pharmacists, correspondingly.
During the period of study, students learn pre-clinical and clinical disciplines. Great attention is paid to practical skills acquired during the classes and practical training periods in the University Simulation Center, laboratories and hospitals. Modern educational technical aids are widely used in the university.
International students are actively involved in research, educational, cultural and other activities. The Dean's Office assists international students in organising celebration of their national and religious events. Dean's office integrates international students into university students' life/extracurricular activities and students' societies, promotes the environment of international tolerance and friendship.
The scope of Dean's Office activities includes organisation of the academic process, development and invention of new and latest methods of students' education, such as implementation of problem-based learning and medical research in students' education, promotion and enforcement of students' scientific activities. The Dean's-office supervises and coordinates everyday activity of the departments and students.
Few Words about Armenia
Armenia is located in Eastern Europe and also called Euro Asia. The population is about 3 million. Armenia is historically an important kingdom and the first Christian country in the world. The ruins of the Greek Roman Empire, with its historical heritage, are still visible. The State University was named by a European physician, Dr. Mkhitar Heratsi, who lived in Mediterranean time. The university is located in the beautiful surroundings of the stunning Caucasian mountains of Eastern Europe.
In addition, Yerevan Medical University is an outstanding Medical University. The particular university provides you with the necessary practical training in modern technology to help you be a successful doctor anywhere in the world. Having followed the 06 years course in English medium is an advantage for our students.
Another feature of this programme is that we direct students to exams such as AMC and PLAB. Indeed, one of the great opportunities you have is that all doctors attached to our institute are government registered doctors.
Special Benefits for
Medical Students
It is a medical college with talented professors who provide their service to students with modern technology. It also provides clinical training in specialised facilities and specialised hospitals with advanced technology. It also has accommodation facilities, Internet facilities and other modern facilities. Out of all these facilities, you are charge only USD 5000 as the course fee and free breakfast throw-out the course period.
Also, It the largest and most prestigious Medical University in the country. The Yerevan State Medical University has 3150 employees, 1190 teaching staff which include 130 professors, 700 associated professors, 360 assistant lecturers.
Ultimately, the most valuable investment you can make for your children is to provide them in higher education. Providing advanced education to children locally or overseas is the best way to help them secure their future. A perfect student with advanced education is a treasure to the country.
Thank you
Dr. T.M.Chinthaka Gunasekara (MD)
QIB Campus
International Higher Education Center
Queens Tower
No: 159/3, High Level Road
Godagama
Homagama.