Study in Latvia Maritime Academy
View(s):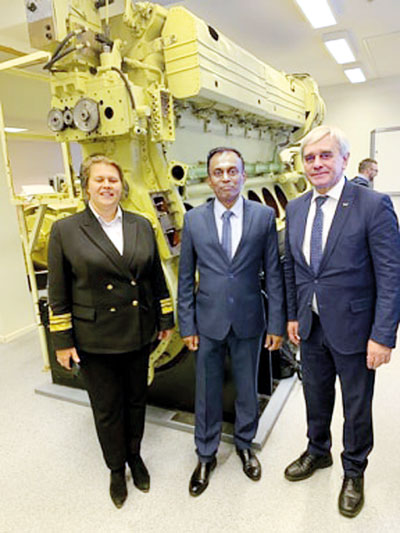 REC Campus (Russian Educational centre) together with Riga Official Information and Study Centre has been sending Sri Lankan students to Latvia and currently many Sri Lankans studying in the country making a record of maximum Sri Lankan students provider to Latvia.
Latvia is located in the strategic location in Baltic region. It is positioned in middle of Scandinavian and Baltic maritime regions. The countries base in both regions are highly involves with maritime sector. There many well prestigious, world recognise and renowned shipping companies located in the region. The Norway, Sweden Denmark, Finland Latvia further France Belgium, Greece, located in the region   are giants of the maritime and shipping industry in the world
Latvia maritime Academy (LMA) based in Centre city of Riga is a very prestigious higher educational establishment in Latvia as well as Baltic region.  Latvian Maritime Academy is the First and only Institute in Latvia to provide higher maritime vocational education and training for the maritime industry on a regular basis.  The roots of maritime education in Latvia is backed from more than 200 years. The first Maritime School in Riga was started in 1789.
The Aim of the Academy is to provide students with a balance of Academic education, professional training and practical skills in order to respond to a wide spectrum of needs in the Maritime Industry. LMA graduates well – qualified mariners in the technical areas of Navigation, marine Engineering, Marine Electrical Automation and Port management. LMA trines officers for NAVY too.
The LMA having a large number of short term professional courses and significant undergraduate courses in marine industry. The language of all course are in English and according to ihe International maritime organisation standards.  Laboratory facilities of the Academy is in very high level.
All well equipped with latest instruments and machineries. The LMA always consider skill knowledge ishaving equal requirement. Therefore depend on the course from 6 – 12 months on Board training inbuilt in every Degree programme. The structure of the Degree programme in Zig – Zag type theory-Practical and theory. During on board training period students receives monthly allowance. The traing placement and once completed initial job placement will arrange by the LMA.
Since LMA located in Baltics and due to it's consideration in shipping industry, many prestigious shipping lines maintaining close contacts with them. For the student initial job placement is very significant happy to say that LMA is there to look after the students.
Course programme starts with very first 06 months Sri-Lanka base education programme. The First year 1st semester will be conducted at REC Campus Nugegoda.  It is 100% LMA and Riga Technical University syllabus session and all activities under preview of LMA.
After successful completion of first sesmster students will proceed to Riga Technical University and there, they will follow the 2nd semester. That is combine semester by the supervision of RTU – LMA. From 2nd year the students has to shift to LMA. After four years depend on the course student will completeunder graduate programme. For sailing students LMA will find the initial placement.
LMA short courses and Degree programmes.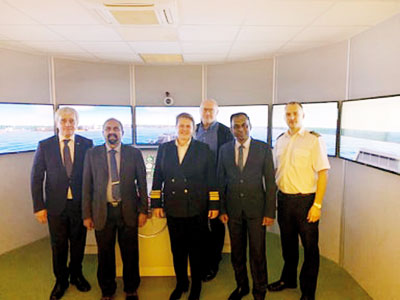 STCW APPROVED
Advanced training for chemical tanker cargo operations
Advanced training for oil tanker cargo operations
Advanced Training in Firefighting
Advanced training in firefighting – refresher course
Basic Safety Training
Basic safety training – refresher course
Basic training for oil and chemical tanker cargo operations
Bridge resource management
Competence Updating Course (Deck Officers)
Engine resource management
General Operators Certificate for the Global Maritime Distress and Safety System
General Operators Certificate for the Global Maritime Distress and Safety System – refresher course
Medical First Aid
Proficiency in Survival Craft and Rescue Boats other than Fast Rescue Boats
Proficiency in survival craft and rescue boats other than fast rescue boats – refresher course
Radar Navigation, Radar Plotting and Use of ARPA at Operational Level
RADAR, ARPA, Bridge Teamwork and Search and Rescue at Management Level
Safe operation of High Voltage Power System
Security – awareness training
Security training for seafarers with designated security duties
Short Range Radio Operator
The Operational Use of Electronic Chart Display and Information Systems (ECDIS)
UNCONVENTIONAL
Pilot's qualification updating and refresh
VTS Operator's Refresher Training
PROFESSIONAL IMPROVEMENT EDUCATION PROGRAMM "SHIP MANAGE CONTROL LEVEL PROGRAMME'
Cargo Transportation Technologies
ECDIS
Emergency Procedures and Contingency Planning
Maritime Law
Meteorology of Mariners
Navigation
Personnel Management, Organisation and Training
Prevention of Pollution from Ships
Ship Construction, Theory and Stability
Ship handling and Watch keeping
Ship's Machinery, Safety and Alarm Systems
Team management, Search and Rescue operations at Management Level
Technical Aids of Navigation
Technical Management of Ships
PROFESSIONAL IMPROVEMENT EDUCATION PROGRAMM "SHIP ENGINEER  CONTROL LEVEL PROGRAMME'
Applied mechanics
Auxiliary machinery and systems for ships
Control mechanics and automation
Electrical engineering and electronics
Leadership, personnel and engine room resource management
Marine gas turbines and propulsion systems
Maritime English
Maritime Law
Protection of the marine environment
Ship diesel engines and propulsion systems
Ship management and repair technologies
Ship Structure and Theory
Thermodynamics
Vessel steam turbines and propulsion systems
B.Sc courses
Maritime Transports department study programme "Marine Transportation – Navigation"
Degree: Professional BSc in Maritime Transport
Duration: 4 years and 3 months for full time students. A minimum of 282 ECTS credits
Maritime Transport department study programme "Port and Shipping Management"
Port and Shipping Management
Degree/Qualification
Professional BSc in Management and Administration
Duration
4 years and 3 months for full time students
A minimum of 182 Latvian credit points (273 ECTS), 40 Latvian credit points are to be obtained from an EU higher maritime educational establishment
Marine Engineering department study programme "Maritime transport – Marine Engineering"
Marine Transportation – Marine Engineering
Degree/Qualification
Professional BSc in Marine Transportation
Duration
4 years and 3 months for full time students
A minimum of 182 Latvian credit points (270 ECTS)
Marine Engineering department study programme "Maritime transport – Marine Electrical Automation"
Marine Transportation – Marine Electrical Automation
Degree/Qualification
Professional BSc in Marine Transportation
Duration
4 years and 3 months for full time students
A minimum of 185 Latvian credit points (277.5 ECTS)
Contact us for further information
0711- 10 10 10
Riga Official Information and Study Center
No:181, High Level Road, Nugegoda