PATHE Academy will empower students to reach the pinnacle in 2020
View(s):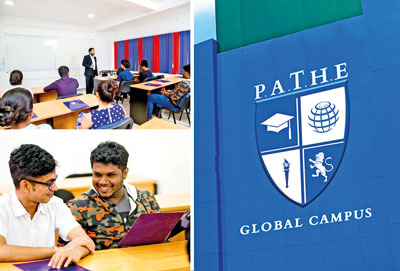 Paving the way for the modern student to reach the pinnacle of achievement PATHE Academy under the aegis of UN Consortium, offers value added programmes for students of all walks of life.
PATHE programmes are structured and designed for students to gain knowledge, insights and information to keep abreast with the competition, so that they could be gainfully employed.
PATHE Global Campus offers an Advanced Certificate in Business Management and Diploma programmes in Business Management, which gives students the golden opportunity to migrate with credit transfers to different countries such as Australia, New Zealand and Malaysia.
Pathe Global University Transfer programmes enables students to have their best experience in different universities worldwide, whilst being cost-effective for parents who aspire to send their children overseas.
PATHE Academy offers foundation programmes in Health Science, Diploma in Medical Laboratory Technology, Diploma in Physical and Rehabilitation Medicine, Diploma in English, and Diploma in Computerised Accounting.
If you are wondering what best study programmes to choose from we at Pathe invite discerning students and parents to make avail of our special discount offers, from 1st to 20th January 2020 and kick-start your child's education in the New Year.
PATHE Academy' sister organisation, Visa Global which is the "Migration Arm" of PATHE, is a leader in migration services to Canada and Australia.  Visa Global has assisted more than thousand aspiring migrants to live and work in their dream destination. Visa Global has built many bridges for aspiring students, across the miles, creating exciting opportunities in over 30 countries, in approximately 500 universities across the globe.
PATHE Study Abroad is established to assist students seeking admission to universities overseas. The processes are enacted professionally with immigration lawyers at hand to give expert legal advice.  We are proud to have assisted over 2,000 students who have made their dreams come true in more than 500 universities, spanning 30 study destinations for over 300 selected programmes. PATHE Study Abroad is recognised by Immigration Advisors Authority, in many countries. Our guidance has ensured that many students have achieved career success locally and globally in selected spheres.
We are located at in a pleasant and convenient suburb of Wellawatte, at No. 7 Rajaguru Subuthi Road. We invite you to visit us and discover a world of new opportunity in 2020! For more information please contact us on: 0722200900 or 0703737243.