Melaka Manipal Medical College (Mmmc) MBBS Admission – April 2020 Intake
View(s):

Award winning Medical Student, Udari Pasquel speaks about MANIPAL (MMMC) and IMC Education.

Udari Pasquel award winning Sri-Lankan student at Melaka Manipal Medical College (MMMC) brings pride and fame to Mother Lanka and IMC Education by obtaining excellence in,

1.Dr. Shobha Nadig GOLD MEDAL for the "Best Student" in Pharmacology.

2. Dr. Shobha Nadig MEMORIAL PRIZE  for the "Second Best Outgoing Student" in Phase 01.

3. Best student in Pharmacology and Forensic Medicine in the MBBS second year university exams.

4. Second position in the MBBS second year university exams.

Academia Excellence of 3rd Year Medical Student, speaks about the Medical University life at MMMC and IMC Education to fellow Sri-Lankans: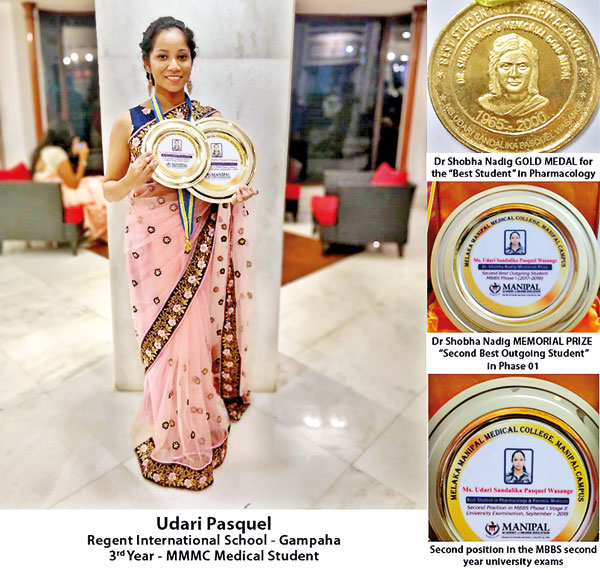 "I'm Udari Pasqual, a 3rd year medical student at Melaka Manipal Medical College (MMMC) campus. I'm a passed out student of Regent International School, Gampaha.  I'm towards the end of my Phase 1 at MMMC and the past 2.5 years in Manipal have been nothing short of amazing. The campus environment itself has been built to cater student needs. The facilities ranging from the library, hostel, sports complex and the medi-care services makes life at Manipal smooth and has created a home away from home in this university town. Most importantly, the academics in the campus are at high standards. Both theory and practical knowledge is provided in a systematic way to facilitate our understanding of subjects. There's nothing to complain about. The lecturers are truly dedicated, supportive and anyone could approach them at any time to clear doubts. The guidance I got from them helped me to perform better in my studies. It paved the path for me, to achieve the subject prizes as well.
Moreover, another reason why I adore Manipal is the friendliness shared between students and lecturers. I am proud of the decision I took back by seeing who I am today and a huge thanks to Mr. Amila Kulatunga and his team from IMC Education for introducing us to MMMC, making me and my parents aware about the excellent academia at MMMC which is the result of me today. From the initial consultation where I knew nothing, IMC Education introduced me to MMMC from the very dot. From counseling to helping throughout the process of enrolment, IMC Education also accompanied us to India. With Mr. Amila's high experience and relationship with all academic heads at the campus and at Medical shops around the campus it was very easy for us to secure and purchase our needed Medical text books, Medical instruments, Medical Coats and etc. Our parents and all of us were so relieved that we were in good hands. With this trust and loyalty of IMC Education and Mr. Amila within and outside the campus, we felt SAFE and SECURE.
Because of all of this, I would recommend MMMC and IMC Education to any prospective student. IMC Education will surely help your Dr.eam come true to match your personality and needs to enter MMMC with zero hassle.
Udari Pasqual, 3rd Year Medical Student at Manipal (MMMC)
APRIL 2020 INTAKE IS NOW ON!
IMC Education – The largest student recruitment organization for Melaka Manipal Medical College (MMMC) placed the largest number of Students for October 2019 MBBS programme intake at MMMC. IMC Education has been continuously placing the highest number of Sri Lankan students to Melaka Manipal Medical College in India/Malaysia and most of the students have achieved very high overall grades in the MBBS Programme.
Melaka-Manipal Medical College (MMMC)
The Melaka-Manipal Medical College (MMMC) is an esteemed private medical institution with a hallmark of academic excellence and an enviable track record in providing quality medical education. The medical and dental programs at MMMC are carried out in collaboration with the renowned Manipal University, India.
Programme Structure
It offers a 5 year MMBS degree programme with 2½ years of pre – clinical studies in the Manipal Campus in India and 2½ years of clinical training in the Melaka Campus in Malaysia.  After successful completion of the two phases students will be awarded the world – renowned MBBS degree of the Manipal University of India.
Academic Scholarships
MMMC offers a wide range of scholarships for students who have excelled immensely based on Academic performance. Students with BBB, ABC or A's and B's are ideal candidates to obtain scholarships from US $15000 – $25,000. Apply now with IMC Education to simplify the scholarship eligibility.
Programme Recognition
Sri-Lanka Medical Council (SLMC), General Medical Council (GMC – UK), Australian Medical Council (AMC), World Health Organization (WHO), Education Commission for Foreign Medical Graduates (ECFMG) of USA, MQA and Malaysian Medial Council etc. This enables the graduates of MMMC to obtain Educational Commission for Foreign Medical Graduates (ECFMG) Certification. The MBBS degree of Melaka – Manipal Medical College is also recognized by the Sri Lanka Medical Council (SLMC).
Facilities
Manipal Museum of Anatomy & Pathology is the largest such museum in Asia. Health Science library is also one of the largest in Asia and it consists of approximately 65,000 medical books. Students also have access to a large data base of online library to facilitate their studies. Food court at Manipal provides a greater variety of food for the students.
Student Hostels
Students are provided with individual air conditioned state of the art hostel facilities with attached bathrooms, Wi-Fi, laundry and many more.
Manipal MBBS April 2020 Intake
Next MBBS intake at Melaka Manipal Medical College is in April 2020. Students can apply for April intake with local or London A/L results. Students can lodge their applications with pending results for October 2020 Intake.
For Admission Appointments please call:
IMC Education – 0773 08 88 40 | 0774 42 15 97
No. 154, Havelock Road, Colombo – 05
www.imcedu.com