Esports Management Degree – a STEM-related Career of the next decade offered only at Northwood University
View(s):

ANC Direct Placement or 2+2 U.S Transfer program

Esports is a competitive sport using video games that has become extremely popular among today's youth.

Esports often takes the form of organized, multiplayer video game competitions, particularly between professional players, individually or as teams which makes professional competitive gaming, known as Esports a real sport.

Esport is a cooperative sport which promotes engagement, socializing, communication and leadership, where players must work as a team to create strategies to accomplish their objective, similar to basketball, cricket or soccer teams, each player on the esports team has a role to play.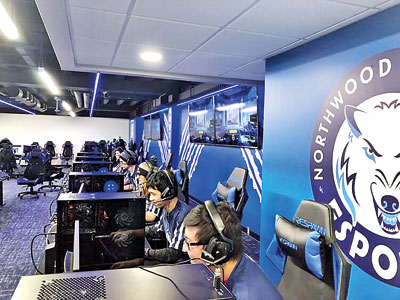 Esports is fast becoming the most financially lucrative market on the planet!
The overwhelming popularity of Esports was cemented in 2019 when the numbers speak for themselves;
Esports revenues exceeded $1 billion USD globally
Over 443 million viewer base across the globe
Prize money of Esports exceeds that of many traditional sports, e.g.: The International 2019, featuring DOTA 2, ranked first, with a total prize pool of $34.33 million USD which exceeds prize money of IPL cricket (Prize Pool: $8m), US open Golf (Prize Pool: $10.25)
In 2020 Global games market is estimated to generate US$152.1 billion from 2.5 billion gamers around the world.
The esports following is greater than American Football and rugby combined – and is predicted to reach 645 million by 2020.The video game development business is now larger than both the movie and music industries combined, making it a major industry in entertainment.
How does Esports Teach Business Skills?
Competitive gamers understand the need for superior communication skills, effective team building skills, leadership and strategic/critical thinking and decision making skills to excel. All of these skills are crucial in the business and corporate sector and fits right into any career path. Esports requires the same kind of concentration, training, and competitiveness as football, tennis or cricket.
Educators are embracing esports in schools and campuses as they see the incredible benefits of combining the world of esports and education for transitioning into any career field.
Esports Management Degree at Northwood
Northwood University, the 14-year partner university of ANC Education, has provided the only U.S Business degree program in Sri Lanka and will be the first and only university in the State of Michigan to offer a degree in Esports management starting in fall 2020. Northwood University is among few universities in the U.S.A that has developed a Bachelor of Business Administration degree (BBA) in Esports management where students will learn what it takes to thrive in the business of sports and entertainment and graduate ready to lead this massive esports industry;
Direct entry into Northwood University through ANC Direct Placement to U.S
2+2 U.S University Transfer program – study 2 years at ANC and remaining 2 years in U.S at Northwood University, Michigan and be eligible for up to 3 years OTP work experience
Northwood offers State-of-Art Esports laboratories and facilities to provide a holistic educational experience in esports. Northwood students competes at a varsity level in all games, in both online leagues, tournaments and in-person LAN events and have won multiple national level Esport Championships such as CSL League of Legends – Southwest Conference & Smite National Championship.
Please turn to Page 20
League of Legends, Overwatch, Rocket League, NHL, Smite, Apex Legands, Fortnite, Call of Duty (arriving fall 2020) and more are the games played at NU.
Esports Management degree at Northwood University prepares graduates for diverse careers including Concert and Tour management, Marketing and Community Relations, Operations, Tourism, Broadcasting, Facilities Operations, Event Management, Advertising and Promotions and more.
100% of graduates are employed in esport positions and regularly placed in top organizations around the world; Detroit Pistons, Live Nation, NCAA, X-Games etc.
NU offers Internships for real-word experiences in the sports and entertainment field at top organizations; Chicago Bulls, Dallas Cowboys & more
Scholarships for Esports at NU
Students interested in pursuing Esports Management degree are eligible for the below scholarships: Freshman Presidential Scholarship $11,500 per year, Freedom Scholarship $10,500 per year, Free Enterprise Scholarship $ 8,500 per year, Entrepreneur Scholarship $6.500, Liberty Scholarship $5000 and transfer students with 2+2 pathway receive up to $5000 scholarships. It is a great opportunity to pursue this unique field which has a global presence.
Career Opportunities in Esports
Looking at professional sports teams, there are hundreds of employees who are hired to make that organization successful. Support staff for a professional team may include General Managers, Community Relations, Content Creators, Marketing Personnel, Graphic Designers, Technology professionals, Financial professionals, and Recruiters. Esports is no different. Esports Managers in U.S earn $45,000 per year and go up to $95,000 to $135,000 and Game Analyst earns $58,627 and above. STEM (Science, Technology Engineering & Maths) and esports are a perfect combination when we look at how games are programmed, the technology used to deliver the game experience, as well as the strategies involved in competition. Hence exposing students to different elements in the games they play, encourage them to explore careers in STEM.
For more information, contact Lakmali 076-998-9635, visit us at www.ancedu.com or follow us on Facebook: https://www.facebook.com/ancedu/ and "ANC_Education" on Instagram.