ACCA gears up to manage the evolving role of the finance profession over the next decade
View(s):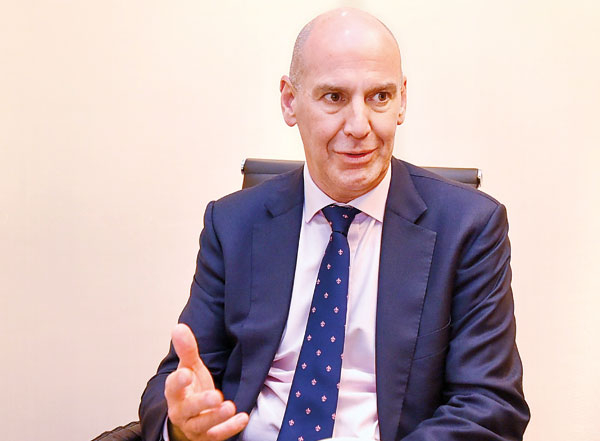 It's time to rewire perceptions of the accountancy profession and through their next brand theme  "the power of future-ready talent", ACCA  has  geared themselves to ensure that their students and members are perfectly placed as the future-proof leaders that business and organisations vitally need in the digital age.
During a recent visit to Sri Lanka, Regional Director of ACCA for the Middle East and South Asia ( MESA)  region Mr Stuart Dunlop spoke about the association's take on the next era of the accounting profession.
He began by saying "ACCA is neither old nor new and is constantly evolving, building its reputation and expanding its reach all over the world map. There have been many aspects to maintaining our repute, the first and foremost being our ambition, where giving value to our membership has been a constant driving force towards our ever-growing reputation. Our strategy has also been focussed on growth and geographic expansion and whilst our wide geographic spread is testimony to this, the latest proof has been the successful mission of moving an entire set of examinations and qualifications to a computerized platform accessible to over 100 countries, thus future proofing our value proposition."
He continued "We are at the onset of a new strategic cycle commencing in April, and the key strategic pillars will be growth and brand building. We will capitalise on the power of communities, including our own membership. Our extreme reach is the apparatus of our organisation and we will maximize on this to growth, together with our partners."
The Regional Director also spoke of the evolving role of the accountant in today's data driven world. "There are parts of the accountant's role that are likely to change and evolve and there will be a lot more focus on value addition instead of repetitive tasks."
According to Dunlop, the future is not going to be easy or predictable. "In most organisations, digitalization is a major change programme and there are an increasing amount of accountants held responsible for it. Developments like this present a massive opportunity for the profession to develop itself. Today's accountants need technological knowledge in addition to accounting know-how, financial insights, data science capabilities and change management expertise."
Dunlop further noted, "Not just accountants, the finance function itself is facing challenges. With automation and robotics leading to a vast amount of data being available for decision making, there is also the consideration of how ethics, risk management, regulation and controls are put into place. This makes things very complicated, connected and complex and employers will seek to recruit those with multiple skills – finance, data science, intelligence gathering and analytics."
And looking at the larger picture, the role of ACCA as a shaper of the way businesses run is changing as well. "We have always provided professional insights, policy framework guidance and best practices to the business world," he asserts, "but in today's data driven economy, there is also a need to have a strong connect with governments, the public sector and local stakeholders, and we are geared to do that by looking at creating public value."
ACCA is also equipped to reimagine the accountancy profession to be a more brilliant and meaningful career path to the future workforce, and it calls upon the next generation to be future-ready. "Uncertainty is unavoidable and if you are uncertain about which route to drive your career , getting a robust, internationally recognised financial qualification is a sensible thing to do," advises Dunlop, "because to be organisation-ready and world-ready you need to equip yourself with qualifications that are relevant, timely and future-proof.
By embarking with ACCA, you are committing to lifelong education which doesn't end with the qualification; once you become a member, you must work to maintain your membership through Continuous Professional Development. As ACCA today is recognised by employers all over the world and the international mobility students and members gain is a significant advantage, journeying with ACCA will get you one step closer to being future-proof and change-ready," concludes Dunlop.