Sri Lanka Cultural Parade in Riyadh
View(s):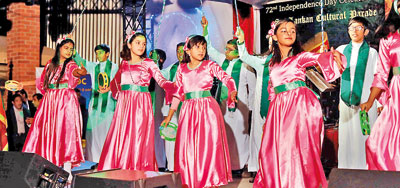 The Sri Lanka Cultural Parade, a captivating show held on February 8, brought an enchanting experience to the Sri Lankan expats in Riyadh.
This musical and dance extravaganza, jointly organised by the Embassy of Sri Lanka and the Sri Lanka Cultural Forum, was the brainchild of two Sri Lankan artists, music maestro Keerthi Pasquel with an accomplished guitarist and vocalist Milan Rodrigo of 'Blue Shadows' fame.
Madhuka Wickramarachchi, Charge d'Affairs of the Embassy at the opening remarks of the event said the 'Sri Lanka Cultural Parade' is an extension of the 72nd Independence Day Celebrations, and an explosion of Sri Lankan culture. He underlined the importance of making a stage for the Sri Lankan children to express their talents as well as to experience talents of acclaimed Sri Lankan artists. He said that this was the first time in decades that a public event of this scale was held in Riyadh, and the Embassy was honoured to host it with the Sri Lankan community members.
Sri Lanka Cultural Forum Convener Nihal Gamage said Cultural Forum members were pleased to join with the Embassy to undertake this enormous initiative and they look forward to such entertaining cultural events in the future too.
Mr. Pasquel captivated the audience with his melodious voice rendering the evergreen songs such as 'Sanda Latha', 'Kandula' and 'Issara Adi Kale' while  Milan Rodrigo sang his famed songs 'Sanda Rekha' and 'Piyamba Lassana' and mesmerised the audience with his guitar play. The gala musical evening was interspersed with various traditional Sri Lankan and modern dance forms performed by Sri Lankan children.
Many commented that a professional musical evening with two popular artists on stage was happening after a hiatus of more than 15 years.