Something is rotten in the state of cricket in Sri Lanka
View(s):

Something is rotten in the state of Denmark wrote Shakespeare in the play 'Hamlet' when an officer of the palace guard says after the ghost of the dead king appears, walking over the palace walls. Parodying those lines there are more than many who seem to think that our cricket seems to be going the same way.

Let us pause for a moment and cast our eyes at the international cricketing arena.

"For a moment a nation stopped breathing. People got out of their vehicles, while sitting in endless traffic jams, to celebrate with each other. Some went in search of a nearby TV whether it was at an electronic store or a clubhouse tent, to celebrate with more strangers……….."

The scenes were reminiscent of when Sri Lanka annexed the Cricket World Cup, sweeping all before them in 1996. These were actually the scenes when Bangladesh, just the other day, won the ICC under 19 World Cup.

Sri Lanka too participated in the tournament, conducted in South Africa, but sadly ended, as the saying goes, "nowhere" after ending third out of four teams in Group A – the fourth team being Japan! Need one say more?

Interestingly, the champions Bangladesh, were coached by a Sri Lankan, Naweed Nawaz who had played a solitary Test and three ODIs under Sanath Jayasuriya. Now he has moved to Australia with his family.

Nawaz's recipe for their success, he maintained was, inter alia, "Changing habits and being positive was key to success." He also paid tribute to the support staff as well after having taken the job in Bangladesh in 2018. It must have been a tough job in Bangladesh with 25 raw talented cricketers when Nawaz took up this role. Speaking further, he stated: "My first year was spent mostly in getting these players ready for the international platform technically and mentally, and the second year was basically all about competitions. I take everything as a stepping stone for the future and do not want to waste much time thinking about the past." Hopefully our coaches too can take a leaf out of Nawaz's book.

Whilst the successful Nawaz, as mentioned above, had hardly experience at the high table worth mentioning, the present Sri Lankan coach in the same role had participated in 83 Test matches and 200 ODIs! So, there seems be something wrong somewhere in Sri Lanka's junior cricket.

That is not all.

There are some changes made, in the national side, as mentioned by the chief selector which makes one furrow one's brow! Kusal Janith Perera seems to be getting the short end of the stick more often than not. Why aren't players who have proved their worth given a longer run? Just a couple of innings having had a bad run and the chop comes down their necks.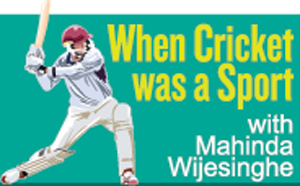 With the West Indians due to play  by February 22 – to play three ODIs and preceded by two T20 games, the Selectors seem to be having a lot of support of the Selectors despite having a track record of a single win in 13 matches in the last 13 months, another favourite of the Selectors, Dimuth Karunaratne will lead the ODI side.
Of course Malinga had stated: "I am ready any time. I am ready to quit."
There is no question that Malinga has been an outstanding player as an opening bowler for Sri Lanka but at 36 years, for a fast bowler, age seems to have caught up with him having led the team since the New Zealand series in 2018. Of Malinga's successes as a bowler, there is no doubt but as a captain that is another matter. His fielding too is something that does not inspire the team.
The all-knowing Chief selector had stated: "We have selected a team of 20 for the (West Indies series) which will be pruned down to 15….it is too early to comment on the captaincy as we have sent the list for the Sports minister's approval."
Why bother the Sports Minister when the records are there for all to see? Why not select a player for captaincy such as Dasun Shanaka after having led Sri Lanka on his captaincy debut to a 3-0 win against Pakistan? Should the selectors saddle the Sports Minister when a successful captain is on our doorstep?
There seems to be wheel within wheels indeed. When will this end?
The new coach Mickey Arthur has been having a run around internationally. Is it due to his record or is there are there any other reasons?
Judging by the disastrous results in the recently concluded Under 19 World Cup results and how nations such as Bangladesh (with a former Sri Lankan, at that their helm) are faring, Sri Lanka's cricketing future seems bleak to say the least.
Obviously the wrong people seem to be controlling the destiny of Sri Lanka cricket.