Pluto shine at CSIC Sports Meet
View(s):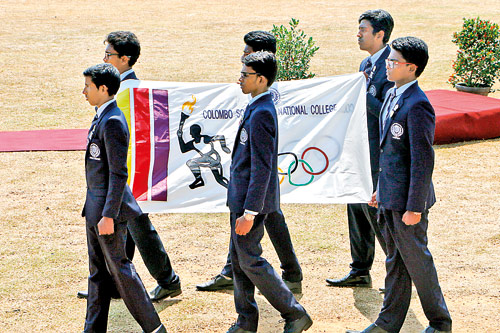 Pluto House emerged champions of the Colombo South International College (CSIC), Kalubowila annual Inter-House Sports Meet, which was held at the S. de. S. Jayasinghe  grounds on February 7.
Jupiter House secured the overall second place while Venus House had to be contended with the third position at this elegant and well attended sports meet, which was a new experience to many of CSIC.
Thevin Lojitha was adjudged the Best Athlete among boys for his prolific display of talent. He clocked 9.93 seconds in the Under-17 Boy's 100m event. Minelle de Silva outsmarted the rest to become the Best Athlete among girls. She recorded a timing of 12.56 second in the Under-19 Girls 100m event.
A panel of independent judges went around and selected the best decorated hut and all round trophy which was won by Pluto House. Pluto House also won the award for the Best Squad – Girls while the award for the Boys was won by Venus House.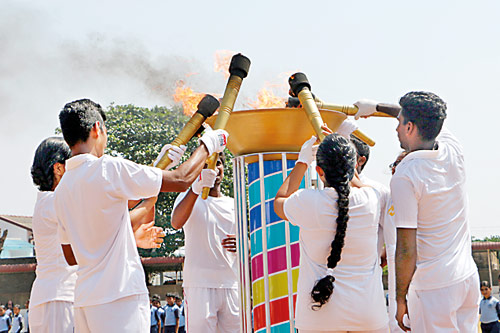 A colourful opening ceremony was held under the patronage of the Chairman/Managing Director of the school, Mangala Wijeykularatne   and the Principal Daniel  Edirisinghe.
The Olympic torch was ceremonially lit by the three House captains at the beginning of the meet which attracted all the onlookers. Halfway through the meet, the Chief Guest DIG Wasantha Wickremasinghe and Guest of Honour  Shehan Abeypitiya arrived and they were warmly  welcomed and accompanied to the podium by the Managing Director, Principal, Director to the Co-ordinator  Deputy Principal, Sports Co-ordinator and Vice Principals.
Finals of athletic events and the relay events were worked out. A very colourful and eye-catching  drill display and a march past was conducted, which won the hearts of all the spectators. The  Chief Guest and the Guest of Honour commenting of the well organised sports meet and  appreciated the talents of the athletes and elaborated the value of sports, which would help to  build a healthy and mentally sound balanced student who could enter the society as a balanced  citizen.
The meet ended after vote of thanks by the Principal and  lowering of the National, College and House flags.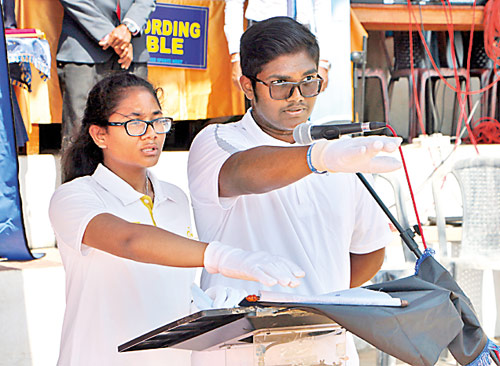 Results
Championships – Sprint events
 Under-19 Boys: Romario Enrico
 Under-19 Girls: Sandavi Dunara; Kritheeksha Perumal
 Under-17 Boys: Sasindu Gimhana; Yasir Jawfer
 Under-17 Girls: Praveena Parami
 Under-15 Boys: Yusuf Shiham
 Under-15 Girls: Venuvi de Silva; Zaina Khaleel
 Under-13 Boys: Yasindu Wijekularathna
 Under-13 Girls: Heli Thisanka
 Under-11 Boys: Yanuka Dahanayaka
 Under-11 Girls: Disandi Rupasinghe
Winners – Sprint
(1) Minelle de Silva (12.56secs)
(2) Chenuli Perera (18.14secs)
(3) Dinugi de Saram (14.80secs)
(1) Thevin Lojitha (9.93secs)
(2) Yasir Jawfer (9.96secs)
(3) Ibrahim Hassan (10.19secs)
(1) Sasindu Gimhana (10.39secs)
(2) Abdullah Imran (10.43secs)
(3) Ravishka Ranaweera (10.69secs)
(1) Heli Thihansa (12.34secs)
(2) Minha Ahmed (13.06secs)
(3) Sachini Madhushika (13.34secs)
(1) Yanuka Dahanayaka (9.7secs)
(2) Rasmi Mohamed Rishad (10.4secs) (3) Navindu Medawatta (10.7secs)