Olympic medal only a dream – boxing icon Anusha
By Allaam Ousman
2018 Commonwealth Games hero slams lack of discipline among boxers
View(s):
Nearly two years after carving a niche in Sri Lanka's boxing history as the first woman to win a medal at the Commonwealth Games, Anusha Kodituwakku still looks fighting fit. Although officially retired after bagging more than a dozen national boxing titles, at least 17 international medals, many Best Boxer titles and a few national awards, she still looks lean and mean with a short haircut to match and tall frame making her look every bit a prize fighter. The only give-away is when she disarms you with her charming smile.
Five-time world champion Mary Kom gained notoriety for virtually pushing Anusha to the ground and injuring her right knee at the 2016 South Asian Games in Shillong, India. Anusha failed to get revenge when they clashed in the semifinals of the Commonwealth Games being comprehensively beaten by the technically superior Kom. By that time, Kodituwakku was already hailed as a hero back home after assuring Sri Lanka of her first boxing medal at the Commonwealth Games in 68 years since Albert Perera won gold at the 1950 Games, after her furious onslaught in the quarter-final victory against a Cayman Islands boxer.
Anusha Dilrukshi Kodituwakku is revered as a sporting icon after conquering the summit at the ripe old age of 39. She dared where others feared to tread and made tremendous sacrifices to achieve her goals. A fine athlete at school, she fell in love with boxing after joining Slimline and never looked back after winning the Best Boxer award on her debut at the Novices meet in 2002. She stamped her class by becoming National champion and swept all before her to make the Light Fly weight (48kg) class her own for nearly two decades. She lived up to her promise at international level representing Sri Lanka at three World Championships reaching the quarter-finals in 2010 in Bridgetown, Barbados. Her only regret was failing to realize her dream of going to the Olympics after winning a selection trial for the 2012 Games.
"Personally speaking I don't think anyone trained the way I did. I don't know whether anyone does train the way I do. The way I sacrificed my life for boxing, I don't think I will see it in my lifetime. It's very difficult to think it will happen," said Anusha in a candid interview with the Sunday Times without pulling any punches.
"My dream was to take part in Olympics. We didn't have it, to make it there. Boxing with what we have is difficult. For the sacrifices I made for boxing, the Commonwealth Games bronze is good enough," said Anusha who battled on gamely despite being plagued by leg injuries.
Anuruddha Rathnayake was the first to qualify for the Olympics after a gap of 40 years when he took part in the 2008 Beijing Games. "He went purely on his talent," said Anusha rueing the missed opportunities at the peak of her career.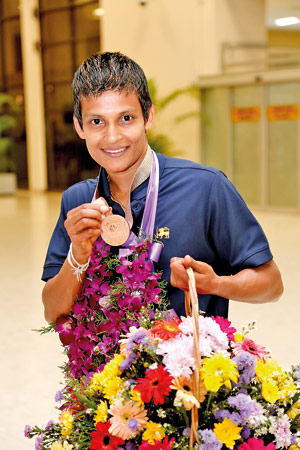 "In 2012 I was hoping for a wildcard but I did not get because maybe I had not won many international tournaments that time. To go to the Olympics, we did not have the standard. That is why we lost the opportunity. Those who were managing us did not know where to send us (to develop skills). If they had sent us for training abroad, if they had educated us, it's not a big deal taking part in the Olympics. If we had got good coaches and if they had invested in us, we could have done it," said Anusha blaming the authorities for the lack of a strategic plan.
"When we went abroad for competitions, sometimes we were physically stronger than our opponents. But we lacked techniques and tactics because we did not have proper environment for training. I don't think we can produce Olympic level boxers (men and women) if we go like this in future. It's like chasing a mirage. We train for that particular day or event. After winning or losing, we forget what happened. The same cycle happens the next year. Now sport has become a business. There is no strategic plan to win a medal. It is not only in boxing but other sports as well, apart from athletics. They have made some progress," said Anusha a former javelin thrower who also took part in running events.
However, Anusha hailed the contribution of Cuban coach Jorge Luis Frometa Matos who was in Sri Lanka for more than a decade.
"Cuban coach Frometa was the one who introduced a systematic boxing training method. He drew up schedules on what sort of training to do in the morning and evening. He only trained everyone of us. Before that there was no proper system such as what to do in the morning, whether it is physical or technique or tactical training. He changed the way boxers trained," said Anusha, one of three Sri Lanka boxers to win bronze medals at the 2nd Asian Women's Boxing Championships held in Hisar, India in 2004 with Frometa at the helm.
She admitted there was a lack of competition for women boxers in Sri Lanka. "For example, in Kerala there are about 10 or 15 boxers who have to fight their to reach the national level from their state. Naturally the best is selected. There is a good foundation for boxing. They also develop coaches. In India there are ladies' coaches too which we don't have," pointed out Anusha who has ambitions of becoming a coach but on her own terms.
"I have future ambitions if the environment is right. If my children (students) don't follow what I have achieved, it is not right. With my experience, I would like to become a boxing coach only. I don't like to become referee/judge because they face criticism," she said.
However, she wants to arm herself with more knowledge before starting coaching.
"Nowadays everyone who can hold a pad is considered a coach. I don't want to become a coach like that. I don't want to earn money as a coach. I want to maintain my standard. I want to learn what I don't know by going abroad for training and gaining more knowledge, learn the science of the sport. Just because you know to hit a left and right and have boxed, you can't become a coach. That is why our generation of boxers are suffering. They are not educated properly," lamented Anusha slamming boxers for lacking discipline.
"What I noticed at the Nationals is that boxers lack discipline. It's the fault of the coaches not boxers. Any boxer or athlete should have discipline, whether it be in training, inside the ring or outside the ring, when we climb into the ring or get down from the ring. I did not see discipline from the boxers," she noted.
"If we can't take victory or defeat in the same spirit, to shake hands of the opponent, to respect the referee, if we can't do that, I don't know what is the purpose of playing sport. Whatever we do, not only in sport, if we do it right, we won't fail if we stick to the policy. I don't see that in today's generation – the discipline, application and courage. Those who have these qualities can go far but others will sink," warned Anusha.
As for the future of boxing in Sri Lanka, she says there are talented boxers but their skills need to be developed to go the next level.
"It is in our hands to develop that talent. As seniors, managers, coaches or ministry or Olympic committee, whatever, they should decide whether they can be developed further or to keep them in the same depth. There is only 60 per cent the boxer can do. Balance is management," said Anusha who attended Hamangalla Maha Vidyalaya in Giriula before graduating to become a boxing icon.