Namith Best Boxer as Thurstan stage house meet after two decades
View(s):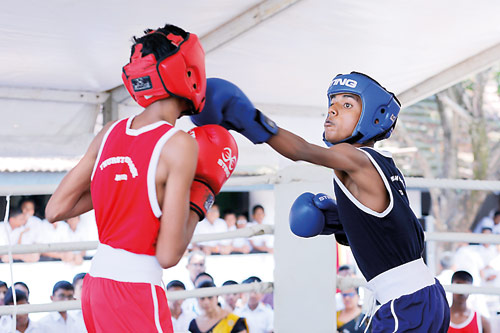 Thurstan College, Colombo celebrated their revival of boxing a year ago by conducting their first ever inter-house boxing meet after more than two decades in their school premises on Wednesday.
Although many bouts did not last the full distance, there was no shortage of excitement as boxers cheered on enthusiastically by school children who thronged the ring installed in the basketball courts, showed plenty of aggression, courage and skills to mark the historic occasion.
Namith Nimsandu of Sandiman House showed enough talent to carry away the Best Boxer's prize after earning a unanimous decision against Vineth Kawmudu of Robison House fighting in the lowest weight (35-37kg) category.
There were some thrilling contests as well with P.D.D. Nadil of Robison House winning a split decision against S.D.S.B. Senarath of Denham House who bounced back in the third round throwing powerful left jabs in a battle of heavyweights.
Sihas Sathviru and K.N.B. Fernando, both of Denham House, gave impressive performances. Sihas peppered his opponent  Oshada Inam with left jabs and hooks to force a first-round stoppage in the 56-58kg weight class while Fernando displayed superb technique to outpoint S.A. Suhail in the 56-60kg weight category.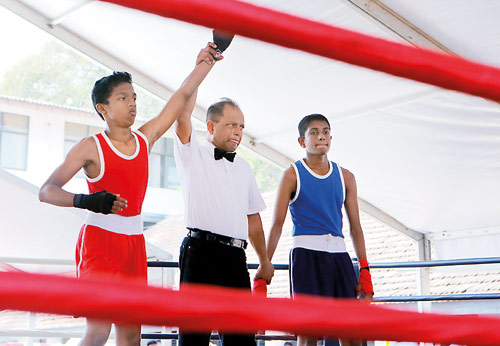 L.V. Jayaweera meet bronze medallist K.M. Lakshan of Denham House earned a unanimous decision against H.Y. Bamunuarachchi in the 42-44kg weight class while T.B. Jayah meet bronze medallist Shashiru Shavinday of Robison House lost to Ishara Saranga of Sandiman House in the 40-42kg weight category after suffering a nose bleed in the first round.
The meet was organized by the Thurstan Boxing Club headed by the school principal Lakshman Dias, vice president Major General (retd) Rukmal Dias, energetic secretary H.S. Upul Shantha and treasurer Tharanga Perera. Dilani Samarasekera is the teacher in charge of boxing at Thurstan which is coached by former Army champion boxer C.L.K. Anthony.
Former Thurstan vice principal Donald Munasinghe, a past boxing captain of the school who was more renowned as a boxing coach of the school, was the chief guest. "Most of them were new boys who showed they had talent. There were some good fights as well," said Munasinghe, a fomer referee/judge and veteran official of the Schools Boxing Association of Sri Lanka.
Noel Joseph, Senior Vice President of the Thurstan Old Boys Association, was the guest of honour.
An exhibition bout was held between two national champions Rukmal Prasanna, the most scientific boxer at the Nationals, and Lasindu Eranga, bronze medallist at the South Asian Games, both products of Gamini Central College, Ingiriya.
Pix Sameera Weerasekara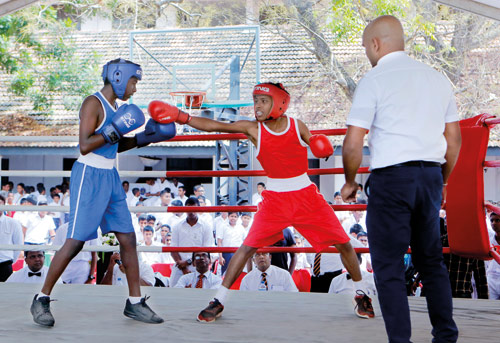 Results:
35-37kg: W.A.K. Namith Nimsandu (Sandiman) beat N. Vineth Kawmudu (Robison) 3:0
41-43kg: R.M.H.S. Rathnayaka (Macrae) beat E.M.R. Ometh Ekanayaka (Sandiman) RSC R2
45-47kg: S.W. Yesith Nathmika (Denham) beat W.T.N. Muthukuda (Sandiman) RSC R1
49-51kg: Shavindu Keshara (Denham) beat M.D. Indusha Dissanayaka (Macrae) 3:0
53-55kg: W.K.S. Sanhinda (Robison) beat W.S. Lashan (Macrae) RSC R2
57-59kg: R.P. Chiran Chethra (Macrae) beat K. Chanula Alwis (Macrae) RSC R1
61-63kg: O.G.L. Kumarasingha (Robison) beat K.A.C.S. Jayarathna (Macrae) RSC R1
40-42kg: L.H. Ishara Saranga (Sandiman) beat J.A. Shahshiru Shavindya (Robison) RSC R1
42-44kg: K.M. Lakshan (Denham) beat H.Y. Bamunuarachchi (Denham) 3:0
46-48kg: Janul Thenujaya Ranasingha (Sandiman) beat W.H.A.D. Nonimi Kawushika (Macrae) RSC R2
48-50kg: T.T.G. Oshada Neminda (Sandiman) beat I. Oshan Deemantha (Denham) RSC R1
52-54kg: G.U.G. Liyanage (Sandiman) beat P.N.D.L. Perera (Macrae) 3:0
56-58kg: H.S. Sihas Sathviru (Denham) beat Oshada Inam (Denham) RSC R1
72-74kg: Y.D. Ekanayaka (Robison) beat H.P. Jayarathna (Macrae) 3:0
52-56kg: G.C.S. Gunasekera (Macrae) beat W.M. Dulsara Perera (Denham) 3;)
56-60kg: K.N.B. Fernando (Denham) beat S.A. Suhail (Denham) 3:0
64-68kg: P.D.D. Nadil (Robison) beat S.D.S.B. Senarath (Denham) 2:1
60-64kg: Lohan Asmika (Macrae) uncontested
70-72kg: G.W.D.S. Laknila (Macrae) uncontested
67-69kg: A.I.U. Peiris (Macrae) uncontested