Face-lift for R. Premadasa Stadium
View(s):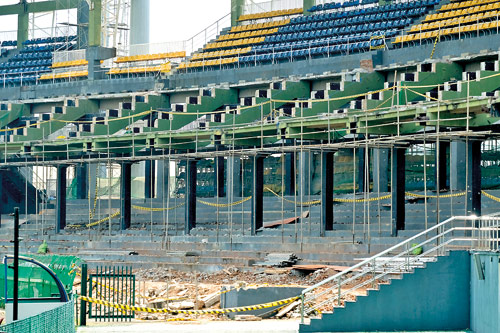 Sri Lanka's premier ODI venue in Colombo – R. Premadasa Stadium is getting a complete face-lift following recommendations by the University of Moratuwa.
An integrity assessment of the venue by the university found that the pavilion blocks A and B force a serious threat to the safety of the spectators and has advised Sri Lanka Cricket (SLC) to close the two pavilion blocks until repairs have been completed. In addition, stairways of pavilion C and D and the roof also need urgent renovation, given the deterioration in these places, the report adds.
Built over 30 years ago, the venue went through a multi-million rupee upgrade ahead of the 2011 Cricket World Cup which Sri Lanka co-hosted with India and Bangladesh but according to the assessment report, the venue has suffered serious structural deterioration during the last five years and hence needs urgent renovation before opening it up for spectators.
The assessment report compiled following a detail investigation on the two pavilion buildings in question states that though the building is structurally adequate, the precast slabs used for some areas of the tiers show fully carbonation, low strength, severe reinforcement corrosion, and instability.
The tender has been awarded for a sum of Rs 395 million to a local contractor. Out of the estimated cost, approximately, the project managers have estimated Rs 100 million each to pavilions A and B while D and other areas will cost the balance amount.