CCC School of Cricket ends UAE tour with success
View(s):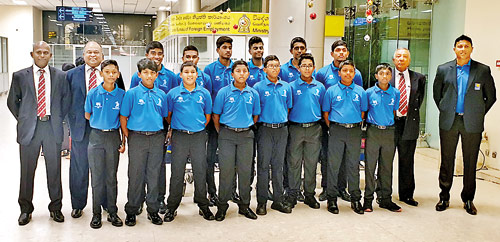 The young lads of CCC School of Cricket in their first ever tour to the UAE played eight matches, and won four and lost four. Out of the eight matches played,two were day/night matches, and the highlight  at these two matches was the use of White and Pink Balls. The matches were played in the picturesque Australian International, Skyline University, Al Hamriya, Al Batyeh grounds in Sharjah with excellent facilities.
The tour was led by the Chief-de Mission, Nelson Mendis, and the entire tour was coordinated by the Chief Executive Officer, Harsha Peiris, and Tour Manager was Sivalingam Ravichandran. Manjula Abeysekera of  SLCL Sports Management of Dubai coordinated all  matches and logistics in the  UAE making the tour a success and a memorable one for all players and officials.
Following players performed well on the tour.
  Most Promising Cricketer: Chamal Athale
  Best Bowler: Chamath Pathirana
  Best Batsman: Travin  Nishanthan
  Best Allrounder of the Tournament: Vidun Weeraddana
  Team on tour: Disal Fernando (Capt), Viden Weeraddana (V.Capt), Travin Nishanthan, Sunera Perera, Cainan Anthonyz, Chamath Parhirana, Raaed Carrim, Viknesh Ravicandran, Kiran Perera, Thinuda  Wettasinghe, Chanul Athale, Yoshada Alwis, Nidukshan Perera, Leshan Nanayakkara and Coach Manoj Millawithanarachchi
- LR
Results

 Match 1: CCC School of Cricket beat Simply Cricket Academy by 47 runs

CCC School of Cricket 164/5 (25) (Yoshada Alwis 46*)
Simply Cricket Academy 117 (23) (Chamath Pathirana 3/15)

 Match 2: CCC School of Cricket lost to Victoria Cricket Academy by 9 wickets

CCC School of Cricket 90 (22)
Victoria Cricket Academy 91/1 (12)

 Match 3: CCC School of Cricket beat Spring Cricket Academy by 48 runs

CCC School of Cricket 141/8 (25) (Vidun Weeraddana 38)
Spring Cricket Academy 93 (21) (Kiran Perera 3/7)

 Match 4: CCC School of Cricket beat Simply Cricket Academy by 3 wickets

Simply CA 121 (21) (Kiran Perera 4/22)
CCC School of Cricket 122 for 7 (22) (Disal Fernando 26)

 Match 5: CCC School of Cricket lost to Victoria CA by 9 runs

Victoria CA 114 for 8 (25) (Viknesh Ravichandran 2/10)
CCC School of Cricket 106 (24.2)

 Match 6: CCC School of Cricket beat Victoria CA by 6 wickets

Victoria CA 93/1 (17)
CCC School of Cricket 100/4 (15.4) (Disal Fernando 25*)

 Match 7: CCC School of Cricket lost to Simply CA by 5 wickets

CCC School of Cricket 122 (25) (Chanul Athale 20, Chamath Pathirana 20)
Simply CA 123/5 wickets (22)

 Match 8: CCC School of Cricket lost to Spring CA by 5 wickets

CCC School of Cricket 123/7 wickets (20) (Travin Nishanthan 40*)
Spring Cricket Academy 125/5 (19.5)