Appreciations
View(s):

To a wonderful mum and grandmother: You were all this and more to each one of us

Salma Aboosally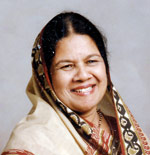 Our mum and grandmother was the foundation of our family, the strength and the backbone of our many lives. And there are so many memories – each reflective of the  different roles she played in our lives and the importance of her love and our memories of her.
Rehana: Eldest grandchild
When people die – especially people who are close to you – the temptation is to eulogise them as if they have no flaws. We all do. Umma did. They made her what she was and what she was – a confident, self-assured, funny, graceful, dignified and witty human being who was well read, well-travelled, charming and a loving and supportive grandmother. A huge and welcome presence in my life that I am so grateful I had the benefit of for so long.
Some of her views may have not matched my own, but in expressing them, her gift was that she was always open to challenge, took any dispute with good humour and listened to an opposing view. There was not a malicious bone in her body. She was above all that. She held herself above that.
Umma took unashamed pride in her achievements and that of her family. No false humility for her. That translated to encouragement, support, empowerment and confidence. She always believed in you and you knew it. The impact of that on a young person is immensely valuable.
In every picture I have of her, she is smiling with such joy. And that is what I remember of her. A joyful person who brought joy wherever she went.
Mike: Son-in-law
A charismatic and dignified lady who knew how to move with the elite and political leaders and never lose the common touch. She was a tower of strength to Appa, and gave sound advice to him when it was required. I have colluded with her in many of her innocent, well-meaning schemes and she would tell me "Don't tell Roshan" and I kept my promise and next thing I know is that she had confided in my wife, her eldest daughter, Roshan and I have got into trouble!…. Then she would tell me with a gentle smile, "Roshan is my eldest and I have to discuss everything with her." Although I fell into this trap again and again, it was taken in our stride and we laughed it off.
Azi: Grandson
My favourite Umma story was when she took me to Galle Face and bought me a kite. It was just me and her and she just let me fly it quietly while she went on her walk. It was really awesome for a few minutes but then every person there decided to talk to me. First this French couple came over, then someone else. Finally some street children came over. To get out of this, I just let the kite go and asked Umma to take me home. She didn't ask why or anything, just saw my face and went back to the car.
Some weeks later she showed me an article she wrote about the day IN THE NEWSPAPER! I was not at all happy at the time because she wrote that the "the wind was too strong for his little hands". The majority of her story was made up, in fact. I never told her why I let the kite go so because I didn't want her to know I wasted her money but I was so angry that she would sully my reputation like that. I did complain to mum who told me about artistic liberty which was ironic because I was a little liar at the time. She really did make time for all of us and each of us had a special relationship with her but just like with my grandfather Appa I don't have anything but good memories of her.
Jehaan – Son-in-law
No words are too much for her strength of character
It's not easy to describe her wonderful role
Aunty will be missed but we take comfort in knowing
That she was taken by God for her wonderful soul
Tahir: Grandson
Having lived overseas for many years, I returned to Sri Lanka after graduating from University to take up a job at an IT company in Malabe. During this time, I lived at my Umma and Appa's home in Colombo. Every evening when I returned home from work (and the lengthy tiring travel from Malabe), my Umma would always have sandwiches or toasties prepared for me to eat. My cousin lived in the same house and on one occasion made the mistake of eating one of these treats. I remember returning home that day and being told of this by my Umma and that she had told him off for this ''terrible act''! My cousin learned his lesson and thankfully from that day all evening snacks remained untouched awaiting my arrival. Umma loved all her grandchildren equally, but for that one brief moment, I revelled in her clear favouritism.
Yannik: Youngest grandchild
My grandmother brought so much happiness and joy to all those that knew her – so many of my fondest memories were made in the relatively short time I got to spend with her. This included things like playing sports in Unity Place or spending time on the beach. Even at 80+ years she used to play hard, whether it was bowling to me for cricket, or playing badminton. I even remember her having a fall in a desperate attempt to reach for a shuttlecock. I think this revealed a lot about her true character. She was so much fun to have around. My only regret is not being able to spend more time with her.
---
Many were the values she inculcated in all of us
 MARIE SENEVIRATNE
Marie Seneviratne was born to Mudliyar Clement De Alwis and his wife Mary on September 10, 1923. Her father Uncle Clement was my father's younger brother and they were very close. Marie was referred to by us as Marie Akka and she was very close to my eldest sister Fidelia and my other sister Viola. She was Fidelia's bridesmaid. Marie was brought up with lots of love and care by her parents who provided her with whatever she wanted.
She was a student at Methodist College and later was given in marriage to Swinton Seneviratne, a renowned artist at the time. He was a well known teacher of the School of Arts, a government organization.
Prior to her marriage Marie lived with her parents at Deal Place, close to our house at Walukarama Road, Kollupitiya.
Marie had two children Ranjani and Mohan. They used to spend their holidays at our ancestral home in Kalahe and we used to look forward to their visit as they had a plush vehicle and Uncle Clement used to shower us with good food and pocket money.
Unfortunately her husband died of a heart attack and Marie was left with the responsibility of bringing up both children on her husband's pension. It was at this stage that Uncle Clement had started building a house at Kadawatha Mahara with some assistance given by my Dad with timber from the ancestral land in Kalahe. Uncle Clement had written his property next to our ancestral land in Kalahe called Bata Dumba Gaha Korotuwa and Marie managed to sell it to finance herself and her  father to complete the house at Mahara.
To supplement her income, Marie decided to run a poultry yard and a piggery and went into the manufacture of bacon and sausages etc. Various companies were willing to purchase from a very enterprising lady. Her courage and confidence, and the aptitude she had to create a small business enterprise with her own vision must be admired by all women especially at a time where not many women ventured to start businesses with no financial backing or any male support. She was a born leader.
Marie ensured that both her children were educated and adequately equipped to stand on their feet to face life  with a deep sense of honesty and integrity, and live a simple life within their means.
Marie inculcated in the children and grandchildren values which will remain forever. She exemplified the axiom "She who rocks the cradle rules the world".
Her true strength was the affection she showered on her children, in-laws and grandchildren. Her priority was the family and her vision was to keep the family affectionate, faithful and pure. There is no doubt that her love was the actuating impulse of her life which showed that out of love springs gentleness and kindness. Her love for her children and grandchildren knew no bounds. Always frank and forthright, she never failed to be considerate and humane in her ways. Perhaps many misunderstood her as she was always truthful in her comments.
In her last few years she made it a point to visit her relations. She ensured that her family attended church. She believed and trusted God in all she did. She taught us to: "Trust your hopes not your fears".
She believed in these values: "The value of time, the success of perseverance, the pleasure of working, the dignity of simplicity, the worth of character, the power of kindness, the influence of example, the obligation of duty, the wisdom of economy, the virtue of patience, the improvement of talent, the joy of origination".
Maria was blessed with very loving children, a daughter-in-law, son-in-law and grandchildren who showered her with love and affection. Always content, she would say "Umbala
mawa balanna enne nedda''. In the last few years, my wife Dammie and I did visit her on her birthday and she was indeed glad about our visits.
I am certain she must be back with the Lord and she will act as an angel to her family watching over them.
May she Rest in Peace.
Nihal De Alwis
---
We will carry you in our hearts forever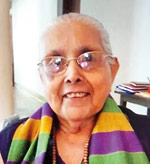 Suranganie Aluvihare Alawattegama
November 18. That's the date when an angel in human form was taken from this world.
Aththamma was the youngest of 10 children born to William Aluvihare and Seelavathi Tikiri Kumarihamy Hulangamuwa of Uda Walauwa, Aluvihare, Matale. She studied at Hillwood College, Kandy and married Aththa (R.B. Alawattegama) in 1951.
She was a full-time housewife, talented cook and loved gardening. Feeding everyone coming home to Aluvihare was guaranteed. She always made sure she had all of the foods we each loved to eat, and we were fed as though food was going out of fashion!
She used to sit on the verandah waiting for us to arrive, irrespective of the time, day or night. The first thing we would see as we approached the house was her, seated with her warm smile. That beautiful smile had welcomed the hundreds of relations and friends that came to see her. She touched the lives of so many people.
She loved big gatherings and our evenings were filled with lots of singing and story-telling. From her, we learned the ancestral history of our family. As for the music, she used to love to sing old songs with us, and that made everyone around her happy as well. In fact, only a few weeks before she passed away, some aunts visited her and sang some of her favourite songs to her.
She kept her large family of seven children, and their families, all together. She cemented the family ties that we will now carry for the rest of our lives. For her, every one of her grandchildren was very special and she adored us all the same. To her, we were the cleverest and most beautiful children in the world. We spent hours making jigsaws, doing crosswords, playing cards and of course, munching through the food she made for us! We spent hours talking and laughing with her. She enjoyed our mischief (even if Aththa and our parents didn't!) and was always on our side. Even our fathers say how she used to cover up for them when they were naughty! Frankly, we can't remember a day when she was ever annoyed with us.
Even though Aththamma was born at the beginning of the 20th century, she was extremely broadminded and embraced the ever-evolving changes in society. For her, the only thing that mattered was our happiness and she never hesitated to support and guide us on our path.
Aththamma was the most wonderfully kind person. She never expected anything in return. She was not high up in the world in terms of power or profession or any of the other things society perceives as essential to be successful in life. But she had a gift that is pure and rare – she was kind, generous and good to people. She moved mountains for the people she loved. She was always at peace with herself and radiated that peace around her.
Life didn't give her an easy ride – with lots of happy times, there were also heartache and challenges, but, she was an incredibly strong woman and always found a way forward in difficult circumstances.
She lived a simple life and her memory will continue to be cherished. As much as we wish that we could have more time with her, life had become painful for her in the last few months, and that is something that she did not deserve. It is heart-breaking for us to be in this world without her unconditional love, patience, understanding and courage, but we hope that she is finally at peace and free of suffering.
We all loved you so much because of the kind of person you were. We will miss you every day, Aththamma. We are so grateful to have had the pleasure of knowing your love. The biggest achievement for any of us would be to be more like you. You carried us in your arms so now, we will carry you in our hearts. Forever.
May you attain the noble bliss of Nibbana.
Lots of love,
Satyajit, Sohini, Samangi, Harindi, Navodh, Lillendra, Dulara, Menuk and Minag Alawattegama
---
Help us emulate her unassuming ways
 Chandra Premawardhana
A loving sister, wife devoted,
Sister well loved, friend sincere.
Born non Christian, yet converted
Did shine for the Lord in her own sweet way.
In silence, unmoved, she was taken away,
Unassuming, quiet and gentle she lived her day,
No illness gripped, no pain,no sufferring hurt
Called to rest to the bosom of the Lord.
Thank you Lord and Saviour Divine
For her life, devotion, example fine,
Help us emulate her unassuming way
In all we do, we think and say.
                                           
Leila Karunaratne
---