Saucy social media seducers drag gullible boys into dark hole
By Nadia Fazlulhaq
View(s):
"I met her via Instagram, and she said she was interested in me and kept asking for nude videos of myself. Initially I sent some for fun via Snapchat, but then she kept demanding more and more photos and videos. Later it was blackmailing, saying that my previous videos will be given to pornography sites, if I stop sending or remove/unfollow her," an 18-year-old male victim of a cyber-bully has confessed to the Criminal Investigation Department.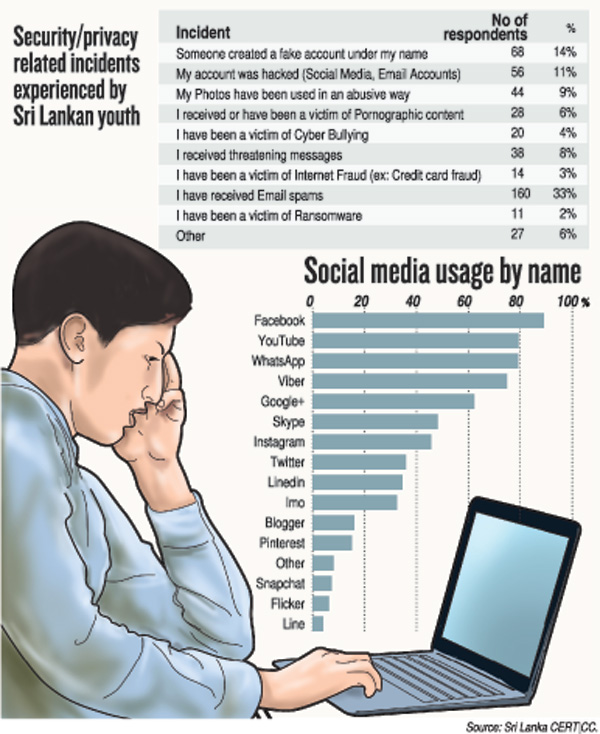 Last week, the Computer Crimes Investigation Unit of the CID arrested a 21-year-old man who had duped more than 50 boys from leading schools in Colombo posing as an attractive female on social media and obtained nude photos and videos.
The head of the unit, Superintendent of Police, Dharshika Kumari, told the Sunday Times the suspect was arrested within three days of the complaint, for intimidation and extortion, obscene content publishing, sexual harassment and unauthorised access, all punishable offences under the Penal Code and the Computer Crimes Act.
The Moratuwa resident works in the field of IT and has been scamming people for more than three years. He has created a number of fake accounts on Facebook, Instagram, Whatsapp and Snapchat.
"His phone was full of nude videos of more than 50 boys, all photos were saved under individual files bearing their names. The victim said when the bullying began he had offered money, but the suspect has refused and kept demanding more videos,'' SP Ms Kumari said. Among the victims are top sportsmen, captains of school sports teams.
The suspect has been remanded in custody. He may face jail, but according to SP Ms Kumari, will need to go through rehabilitation as well.
"We do carry out awareness programmes on cyber crimes, safe use of the internet and social media in schools, however they are based on requests. National schools especially boys schools rarely contact us, as the mindset is to protect girls from cyber crimes on social media than boys," she added.
The CID receives over 1,500 complaints to the Cyber Crimes Unit annually.
"As this case involved school boys and blackmailing, we had to immediately investigate," SP Ms Kumari said.
The Sri Lanka Computer Emergency Readiness Team (SLCERT), the local body that receives complaints and looks into threats to computer systems and networks, said 71% of victims have not reported cyber incidents to authorities.
According to SLCERT, the majority of complaints were about accounts being hacked, and fake accounts.
"Accepting strangers as friends on social media would grant them access to a wealth of personal information, thus compromising the account security. Personal information on social media can provide the crucial information that identity thieves need to misrepresent themselves as the victims of such thefts.
"Such information could also help a hacker or malicious computer programme to predict the passwords or answers to security questions on social media. It is, therefore, advisable for youth to be vigilant of the nature of the content being shared, avoid sharing contact information, and not accept 'friend' requests from strangers," SLCERT advised.
A study by SLCERT on social media security revealed that Facebook is the most popular social networking site and that 50% of youth spend 1-5 hours on social media daily with 43 percent accepting 'friend' requests from unknown people.
The study also found that 14% of respondents have been victimised by the creation of fake accounts, 11% by hacking their accounts, 9% by abusive use of photos, 12% by cyber bullying, and 3% by internet frauds.
"Although a significant number of youth have been victimised, 71% have ignored such incidents and have not reported to the relevant authorities. Lack of awareness on the relevant authorities and fear of disclosing identity have prevented them from reporting these incidents."
Police spokesman, Superintendent of Police, Jaliya Senaratne, said parents and school authorities should be vigilant over the use of social media among the under-aged.
"In a case like this, the victim is in fear as he/she too have contributed by sending obscene photos or videos. So when the bullying starts, they give in, instead of complaining to authorities or reporting to an adult. Parents should remind their children that by providing obscene content, even for entertainment, they can be aiding a criminal," he said.
According to him, social media users should not reveal important information to an outsider especially their National Identity Card number to purchase phone SIM cards, and their social media account passwords.
The former chairman of National Child Protection Authority, and senior lecturer in sociology, Jagath Wellawatte said online abuse, talking to strangers on social media, sharing sexual content, cyber bullying are issues that parents and teachers are reluctant to discuss with children.
"While protecting the girl child from social media predators, it is important to protect the boys, too. Blackmailing and extortion can be detrimental psychologically. Parents should be watchful of their sons whether they are playing online video games with strangers or hanging out on Facebook," he said.
He suggested authorities take a child-friendly approach via social media and create awareness of cyber bullying, abusive use of photos and so on and mention who the victims can complain to without fear.