Army in battle against paddy mafia, helps PMB to buy more from farmers
President orders Army Commander to launch offensive to help farmers
View(s):
The Sri Lanka Army has been called out to fight against the paddy mafia by supporting the Paddy Marketing Board (PMB) to buy more paddy.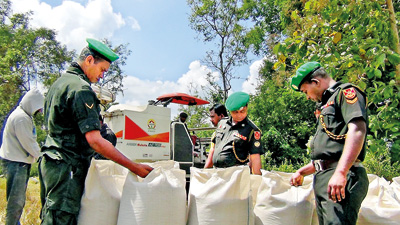 Following the instruction of President Gotabaya Rajapaksa the Army Commander Shavendra Silva was directed to assist the PMB to directly buy paddy.
Under the programme the army had already provided transportation vehicles, repaired PMB stores and had dispatched soldiers to assist the PMB.
The centre Commandant of the Sri Lanka Army services corps Brigadier Indrajith Kandanaaracchi who coordinates the programme said they had given directives to seven security forces headquarters at Jaffna, Vanni, Killinochchi and the Eastern and Western provinces.
"We are engaging in this programme to ensure the farmers will get a proper price for their paddy as well as to stop the ones who make massive profits from buying paddy at low prices," he said.
He said the army was coordinating with the PMB, the District Secretaries of the paddy cultivation areas and the farmers associations to provide assistance to buy paddy.
"We are dispatching army officers to educate the farmers on the benefits of selling more paddy to the PMB for Rs 50 a kilo. We also facilitate transportation, improved warehouses that belonged to the PMB which were in bad shape and are even ready to buy new warehouses if the PMB has too much space," he said.
He said they were also providing security to the PMB warehouses in areas where elephant threats had been reported.
Brigadier Kandanaaracchi said the army was reviewing the progress and gathering statistics of the buying of paddy at different districts and stores.
According to the statistics gathered from the divisional security forces headquarters the PMB has bought 4,528,160 Kg of paddy from January 29 to February 13 this, spending Rs 226,408,000.
He said among the varieties purchased are nadu, white samba, keeri samba, red samba, red nadu, and white nadu.