All losers in race to death on roads
View(s):

Motorcycles and three-wheelers maintain a joint lead in the race to death last year again, calling into question safety measures constantly being instituted.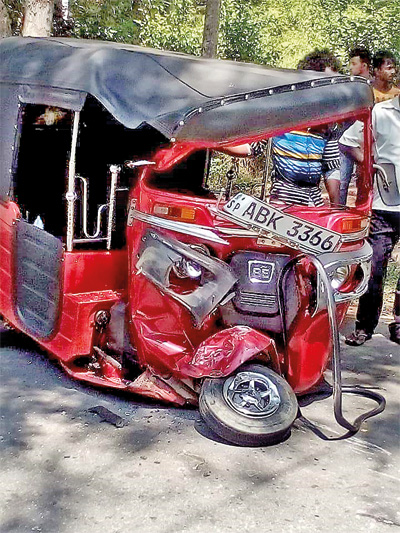 Motorcyclists and three-wheelers were involved in almost half of all fatal accidents, according to police statistics for last year that show 1,138 fatalities from motorcycle accidents and 310 fatal accidents involving three-wheelers. The figures were slightly lower than for 2018.
Other road fatalities last year include 316 fatalities in lorry accidents, 182 in private bus accidents and 219 in car accidents.
The All-island Three-Wheel Drivers Union Head, Lalith Dharmasekara, claimed the government only collated 10 per cent of the data on accidents.
"Most of the accidents that are reported at police stations are by people who have insured their vehicles. Almost all three-wheelers are not insured due to the hefty amount of money that requires," he said.
Ceylon Motorcyclists' Association President Chirantha Amerasinghe is pressing for quality rather than engine capacity to be the focus in allowing imported motorcycles into the country.
"There are motorcycles with higher safety features that are banned from being ridden on our roads," he said.
He also wanted more lights to be allowed on motorcycles, saying it made them easier to see at night on poor roads.
"Due to the laws prohibiting vehicle modification, motorcyclists are not allowed to add extra lights to their vehicles. Instead of promoting pandol buses authorities must focus on allowing extra lights on motorcycles that will help reduce accidents," Mr. Amerasinghe said.
He also wants full-face helmets to be promoted as the norm. "According to research, riders wearing full face helmets have a 0.8 per cent chance of the helmet being dislodged in an accident whereas open-face helmets have 69 per cent chance of falling off," he explained.
Last Sunday, a 70-year-old motorcyclist died when he crashed into another motorcyclist travelling on the Colombo-Batticaloa road at Pelmadulla.
On the same day, a three-wheeler driver travelling towards Matara died after his vehicle collided with a lorry  travelling in the opposite direction.
In another accident involving a three-wheeler, a passenger in one was killed when the vehicle and a lorry were involved in a head-on collision on February 3 in the Embilipitiya area.