Proud moment for Batticaloa Toastmasters Club
By Chrishanth Nelson
View(s):
Batticaloa Toastmasters Club hosted 'Inception' the charter club officer installation ceremony on January 25 at KiriBojan, Batticaloa. It was a proud moment for Batticaloa Toastmasters as they joined Toastmasters International, the world leader in communication and leadership development where the worldwide membership is more than 358,000 spread among 16,800 clubs operating over 143 countries.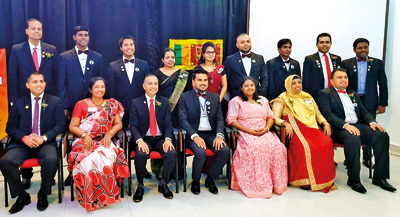 At present, Toastmasters District 82 comprises more than 200 toastmasters clubs across Sri Lanka and Tamil Nadu. District Director – District 82, TM Sharma Mahalingam, the Chief Guest, conducted an enlightening awareness session. The Immediate Past District Director,  DTM Suganthi Periasamy from Tamil Nadu, India, was the guest of honour of this ceremony.
Many District and Division level officers of Toastmasters fraternity were present including Programme Quality Director – District 82 (A) DTM Noorul Munawwara, and Club Growth Director – District 82 (A), DTM Srianthie Salgado. DTM Yogendraprasath Sathiyaseelan from Pinnacle Advanced Toastmasters Club delivered an inspiring keynote speech on how to achieve the best out of a Toastmasters Club.
Batticaloa Toastmaster Club has 22 members at present, and is the first toastmasters club to be chartered in the Eastern Province of Sri Lanka. The members are from diverse educational and career backgrounds. The Club conducts its meetings twice a month at ESOFT Metro Campus, Batticaloa.