Northshore Campus appoints Prof. Nalaka Jayakody as VC and CEO
View(s):

NorthshoreCampus, a leading higher education institute with modern state-of-the-art infrastructure, very recently appointed renowned Professor Nalaka Jayakody as its new Vice Chancellor and CEO to steer and lead its future growth.

With an outstanding panel of lecturers consisting of highly qualified and competent academics, the campus provides various programmes such as HNDs, undergraduate and postgraduatein the fields of Engineering, Business Management, and Information Technology. Streams such as Tourism and Hospitality, Linguistics, Teacher Training and Education, and Health Sciences are set to launch in the near future.

NorthshoreCampus has established a partnership with the University of the West of England (UWE) Bristol, UK bringing its undergraduate and postgraduate level courses to Sri Lanka. Students enrolled with Northshore Campus become registered full-time students of UWE with the degree awarded by the University of the West of England, which is recognised by the University Grants Commission.

Professor Jayakody is undeniably one of the best-known and most respected mariners and academic both locally and as well as internationally. His vast contribution to the sector goes without saying. With extensive leadership experience in the higher education sphere, he previously served as Vice President of CINEC. Having joined CINEC as a lecturer in 1998, he went onto becoming senior lecturer, head of the department, dean of the faculty, and director.

With a strong determination to continue his enormous contribution towards state and private higher education and maritime sector in the country, Professor Jayakody strongly believes in the vision of making Sri Lanka a maritime and knowledge hub.

He is the first and only Sri Lankan Master Mariner to obtain a doctorate and become a professor. He was also very recently conferred the International Leadership Innovation Excellence Award 2019 by the Institute of Economic Studies, India.

Prior to pursuing an academic career, he was an experienced seafarer having traveled to over 90 countries with exposure towards diverse cultures. He began his maritime training in 1984 as Merchant Navy Officer Cadet by the Eurasia Shipping Company in Germany and obtained the first Certificate of Competency (CoC) as Class II Second Officer from the Australian Maritime College (AMC) in Tasmania, Australia in 1989.

He was awarded the Master Class I certificate from Royal Melbourne Institute of Technology (RMIT), Australia in 1994 and rose to the rank of a Ship Captain, having sailed with various types of vessels from 1984 to 1998 in ascending ranks of seniority and was promoted as Master of the merchant ship.

Professor Jayakody has not only pursued his professional studies to the highest level possible but successfully continued with academic qualifications to reach the pinnacle. He has a Master of Science (MSc) in Maritime Education and Training (MET) from the prestigious World Maritime University in Malmo, Sweden and a Doctor of Science (DSc) in Maritime Affairs from Dalian Maritime University in China where he also served as a Professor.

With a passion of promoting maritime to post-secondary educational institutions, he contributes to various international journals with articles that are of high academic interest. He is a renowned public speaker representing many international and national maritime forums, seminars and related activities.

He also served the University Grant Commission (UGC) Sri Lanka to review programs in maritime colleges both locally as well internationally, and was instrumental in sharing knowledge and coordinating with the Merchant Shipping Secretariat (MSS) in the implementation of STCW for Sri Lanka in 2010.

He is a fellow member of many professional bodies such as The Nautical Institute UK, Chartered Institute of Logistics and Transport UK (CILT), Institute of Marine Engineering, Science and Technology UK (IMarEST) in addition to being a Chartered Marine Technologist UK (CMarTech), Life Member of the Organization of Professional Associations of Sri Lanka (OPA), Life Member of the Company of Master Mariners of Sri Lanka (CMM), and Member of International Maritime Lecturers Associations of Sweden (IMLA).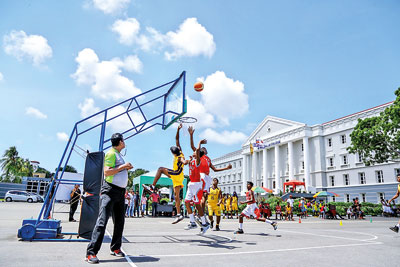 Professor Jayakodypresently serves as the Chairman of The Nautical Institute (NI-UK) Sri Lanka Branch, Advisor – Professional Services (Education) of Export Development Board (EDB), Committee Member – Sri Lanka Quality Framework (SLQF) review panel (World Bank), Committee Member- Minimum standards for non-state degree awarding institutes- Ministry of Higher Education. He is the Past President of the Sri Lanka Association of Non-State Higher Education Institutions (SLANSHEI).
He also served as Board Director of Maritime Training Centre in Seychelles and Fiji Maritime Academy in Fiji, Chair of the Academic Board and Member of the Board of Governors at CINEC, Member – National Task Force of IMO implementation of Ballast Water Strategy, Member – Sri Lanka, Marine Environment Forum, Visiting Professor as well as an External Auditor- Dalian Maritime University in China, Program Reviewer– University Grant Commission (UGC), Program Reviewer – CILT Accrediting Committee, Former Vice Chairman – Chartered institute of Logistics and Transport  (CILT-International- Sri Lanka Branch), and the recipient of the Award of Academic Excellence back in 2014 by His Excellency the President of Sri Lanka.
For more information on Northshore Campus and its study programmes, please visit www.northshore.lk or call 0115990000 or 0715500200 or simply drop by to 141, Church Road, Colombo 15 to meet your personalised student counselor.