ESOFT offers complete 3-year British degrees with assured internships
View(s):

ESOFT Metro Campus, Sri Lanka's largest private-sector higher education network with over 40 branches across the island creating opportunities for over 35,000 students annually, announced that it now offers complete three-year degree programmes through its partnership with the prestigious Kingston University London.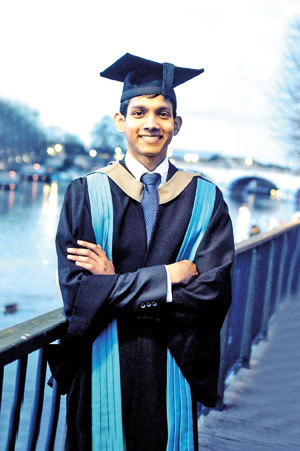 What makes these programmes stand out is the fact that all three years are offered from one single university in contrast to the traditional approach of pursuing a Higher Diploma for example and then completing it with a 'top-up' degree. In this way, students have a higher recognition that their degree is that from a single institution and most importantly from one of the highest ranked UK universities to operate in Sri Lanka.
Kingston University London, a public research university located in South West London founded in 1899, has established itself as a modern university with specializations in arts design, fashion, science, engineering, and business. It has five faculties over four campuses and a student population of nearly 20,000. With growing global reputation, pioneering research, and international partnerships, the university is ranked 48th position in the UK based on the Guardian University Guide Rankings for 2020.
The campus offers a total of five undergraduate degrees namely BSc (Hons) Cyber Security and Digital Forensics, BSc (Hons) Computer Science (Software Engineering), BSc (Hons) Computer Science (Networking and Network Security), BSc (Hons) Computer Science (Web and Mobile Application Development), and BSc (Hons) Multimedia Technology.
These degrees are designed to cover the latest areas in technology and innovation, strengthened by active collaborations with industry leaders,preparing students to be highly equipped and successful in their chosen career.  At the end of the second year, the student is placed in an industry apprenticeship for a period of 3-6 months to gain first-hand experience.  This will further help the learner to be work-ready, having been already exposed to the industry environment.
The panel of experienced and accomplished lecturers at the campus ensure that students are moulded into well-rounded, globally employable citizens by combining both academic knowledge with critical personal and professional skills needed to succeed in a complex and constantly changing world.
The campus is equipped with a range of modern facilities including multimedia-enabled classrooms, latest networking equipment, state-of-the-art computer labs, spacious recreational areas, WiFi hotspots, comprehensive library services, and ample parking facilities.
Students who have received their advanced level results can apply for its merit based scholarship programme and obtain LKR 150,000 off for each (A) Pass, LKR 100,000 off for each (B) Pass and LKR 75,000 off for each (C) Pass from the total course fee.  A zero-percent interest monthly payment plan is also available.