TT legend Lalith Priyantha battles mafia governing sport
By Allaam Ousman
'Those without knowledge of the sport are running the show'
View(s):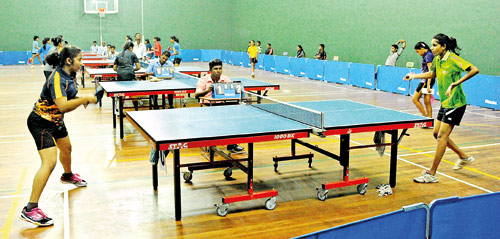 Lalith Priyantha is perhaps the only sportsman who has attained the unique distinction of becoming national champion, being ranked number one, captaining Sri Lanka, coaching the national team, serving as a selector and also president of the governing body of table tennis in the country. He is undeniably an icon in the sport as far as Sri Lanka is concerned just like Jothipala Samaraweera and N.H. Perera were household names in table tennis before he entered the arena.
However, a living legend of table tennis has to battle elements that are trying to shut him out from serving the country and resurrect a sport which is in the doldrums, even having to face an interview to prove that he was suitable to coach the national team for the Commonwealth Games in 2018. This is the humiliation that sporting stars who have dedicated their life for sport have to undergo when it is governed by people who have never played the game.
"I am happy to say I have still not given up playing table tennis and I am still the national champion (in veterans) for the last 15 years. Other than playing I am coaching some schools and institutions but not at the national team level," said the 53-year-old who was the first player to win three consecutive national titles.
He blamed an amendment to the Sports Law enacted in 2013 of creating a vacuum in the administration of table tennis which disqualified those "directly or indirectly interested in the manufacture, assembly, sale or production of any sports goods, gear or equipment" from holding office in the Table Tennis Association of Sri Lanka.
"The biggest drawback for table tennis is that the new Act disqualified those who genuinely loved the sport and wanted to develop it. I told then sports minister Mahindananda Aluthgamage, that cricket is different from table tennis. Even tennis is played by high caliber people. They have lot of money. Table tennis is played by mostly middle class, and low income background people though during my time people played like Rusi Captain, Asanga Seneviratne, Mahinda Dandeniya, Indra de Zoya, former Warden of S. Thomas', and Virtuasa CEO Krishan Kanagaratne," he said.
"That crowd didn't coach. But in table tennis nowadays players take up coaching after they finish playing. He is going to end up as coach. That I explained to the minister," said Priyantha who denied that he had profited from the sport despite being an agent for Butterfly products.
"I did not do well in studies to do a job. So I ended up as a coach. Without coaching I can't earn a living. It is my livelihood. Even greats like N.H. Perera, Jothipala Samarwareera and P.D. Rathnasiri, and some other former national players are coaches. There are two or three suppliers of table tennis equipment including myself. I am saying exclude me but we should utilise the services of these legends. Not a single person is there in any committee of the association whereas there are people who haven't even watched table tennis," he said cynically of the interim committee which governs table tennis that has been existing for the past ten years.
"During the last two years the wrong person is in the association. Parents if they have money, they are nominated to go as manager (on tours). Some people who have never held at racquet in their life have come into the association because of their children and even get the Sri Lanka crest as manager. It is very unfair," lamented Priyantha.
"For us to get it, the sweat we shed is enough to bathe for three or four days. Now former national players have been sidelined and parents of players go as managers. I propose that if anybody has not represented the national team, the ministry should not give them the Sri Lanka crest even if they go as manager," he said who was fortunate to captain the Sri Lanka team for the first time for World championship in a European country Germany and get the highest world ranking of 239.
"If you give the same crest which a player going to the Olympic wears, they also become Olympians. They can't be Olympians. In Sri Lanka there are so many undeserving people who wear the national crest. The national crest is something that we treasure and wear with pride," argued Priyantha who represented Sri Lanka from 1981 to 1993 relating how he overcame a defect in his eye with special training in Japan.
"When I went for the World championship in Chiba, Japan in 1991, I was invited to a butterfly camp where about 100 children aged seven or eight were trained at 2000 Olympic prospects. They were trained by playing with one eye blindfolded in training to see whether they can see the opponents' shots with one eye. From small days I had sinus in one eye. When I played when I put ball up could not see the ball," revealed Priyantha who underwent a special training system in Japan called 'third-ball attacking system' to overcome this weakness. He used to finish five-set games in 20 minutes during his day.
"Now table tennis more than being a sport has become a big business. Those without knowledge of the sport are running the show. In Sri Lanka, table tennis is the only sport where the coach which accompanies the national team is someone who has not played for the country. It is very unfair," lamented Priyantha pointing out that national players are also engaged in coaching affecting their competitive edge.
"What happens now national players are also coaching. Then their speed, spin, endurance reduces. They go for a tournament without having match practice," he said."When I was president from 1999 to 2001 I am happy state not a single player had to pay a single cent including embarkation tax (when they go on tour). With the help of ministry we conducted training programmes before sending them abroad for competitions such as Asian, World and Commonwealth, and we achieved more results," said Priyantha who was of the opinion that corporates were not necessary to run table tennis.
"To utilize the funds they get from the ministry, those in charge should have knowledge and love for the sport. If a businessman is there not to develop sport but just because he is a big corporate, that is not good for the sport. There are unsuitable persons in administration instead of national level players. The officials are happy with this rule since most national players end up as coaches who can't serve in the association. When parents of children who play are there, they are nominated," said Priyantha who wants to take up this issue with Sports Minister Dullas Alahapperuma.
"I feel if a person has to coach national team, he has to have experience. Parents want their children to be coached by someone who has played table tennis but because of their studies they can't send children to good coaches. If they have a table at home, they get a player who plays very well to practice. Then the national players' training suffers as he goes for coaching to earn money. National players don't practice with national players. They play with youngsters while they are coaching to earn a living," he said.
This is detrimental to their playing careers, he said. "They play very well and are dedicated to get into the national team. After that when they go for international competitions, they don't have interest because they haven't practiced. To earn a few dollars, they focus on coaching than training ahead of a tour. This is the situation in the country. We should find a solution," said Priyantha who wants to tell the minister to appoint a committee comprising former national players to govern and develop the sport.
"Also to become a top level coach you need to have the ability to become a practicing partner. You should be able to demonstrate, have convincing power, ask anyone to play top spin five times and detect whether they played it or not. How can I say if I am asked by a player 'Lalith, I can't play sidespin service' and if I can't play sidespin and show them," he said of being armed with practical skills than just theory as a coach.
Although he agreed that a coach need not be an outstanding player, he said there was no comparison with other countries where those who have played club level are top players.
"When I was playing top level table tennis, Dietmar Doering invited me to play in second division. Other players had to play in lower divisions in Germany. A coach of a fourth division side can coach our Sri Lanka national team. But for someone in Sri Lanka who has not had that exposure, how can he coach the national team. Our level of competition and standard is less. We are at the SAG (South Asian Games) level," he said where in the 13th edition Sri Lanka failed to beat Pakistan and lost to Nepal as well.
"In Sri Lanka they say no need to be a national champion to be a national coach. But according to our standard, we need a former national champion to be a coach unlike in other countries," he said also querying why former champions are not taken to the national selection committee.