Sailing Nationals 2019 successfully held at Crow Island Sea Front
View(s):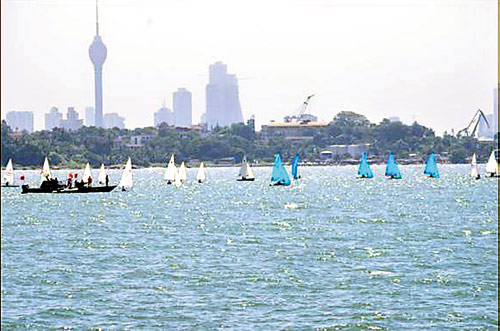 The Yachting Associationof Sri Lanka (YASL), the National sports body for the sport of Sailing held the its Nationals 2019 on December 28 and 29 at the Crow Island Sea Front.
Vice Admiral Piyal de Silva, Commander of the Sri Lanka Navy, was the chief guest at this significant annual event.  The Sri Lanka Navy not only participated with great success, winning multiple events, but also facilitated in all organisational aspects. This year saw and welcomed a record number of 86 sailors sailing at this coveted and most prestigious event in the sailing calendar, organised and sanctioned by YASL.
The blue seas off Colombo, offered perfect conditions with clear skies accompanied by a shore breeze of 5-6 knots, gusting occasionally up to 14 knots. Six races were sailed, participants allowed to discard their worst performance, the remaining results being averaged for the final tally.
Boats belonging to all sailing classes were represented at this event. The GP 14 Class, Laser Standard Class and Windsurfing Class were won by the Sri Lanka Navy, the Enterprise Class was won by the Royal Colombo Yacht Club (RCYC), the Laser 4.7 Class (Under-17 event) was won by Royal College, Colombo and both Optimist Class (Under-15 event) and the Laser Radial Class were won by S. Thomas' College, Mt. Lavinia.
In collaboration with the Navy, YASL has been able to create a national training centre at this unique location to further develop our sailing talents. This year, Sri Lanka has been chosen to host the internationally acclaimed International Optimist and Dinghy Association Sailing Championship in Trincomalee, from June 6 to 13.
Preliminary selection trials for the IODA 2020 will be held by the National Selection Committee on January 24 at the YASL National training centre, Crow Island. The location, seven kilometres north of Colombo's CBD, bordering the estuary of the Kelani River, and seaside beach is pristine with picturesque views of the Port and developing Port City.
FINAL RESULTS
GP14
Winners: Upul Ghanawardene and A.S.K. de Soyza (Navy)
1st runners-up: Devin Goonewardene and Mayuka Siriwardene (CMYC)
2nd runners-up: W.M.C. Marambe and G.P.P. Karunaratne
ENTERPRISE
Winners: Lalin Jirasinha and Akshan Jirasinha (RCYC)
1st runners-up: J.M.P.L. Jayasuriya and K.C. de Soyza (Navy)
2nd runners-up: A.M.J.P. Attanayake and L.A.C.N. Gunathilaka (Navy)
OPTIMIST (UNDER-15)
Winner: Dhanika Nanayakkara (S. Thomas', Mt. Lavinia)
1st runner-up: Udan Marapperuma (Royal College)
2nd runner-up: Tharen Nanayakkara (S. Thomas', Mt. Lavinia)
LASER 4.7 – (UNDER-17)
Winner: Anuka Samaraweera (Royal College)
1st runner-up: Jehan de Silva (S. Thomas', Mt. Lavinia)
2nd runner-up: Kanila Gunasekera (Royal College)
LASER RADIAL
Winner: Kethaka Weerasuriya (S. Thomas', Mt. Lavinia)
1st runner-up: P.D.D.S. Rajapaksa (Navy)
2nd runner-up: Jordan Bolling (S. Thomas', Mt. Lavinia)
LASER STANDARD
Winner: K.G.C.U.S. Bandara (Navy)
1st runner-up: U.D. Rajapaksa (Navy)
2nd runner-up: Nijaya Dimal (Navy)
WINDSURFING
Winner: Priyantha Gunawardene (Navy)
1st runner-up: Chameera Gunawardene (Bentota Windsurf Club)
2nd runner-up: Chaminda Kumara Silva (Bentota Windsurf Club)