Maliyadeva boys and girls dominate
NWP Open TT Championship
View(s):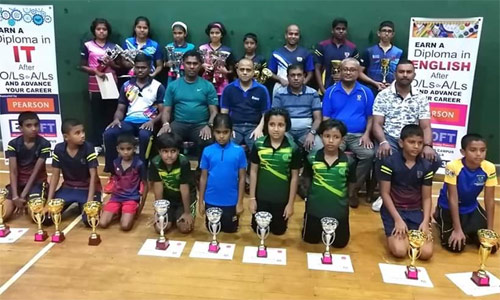 Paddlers of Maliyadeva Boys School and Maliyadeva Girls School from Kurunegala dominated the North Western Province Open Table Tennis Championship which was held at the Kurunegala Municipal Council Indoor Courts.
From the total of 12 individual event finals played, eight were won by Maliyadeva boys and girls. Esandi Gamage of Maliyadeva Girls School the Most Outstanding Girls Player while the Most Outstanding Boys Player award was won by Amila Udara of Maliyadeva Boys School.
The tournament was conducted by the North Western Province Table Tennis Association.
 RESULTS
 Under-8 Girls: Ruvindi Tharulya (Maliyadeva GS) beat Sathika Imandi (Holy Family Balika) 2-0 (11-4, 11-1)
 Under-8 Boys: Nethupa Marapana (Maliyadeva) beat Pavidu Priyadarshana (Maliyadeva) 2-0 (11-2, 11-3)
 Under-10 Girls: Mayumi Weeraparakrama (Lyceum International) beat Sinali Wanninayake (Maliyadeva GS) 2-0 (11-9, 11-4)
 Under-10 Boys: Kemira Gamage (St. Anne's) beat Sonal Nawarathna (Maliyadeva) 2-1 (11-4, 8-11, 11-4)
 Under-12 Girls: Mayumi Weeraparakrama (Lyceum International) beat Dahamdee Herath (Maliyadeva GS) 2-0 (11-3, 12-10)
 Under-12 Boys: Amila Udara (Maliyadeva) beat Bimsara Rathnayake (Maliyadeva) 2-0 (11-7, 11-3)
 Under-15 Girls: Esandi Gamage (Maliyadeva GS) beat Naduni Sooriyabandara (Maliyadeva GS) 2-0 (11-6, 11-6)
 Under-15 Boys: Amila Udara (Maliyadeva) beat Bimsara Rathnayake (Maliyadeva) 2-0 (11-6, 11-8)
 Under-18 Girls: Dewdini Suharsha (Maliyadeva GS) beat Naduni Sooriyabandara (Maliyadeva GS) 2-0 (11-6, 11-6)
 Under-18 Boys: Chelaka Athapatthu (Maliyadeva) beat Shrenika Herath (Maliyadeva) 2-0 (11-8, 11-5)
 Open Women's: Esandi Gamage (Maliyadeva GS) beat Naduni Sooriyabandara (Maliyadeva GS) 2-1 (11-4, 11-6, 11-3)
 Open Men's: Dulara Dushmantha (SL Army) beat Amila Udara (Maliyadeva) 2-1 (11-2, 11- 9, 11-5)