Fear of failure haunts revival of domestic T20 league
By Champika Fernando
Sri Lanka Cricket's biggest problem is making it financially viable
View(s):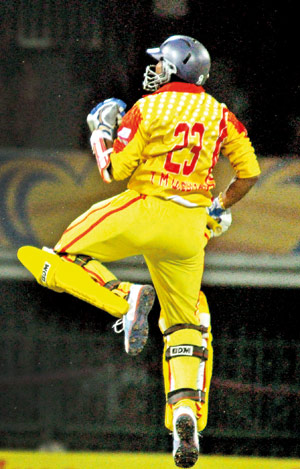 Of all changes cricket went through in the 2000s, the introduction of club-based T20 leagues worldwide has been the most phenomenal. Boards around the world understand the power of T20, not just in terms of generating revenue, drawing new fans and ensuring financial security to players but also as a way of reinventing the art of cricket and improving standards.
While most boards have cashed in, not only financially but by playing their own franchise-based T20 leagues to expose their cricketers to the high-octane game, Sri Lanka has struggled to find its feet. They made several attempts to revive the stalled Sri Lanka Premier League (SLPL), a tournament that died a natural death after its inaugural edition in 2012.
Former and present cricketers have pleaded for the tournament to be revived so as to arrest the slide of a team that featured regularly at world finals from 2007 to 2014. But the wait continues with our game losing out.
Eight years on, the board wants to revive the SLPL and are exerting themselves to reach new heights. It wants to provide cricketers with a platform to hone their skills, playing alongside international stars. The fear factor, however, is an impediment.
And this is understandable. Considering the state the board is in, given the administrative chaos and dwindling fortunes of the national team, it is looking at the safest route to conducting the tournament, unlike the 2012 edition. That year, the now defunct SLPL was handled by Somerset Entertainment Ventures which lacked experience in holding a tournament of such magnitude. The result was a foregone conclusion. Since then, the tournament did not see light of day.
The board wants to avoid this but are still in two minds: whether to sell the rights to a third party or handle it by themselves, shouldering the risk. If the rights are sold to a third party, Sri Lanka Cricket can sit back and also earn some money through a royalty fee.
Australia's Big Bash League (BBL) owns the entire competition. This has given the league stability and ability to absorb financial losses, unlike the Indian Premier League (IPL) where a model of private ownership is followed.
Either way, the board may struggle to cash in financially, given the country's geography and size of its economy. A significant number of T20 leagues around the world are still loss-making enterprises with the exception of IPL, the mother of all tournaments, Australia's Big Bash League and England's T20 Blast. Pakistan, with over 197 million people, and Bangladesh, with over 164 million, make modest profits for their respective boards but their franchise teams lose substantially.
Sri Lanka's biggest problem is making it financially viable. Most sporting events make the vast majority of their revenue from their home television market and this is why India managed to rake in US$ 2.55 billion, approximately Rs 460 billion, for the current five-year cycle starting from the 2018 season.
Given the size of Sri Lanka's television market and economy, the local board will struggle to make it a profitable venture. Another factor which will impact hugely on TV rights is attracting star players. For instance, if Sri Lanka could bring in Virat Kohli or some top Indian cricketers, the value of the tournament will shoot up overnight. But it will be beyond Sri Lanka's mean to entice such high profile players.
"These are some of the issues we are facing," admits Raveen Wickremaratne, vice president in-charge of international cricket. "But we will definitely go ahead with the tournament this year. We certainly don't want it to be a loss-making exercise this time."
"Also if you take the Bangladesh Premier League, they spent so much on cricketers," he said. "For instance, Andre Russell had a pay pack of US$ 350,000 and the global superstar Chris Gayle had a match fee of US$ 50,000. Can we make such huge payments to attract cricketers? So we really need to understand the economics of this and play accordingly."
Another negative is India's stance. They do not allow their contracted players to play in other leagues and, without Indians, tournament sponsorships will suffer a major blow due to lack of television exposure.
"We are at least looking at getting some of the newly-retired players," he said. "Again, they will be exorbitantly expensive which makes it tough for us to hire them for the league."
Filling stadiums like IPL does is another issue. IPL success is purely on its huge followings. Whether Sri Lanka could garner similar interest among their cricket fans remains to be seen.
Then, there's corruption. The mushrooming leagues have been greatly vulnerable to match-fixing and corruption. The SLPL was under scrutiny over allegations of corruption and match-fixing and the board will find it hard to keep it clean if they do not make the tournament financially lucrative to the players.
Despite all these, the board is keen to revive the tournament and grant the players the opportunity to improve their skills. It's the fear of failure that haunts it.