Spotted: The black beauty
Following the excitement over camera footage released by the Wildlife Dept of a rare sighting of a black leopard, Kumudini Hettiarachchi speaks to Wildlife officials and leading conservationist Dr. Sriyanie Miththapala
View(s):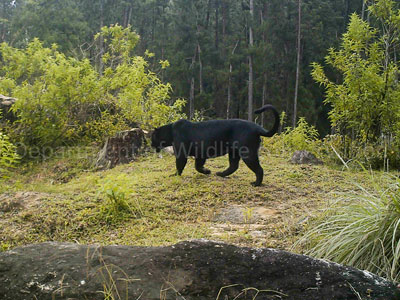 Random talk of sightings by villagers and a few tragic deaths in snares have kept people's curiosity piqued about this uniquely beautiful Big Cat.
The only Big Cat in Sri Lanka, the graceful and powerful leopard (Panthera pardus kotiya) is special by itself, but the black of its kind is extra-special.
And so it is that the news of the 'capture' of a black leopard on camera traps set by the Department of Wildlife Conservation (DWC) has sent a thrill of excitement across the country.
For three long months this fantastic find had been kept under wraps by the DWC as there is a strong need not only to safeguard and protect the endangered species that is Panthera pardus kotiya which is under major threat, but also this black beauty.

In the past, to the country's horror black leopards have been found killed in Kalawana, Sinharaja and Deniyaya. This black leopard is living with four others, a leopardess, two cubs and another male, of the usual colour (which varies from straw to bright golden, spotted with black spots and rosettes), the DWC's Veterinary Surgeon Dr. Malaka Abeywardana who is working at the Elephant Transit Home (Ath Athuru Sevana) at Uda Walawe told the Sunday Times.
He and Veterinary Surgeon Dr. Manoj Akalanka who was earlier based in Uda Walawe but is now posted to the Central Wildlife Region had launched a research study on leopards about two years ago as no island-wide survey has been carried out in Sri Lanka.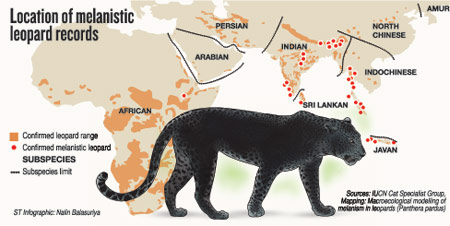 "As we proceeded step-by-step many people including wildlife officers and villagers kept referring to black leopards mostly from the Sinharaja Rainforest and in the Deltota area of Kandy," said Dr. Abeywardana, describing how they installed remote-sensing camera traps in eight places to 'catch' any leopards passing by.
It was when looking at the footage of some of the camera traps in the Central Highlands around Adam's Peak about three months ago that they stumbled upon this find.
"We were searching for black leopards and it was a big chance that we found one," says an overjoyed Dr. Abeywardana, explaining that it is an adult over five years old. The two cubs are about three months old. Usually, leopards are territorial creatures and maybe the other leopard is a close kin of the black one.
Referring to this feature, Dr. Abeywardana says it is all to do with melanism and a recessive gene.
He adds that the DWC is thrilled over stumbling upon this black leopard and would work very hard to safeguard it.
'Black panther' is a misnomer
"Everyone has heard of a black panther, which in reality, is just a leopard with black background fur, which obscures the cat's spots.  It is not a separate species; in fact, black furred and spotted cubs can be siblings born of the same litter," explained Dr. Sriyanie Miththapala, quoting an extract about black panthers written by cat experts Dr. John Seidensticker and Dr. Susan Lumpkin.Dr. Miththapala is currently a consultant to IUCN (International Union for Conservation of Nature) and has, for her doctoral dissertation, focused on the genetic and morphological variation in the leopard across its wide geographic distribution. As a consequence of her research, 27 subspecies of leopards were subsumed into eight. She confirmed that the Sri Lanka subspecies was unique to Sri Lanka.When contacted by the Sunday Times, she was categorical that 'black' and 'spotted' leopards are not two different species.She further quotes Dr. Seidensticker and Dr. Lumpkin: "Known as melanism, black fur in leopards and domestic cats is the result of a single recessive gene for coat colour. (A recessive gene is one that shows up a characteristic — in this case melanism — only if an individual has inherited a copy from each of its parents.)  If you look closely at a black leopard at a zoo, you will be able to make out the spots on its coat."In contrast, in jaguars, melanism occurs as a result of a dominant gene. (A dominant gene shows up a characteristic even if an individual has inherited only one copy from one of its parents.)

"Melanistic or black individuals appear in many, if not all species (of wild cats) but do so frequently among leopards, jaguars, margays, ocelots . . ."

Dr. Miththapala adds that as such the 'black panther' is a misnomer. It is not a separate species of leopard.  It is not even a separate sub-species of leopard.

Referring to a paper co-authored by well-known leopard researchers Andrew Kittle and Anjali Watson, she says that it shows that melanism in leopards is about 11% worldwide and that it is associated with habitats. In moist Asian forests, melanism was higher than in dry and open areas.

Dr. Miththapala wishes that this hype surrounding the 'discovery' of the black leopard could be turned instead towards the conservation of leopards in Sri Lanka.