Keep fit: You can do it in your workplace too, says WHO
By Kumudini Hettiarachchi
View(s):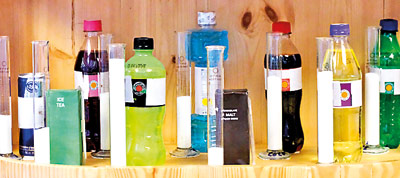 Bright and airy, the 'corner' with colourful posters on its wall beckons…….as the hand stretches towards a shelf stacked with tempting drinks in all their variety, a closer look delays the pick-up action.
For alongside each and every drink, be it a cola, a malt, a nectar, an iced tea or more is a tube indicating the amount of sugar in it!
The way to prevent the scourge of modern life, non-communicable diseases (NCDs), is not being just shouted out from the rooftops. The World Health Organization (WHO) Country Office — Sri Lanka down Anderson Road, Off Sir Lester James Peiris Mawatha (Dickman's Road), Colombo 5, is also walking the talk.
A 'Model Health Corner' was taking shape this week when the Sunday Times paid a visit.
The aim is to encourage and guide organisations to adopt the 'healthy workplace concept' to ensure the health of their staff and, thereby, contribute to the prevention and control of NCDs in Sri Lanka.
"There are four main categories of NCDs – heart disease and stroke; cancer; diabetes; and chronic lung disease. Together, they cause over 80% of deaths in Sri Lanka. More than a quarter of Sri Lankans are overweight and 1 in 4 adults consumes tobacco, which causes over 20,000 deaths every year," the WHO Representative to Sri Lanka, Dr. Razia Pendse tells us before we take a look around the Model Health Corner.
Reiterating that addressing NCDs requires a lifestyle change and since individuals in the workforce spend a significant amount of time in the workplace, creating a healthy workplace is vital to our well-being, she says. The Model Health Corner is "our most recent initiative in line with the WHO's concept of a settings approach to provide a healthy workplace".
Part of creating a healthy workplace is making facilities available for workers to self-monitor their risk factors for NCDs and providing access to information on preventing NCDs and promoting mental health. The Corner is a space that offers these services to staff. The WHO has also taken other steps to provide a healthy workplace, including allocating time within work hours for physical activity, adequately equipping the office gymnasium and supporting regular fitness sessions run by a local renowned fitness group, she adds.
Elaborating on other measures initiated by the WHO, Dr. Pendse says: "We promote healthy meetings, as we tend to spend so much time in meeting rooms. Our efforts include the development of a video to encourage physical activity during meeting breaks and the production of a guide to healthy and low-calorie snacks to serve.
"The WHO has also adopted a Green Office initiative that includes the placement of indoor plants that emit oxygen, the elimination of single-use plastics in the office and encouraging staff to reduce, re-use and recycle.
"Individuals who work in a healthy workplace are more likely to adopt a healthy lifestyle since their environment facilitates and encourages the process.  These individuals are likely to encourage their friends, family and community to make similar positive changes.
"The WHO hopes this endeavour will encourage our multisectoral partners working on NCD prevention in Sri Lanka to take on the concept. The Corner is an example of how small changes to the office can have a big impact on the health and well-being of staff members."
The WHO is ready to offer guidance, assistance and educational material to any organization which would like to transform its workplace setting, it is learnt.
The 'Model Health Corner' has facilities for self-screening for blood pressure, blood sugar levels and self-measurements of body composition such as the Body Mass Index (appropriateness of the body weight according to height), percentage of body fat, percentage of muscle mass in the body etc. as these are key markers indicating the risk of NCDs.
Instructions on self-interpretation of individual measurements and guidance on follow-up as needed are also available.
Meanwhile, the Model Health Corner also has a range of educational material on avoiding modifiable risk factors – unhealthy diet, physical inactivity, smoking and alcohol – and also to promote mental well-being.
Model Health Corner from tomorrow
The 'Model Health Corner' will be opened tomorrow (January 27) by Health Minister Pavithra Wanniarachchi.

This event will also feature:

 A cookery demonstration on healthy snacks for meetings based on the joint publication of the WHO Country Office of Sri Lanka  and the Sri Lanka Medical Nutritionists' Association. The publication is titled 'Healthy Snacks: A guide for meetings and events in Sri Lanka'
 Counselling on maintaining a healthy diet
 Guidance on purchasing healthy foods
 Support to reduce or quit smoking and alcohol consumption
 Personalized physical activity counselling