BTHVN 2020: SOSL's tribute concert for the Master
View(s):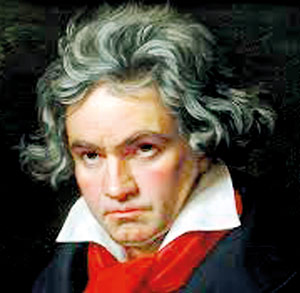 Around the world, BTHVN 2020 signifies the celebration of the 250th birth anniversary of Ludwig van Beethoven. Beethoven occasionally signed his compositions with the abbreviation BTHVN and the main themes of his 250th anniversary will be based on these alphabetical characters.  B (born in Bonn), T (Tonkünstler = Composer), H (Humanist) V (Visionary) N (Nature Lover).
It is ironic that Beethoven himself seems to have given us, who live in a world ruled by brevity, the extremely hashtag-friendly BTHVN logo that will be used at celebrations of his life and works all over the world.
Today Beethoven is the most frequently performed composer in western classical music. Beethoven was a visionary in that his works set new standards for all music that was to follow, both technically and emotionally. He, more than any other was responsible for leading the way towards Romanticism—a movement fired by the ideals of the French Revolution: liberty, equality, fraternity. His music reflected these beliefs as well as his love of nature.
In Colombo, the Symphony Orchestra of Sri Lanka (SOSL) will present "Celebrating Beethoven" BTHVN 2020, on January 31 at the Lionel Wendt Theatre as part of their commemoration of this great composer's 250th anniversary.
Four musicians of the Symphony Orchestra of Sri Lanka will present a programme of three well-known chamber works, each unique and exciting, and demonstrating the genius and versatility of the composer.
The programme features two fairly early works and one very late one: Piano Trio No. 4 ("Gassenhauer") performed by Soundarie David-Rodrigo (piano), Ajit Abeysekera (clarinet) and Tamara Holsinger (cello), and  Violin Sonata No. 5 ("Spring") performed by Nilupul Silva (violin) and Soundarie David-Rodrigo (piano), and Piano Sonata No. 30  in E major, performed by Soundarie David-Rodrigo.
The clarinet Trio (Op. 11) is an early work written in 1797—one of a number of chamber works featuring woodwind instruments, which were enjoying much popularity at that time. The trio is in three movements and is commonly known by the nickname "Gassenhauer." The nine variations of the third movement are based on a very popular theme from a dramma giocoso (a popular form of musical comedy of that era) called L'amor marinaro ossia Il Corsaro. A "Gassenhauer" was a tune that was so popular among the people that it was hummed, whistled and sung by everybody. A "hit" if you will.
Though Beethoven was famed as a pianist and composer, he was also an extremely proficient violinist, and thus in a unique position to explore the sonorities, range of expression and technical possibilities the violin and piano presented when combined. The "Spring" sonata is his best known of Beethoven's violin sonatas. The spontaneous joy and lyricism of its first theme may suggest the beauty and freshness of Spring, hence the nickname. This work was written in 1801, when Beethoven was at the threshold of his second-period style.
Beethoven's Piano Sonata No. 30 in E major (performed by Soundarie David-Rodrigo) was written between 1820, and was the third of his late piano sonatas that marked his final period style. Like all his later works, it shows an original approach to form, rich harmonic structures, and such a deep, comprehensive understanding of the language of music, that the listener cannot but feel it touch his soul.
Throughout the year, the SOSL will perform a significant work of Beethoven in each of the subscription classical music concerts.
Celebrating Beethoven BTHVN 2020 is sponsored by the Earle de Fonseka Trust, with the support of the Print Media Sponsor, the Wijeya Group of Newspapers and the Electronic Media Sponsors Yes FM. TV1 and Legends 96.6.
Tickets for the show are available at the Lionel Wendt.