Appreciations
View(s):

A doyen of towering intellect and  exceptional humanity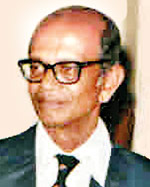 Prof. M.D. DASSANAYAKE
Monday January 6, though bright and sunny, was a sombre day for botanists at the Peradeniya University for the remains of late Professor Dassanayake were to be brought to the Department of Botany, allowing his former colleagues and students gathered there to pay their last respects, prior to being taken to the Mahaiyawa Cemetery for cremation.
Prof. M.D. Dassanayake, born on September 17, 1921 in Kurunegala, passed away peacefully after living a full life, in the early hours of January 3, at the age of  98 years at his Dangolla residence. He is survived by his wife, Chithra  Ratwatte  Dassanayake, two children, Damitha and Ujitha, and grandson Achindra.
He received his primary education at Dharmaraja College, Kandy where he successfully completed the London Matriculation examination in 1938. He was awarded B.Sc. Special degree in Botany by the Ceylon University College (later University of Ceylon), Colombo (1939-1943), M.A Degree (1948-1950)by the University of Cambridge and Ph. D. (1955-1957) by the University of Manchester having conducted research at the Department of Cryptogamic Botany.
Prof.  Dassanayake's professional career began way back in 1945 at the Department of Botany, University of Ceylon in Colombo, and later continued at the Peradeniya Campus of the University of Ceylon as the Professor of Botany and the first Head of the Department of Botany (1973-1986)of Peradeniya University, offering an exemplary service till his retirement in 1986. Prof. Dassanayake was an accomplished botanist and a teacher emulated and admired by many. He was exceptionally committed to the University throughout his distinguished career. After retirement, he served as a Consultant to the Plant Genetic Resources Centre of the Department of Agriculture for another15 years.
Prof. Dassanayake was an elected Fellow of the National Academy of Science, Sri Lanka since 1985. He was a Life Member of Ceylon/Sri Lanka Association for the Advancement of Science (SLAAS), the President of the Natural Sciences Section of SLAAS in 1962 and the General Secretary from 1958-1961. He was also the President of the Natural History Society of Ceylon (1968), Associate Editor (1970 -1986) and the Chief Editor (1982-1986) of the Ceylon Journal of Science (Biological Sciences). He was a Board Member of the Coconut Research Institute (1976 – 1978) and the University Senate (1973-1986). His major contribution to research was mostly in the field of Plant Taxonomy.
Prof. Dassanayake was the Co-Editor of  'A Revised Handbook to the Flora of Ceylon', which was published in a monumental 15 volume series till 2006, collectively spanning 7,067 pages (1980-2006). This was a most significant addition to the documentation of the country's flora in the 20th century. The main outcome of this monumental project was a complete taxonomic revision of the angiosperm and fern flora of Sri Lanka. A new species of "Kekatiya" (S), endemic to Sri Lanka, was recently named after him, Aponogetondassanayakei Manawaduge & Yakandawala, as a tribute to his contribution to Plant Taxonomy of the country.
In spite of being a highly accomplished professional, Prof. Dassanayake was the most unassuming and modest person. He was a symbol of simplicity and always willing to help people selflessly. He always had ample time to spend on a colleague, past student or an old friend visiting him at the Department or his residence. He had a positive attitude towards life. He was a great listener and his sense of humour was also a trademark. He will be ever remembered for his towering intellect, and most of all, for his exceptional humanity which he generously shared with his many students and colleagues.
His death has left a gaping hole among the ranks of Plant Taxonomists in the country, but he leaves behind a solid foundation for others to build upon.His legacy lives on.
Nimal Adikaram  and Deepthi Yakandawala
---
A surveyor who made the country proud
 Dr. Samson Theodore Herat
It was three months yesterday (January 25) since the passing away of a great human being respected by all.
Dr. Samson Herat was the first Surveyor General of Sri Lanka produced from Trinity College Kandy. Born on October 28,1934 to George  and  Sriya Herat, a Kandyan family who lived in Kandy, he was the eldest child in the family of six (three sons and three daughters ). Dr. Herat spent his entire childhood in Kandy and had the luxury of living close to the Kandy lake in a beautiful environment close to nature. Walking round the lake, visits to the hilly areas above the Raja Pihilla Mawatha, Udawattekelle, Bahirawakanda and Hanthana Hill were the order of the day for a healthy life.
He was fortunate to have associated with children in the surrounding villages and schoolmates of different ethnicities and religious backgrounds. This was the secret of his success story.
Samson Herat had his early education at the best school of all – Trinity College Kandy. He was a firm believer of the school motto " RESPICE FINEM " – " Look to the end" and lived up to the traditions of the school. While having his primary education at Trinity he was under the stewardship of the then principal Rev. R.W. Stopford who had a distinguished career at Oxford. His next spell, the secondary education was under the stewardships of C.E. Simithraaratchy and N.S. Walter .
During this period Dr. Herat had an excellent academic career and excelled in his studies with the guidance provided by the two vice principals Gordon Burrows and  G.Y. Sahayam. In 1948 & 1949 at the G. C. E. ( O.L.) stage Dr Herat won the Mathematics prize. In 1950 & 1952 at the A.L. stage he won the Mathematics & Physics prizes. He along with fellow batch mate Mahinda Kehelpannala passed the University Entrance Examination in 1952 and gained entry to the Science Faculty of the University of  Ceylon Peradeniya. Some of his other colleagues at Trinity were Kavan Rambukwella (sportsman), J.C.Rassiah, B.R.Hepponstall and  L.Y.Wickramaratne, (academics)
Having gone through a distinguished academic career in the university earning a BSc. Honours degree in mathematics he later joined the Ceylon Survey Department as an Assistant Surveys Superintendent. His father George Herat too happened to be a surveyor.
As colleagues who worked with Dr Herat in the Survey Department and the Sabaragamuwa University, Sarath Jayatilaka (Deputy Surveyor General ), Neil Seneviratne (Surveyor General) & Dr. H.I.M. Prasanna, (Dean Faculty of Geomatics, Sabaragamuwa University) say, Dr. S. T. Herat was one of the most illustrious surveyors Sri Lanka had ever produced. He was a friend and mentor to many people.
While working as an Assistant Surveys Superintendent he obtained his post graduate training at the University of London in the United Kingdom and later obtained his Master's Degree from Ohio University in the US.
Dr. Herat was in charge of the Survey Departments Aerial Survey Section and was responsible in introducing "Strip Triangulation" for photogrammetric plotting. He was also responsible for developing the computer division of the Survey Department and as a skilled programmer who specialized in Fortran developed least square solutions to deal with several problematic issues in the department. He also served at the National Research Council, Ottawa, Canada to work on Computer Sciences and its applications in Geodesy & Photogrammetry. Dr. Herat was a great mathematician who developed programmers for projects that focused on Jethawanaramaya Temple in Anuradhapura, underground tunnels in Polgolla / Bowatenna / Maskeliya. He also worked with Mahaweli Minister Gamini Dissanayake on the accelerated Mahaweli project. The Victoria project, Randenigala / Rantambe project, Maduru Oya project were some projects where he was actively involved.
Dr. Herat rose to the top position of Surveyor General in Sri Lanka and was the first Trinitian to hold this post. He also held key responsibilities in different Government and research organizations. He functioned as a director of the National Hydrographic office & ESCAP Regional remote sensing programme, was a member of the Arthur C. Clarke Centre, Young Astronomers Association of Sri Lanka, Steering Committee of the Central Cultural Fund, of the Governing Board of the National Aquatic Resources & Development Agency and Surveyors Institute of Sri Lanka.
Dr. Herat also provided his expertise internationally serving in the National Survey Directorate in Bahrain. He was also an advisor to the Sri  Lankan team engaged in the demarcation of the Maritime boundaries between Sri Lanka and India including the Katchthativu Island  and also Maldives. He  served as a visiting lecturer for Geodesy & Photogrammetry at the Gulf Technical College in Bahrain, University of Moratuwa, University of Sri Jayewardenepura and the  Institute of Surveying & Mapping  Diyathalawa and was valued by the respective institutes and the students who followed the lectures. On retirement, he joined the Sabaragamuwa University as a senior lecturer and supported the institution to set up its Survey Faculty.
He was one of the most respected personalities in the field and always contributed to enhance the standards of the profession. In December 2014 at the general convocation of the Sabaragamuwa University, Samson Theodore Herat was awarded the Degree of Doctor of  Science (Honoris Causa) in recognition of the services rendered by him for his motherland and its citizens.
I came to know the Herat family when they settled down in School Avenue Kalubowila, Dehiwela in the late 1980s.Though he was very much senior to me at Trinity College Kandy, we had a good understanding among us and respected each other. He being an elder statesman was able to command the respect of all the people in our neighbourhood. The passing away of  Dr  Herat three months ago was a great loss to the entire neighbourhood.
May his journey in sansara be a pleasant one until he achieves Nirvana.
Dr. Herat's devoted wife Ramani was always behind his success in his profes-sional career. She was able to guide him and also the two children Athula & Tamara.
To Athula and Tamara and their extended families take your father as a role model to achieve a great future.
There is light at the end of the tunnel. "RESPICE FINEM" Look to the end.
  Sunil Keppetipola
---
Memories of a dear friend bring forth a wave of sorrow
Iyadurai Paraparan
Paraparan was my best friend, even though I am a Sinhalese and he was a Tamil. The difference in race was no barrier for our friendship. We joined People's Bank together, studied for the Banking Diploma together and obtained the AIB, read for an MBA at the University of Colombo and sat for CIMA exams together.
On December 26 2004, we were supposed to go to Batticaloa together in my vehicle to meet Mr. Nathan who was a mutual friend of ours, to spend the weekend there with our families. But fate prevented me from going and Para went ahead with his family by the night mail train. And he was an easy prey along with his family for the vicious tidal wave called "the tsunami".
It created an unimaginable void in my life. I lost a good friend as well as a faithful companion and the People's Bank lost a competent high officer who could work equally well in all three languages – Sinhala, Tamil and English.
One decade and a half has passed so far, but I still remember Paraparan deleting a single "s" from the word "friends" to make it singular in line 6 of Sonnet 30 – "When to the sessions of sweet silent thought" by William Shakespeare; I quote,
"…………………… I drown an eye unused to flow
For precious friend hid in death's dateless night."
I conclude my tribute to "Para" as follows.
Vicious tidal wave called "The Tsunami"
Took Para and family away from me
Whenever I look at the calm deep sea
My friend! it is your face I always see
Throughout my career at the People's Bank
I never met a person like you in any rank
Among all my friends, you were very frank
With your demise, it is my heart which sank
Scattered memories of our friendship
Hurt me tremendously, like a stinging whip
Throughout "Samsara", Para! you dear chap
Should prosper forever, without such a mishap
"MBA" & "CIMA" exams together we did
And I never had a friend so splendid
Putting memories into a coffin,
closing the heavy lid
To thee, with a laden heart farewell I bid
W.P. Somawardana
---