'Keerthi' to unspool his life story
View(s):

Popular singer, musician Keerthi Pasqual, who has mesmerised the masses with unique, tuneful styles, is all set to unspool his life story in the form of a significant book on Sunday, January 26 at 3.00 pm at the Tharangani Hall of National Film Corporation.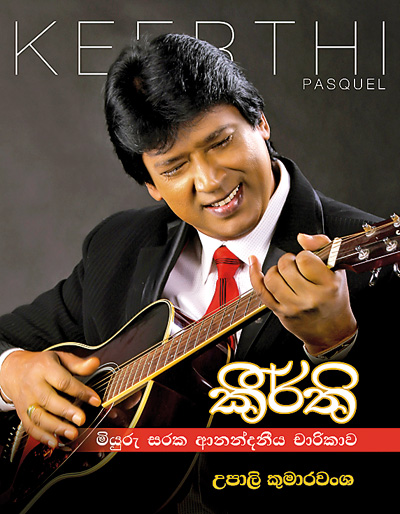 The 256-page hardbound book comprising rare photographs depicting Keerthi's various stages in life, has been compiled by popular novelist Upali Kumarawansa. The book includes an assortment of chapters portraying various segments in Keerthi's personal life , musical career and social service representations.
The book encompassing Keerthi's life story will also carry opinions about Keerthi, written by his arts world colleagues and other professionals.
An MP3 comprising 30 popular songs of Keerthi in their original format will be issued free with the biography which will also have the lyrics and musical notations of those songs.
During Keerthi's biography launch on January 26, a DVD of his latest musical concert 'Manamala Hendewa' will also be released at the venue.
Both the biography and DVD will be available for sale at a concessionary price during the event. The high quality DVD will come as a treat to Keerthi's fans, who missed the 'Manamala Hendewa' concert. Highlights of Manamala Hendewa will also be screened during the book launch at the Tharangani Hall.
A special event will be held from 9.30 am onwards on January 29, to coincide with Keerthi's birthday at the Maharagama Apeksha Hospital.
Though Keerthi launched a mammoth programme to raise Rs. 300 million to donate a Bone Marrow Transplant Unit to the Kotelawala Defence Hospital, his target could not be achieved due to the Easter Sunday catastrophe. On January 29, Keerthi will hand over public donations amounting to Rs. 7.5 million to the Apeksha Hospital to purchase urgent equipment for the hospital's bone marrow unit. Keerthi will also spend a few hours with the patients in a musical session.
At a time when the Lankan music industry has seen the sudden rise and fall of new singers, Keerthi Pasqual has maintained an upward trend in his career graph right from the day he sang his first original. Having started his career as a musician, a guitarist initially, Keerthi, slowly but steadily made an impact as a singer and up to now has upheld that popularity. Though he played Western instruments as a musician, as a vocalist he has excelled both in Western and oriental styles.
His songs like 'Neela Ahase', 'Kavikaariye', 'Ranthahru Payana', 'Sinhala Raja Kale', 'Sandalatha'and 'Nil Upuli' are some of his songs that became popular early part in his career and are still hummable.
Despite a brief pause when he opted to live in New Zealand for a couple of years, Keerthi made a comeback with his hit song 'Kandula Ithin Samaweyan' that opened his second innings in the Sri Lankan music scene.
Keerthi's solo musical concerts were sell-outs, which just went to prove his immense popularity. The 'Manamala Hendewa' concert that he held at the Nelum Pokuna last year, also demonstrated that his popularity had not diminished a bit over the few decades.
Though he also acted in a few tele dramas, he later realized that singing was not his cup of tea.