Chinese New Year celebration at Shangri La
View(s):

Shangri-La  Hotel, Colombo celebrates the Year of the Golden Rat with exclusive gourmet set menus from January 20 to February 8, 2020 at Shang Palace, the hotel's signature Chinese restaurant.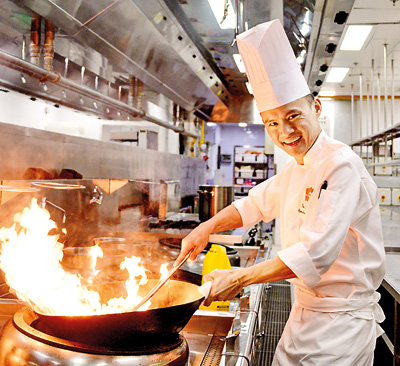 At the core of Chinese New Year are many rich customs with feasts that mark good fortune and prosperity. For this year's celebration, Master Chef Bun Boon Hoe will take guests on a vibrant culinary journey with a selection of delectably crafted dishes.
In true authentic style, Shang Palace showcases the famed Yu Sheng or prosperity toss. The Yu Sheng is served on a large platter with a colourful array of ingredients including raw fish, shredded radish and carrots, pickled ginger and more. Everyone at the table begins tossing the salad simultaneously using chopsticks, whilst wishing luck and good fortune for the New Year. This ritual presented by Master Chef Bun Boon is one of both togetherness and fun.
The varied gourmet set menus at Shang Palace feature dishes handpicked by Chef Bun Boon. These curated menus include refreshing soups, such as double boiled chicken soup with Morrel mushroom. This will be followed by enticing main courses including sizzling beef tender loin in black pepper sauce and Chinese wine. Dessert, the perfect ending to any meal, comes in the form of such delights as Lemongrass jelly, known for its subtle yet memorable flavour.
The gourmet set menus for lunch and dinner are priced from Rs7,488/- , with the Yu Sheng, for two persons.
In keeping with tradition, the Ang Pao Wishing Tree on the 3rd level lets guests experience the tradition of the 'red envelope' – a festive gesture of appreciation. Guests can dine at Shang Palace for lunch or dinner, and select an Ang Pao voucher from our tree when they reach a bill value of Rs 10,000/- or more.
Continuing Shang Palace's fine offerings through this time of celebration, the hotel will hold its much-loved Weekend Yum Cha Lunch featuring signature regional dishes from Canton, Sichuan, and Dongbei. Guests will certainly be spoilt for choice with an assortment of intricate Chinese delicacies including dim sum, meats, seafood, rice and noodles, priced at LKR 4,488 ++ per person.
Located at One Galle Face along the Galle Face Green promenade, the most exclusive address in Colombo, Shangri-La Hotel, Colombo offers uninterrupted Indian Ocean views and stunning city panoramas from its 500 guestrooms and suites, and 41 serviced apartments.  The hotel's innovative restaurants and bars make Shangri-La Hotel, Colombo the city's dining destination and social hotspot.
The hotel also offers unique lifestyle experiences with Shangri-La's signature CHI, The Spa, a 24-hour Health Club, and an elevated swimming pool overlooking the ocean. Boasting the largest events space in the region, the hotel can cater for up to 1400 guests in banquet style, and offers many other event spaces including a breezy outdoor lawn with a marquee on the 4th level.